Tuesday 8th of March 2016 09:20:45 AM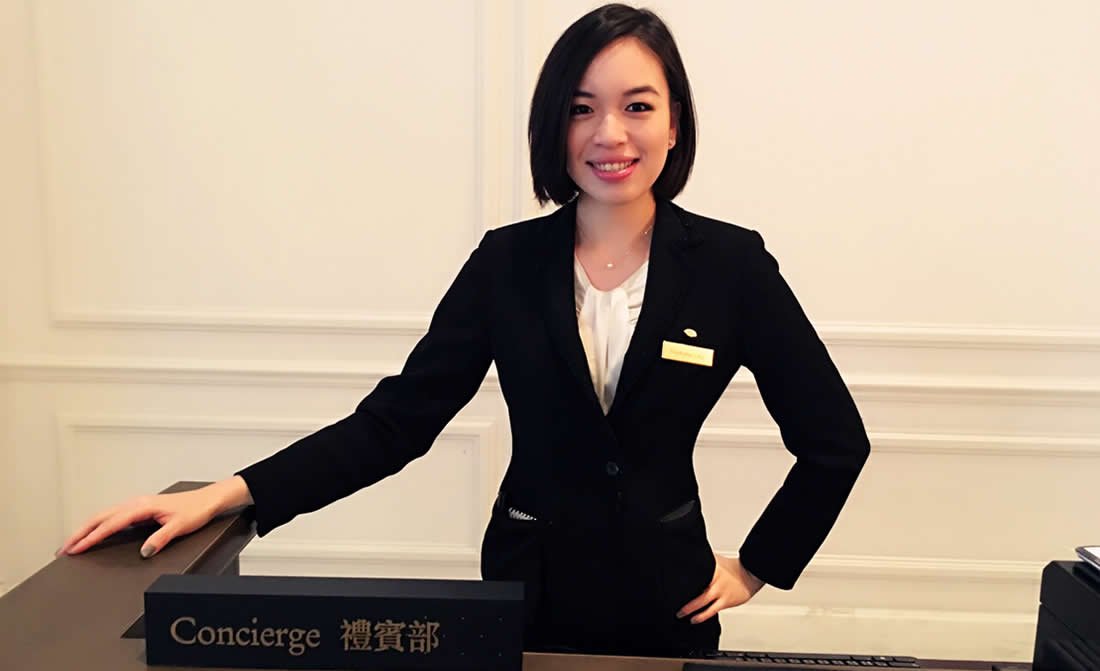 Stephanie Chao is the Head Concierge at Mandarin Oriental Taipei.

Taipei was announced to be a World Design Capital in 2016. What is your favorite building in the city?
Quoted from WDC Taipei 2016, "The balance between innovation and a respect for nature is what will allow Taipei to be recognized as a true design leader through its designation as World Design Capital." The best representative to honor the initiative of the design has to be the "EcoARK". EcoARK is the world's first PET bottle green building, sponsored by The Far Eastern Group, the EcoARK is the first "building constructed from garbage". The light, structurally-sound architecture is 130m long and towers 9 stories tall (highest point); it is made from 1.52 million recycled PET bottles. From R&D, manufacturing and construction, all materials and technologies involved were made in Taiwan (Expopark Taipei, 2015). If you are ever visiting Taipei, the EcoARK should be on the top of your list to visit.

Where can your guests find the best Taiwan's street food?
It has to be the night markets. There are more than 10 night markets in Taipei city, and we can assure you that night markets are a fixture in Taiwan and Taipei doesn't disappoint. Most are open nightly and offer a variety of fresh Taiwanese snacks, clothing, or fun accessories. Some markets are busy normal city streets during the day that transform to bustling markets in the evening. Others are established locations that are closed during the day but open in the evening. Night markets usually start up at dusk and continue until about midnight. Taiwanese night markets are a Taiwanese experience that is not to be missed. One of the most outstanding night markets would be Raohe Street Night Market, even better, it is located not far from Mandarin Oriental, Taipei.

The Raohe Street Night Market covers various kinds of booths for general merchandisers, accessories and yummy snacks, all at low and affordable prices. It is the oldest night market in Taipei; Raohe Street is a single pedestrian lane stretching between two ornate gates. In between you will find a great assortment of Taiwanese eats, treats and sometimes even seats. Look for pork ribs in herbal broth, vermicelli and oysters, spicy stinky tofu and steamed buns. By looking at the booths with queues of people, it is not hard to find out the most popular snacks.

What is the best way to experience the city in a cultural way?
Following the tour suggestions from our concierge team, we can point out the hidden streets that you may be very interested in. Mandarin Oriental, Taipei can arrange the most luxurious limousine to take you to the small lanes in and about in Taipei city. We will suggest to visit the old part of the Taipei town for an easy breezy walk, and then follow by visiting the National Palace Museum for a cultural baptism, and ending the day with some nice street food in the night market.

What is the top gift/souvenir that travellers should buy while they are visiting Taipei?

No. 1- Pineapple Cake
Pineapple cakes can be found in most bakeries throughout Taiwan and also pretty much at all the places where tourists visit. If you ask locals about the best pineapple cake in Taipei, you'll invariably get different answers. There's not one best pineapple cake store because a lot of it comes down to personal preference. Some people like the pineapple filling to be slightly sour, some people prefer the pineapple filling to have a smoother texture (and the list goes on) so my suggestion would be to try a few different ones and decide which one you like best. The three stores mentioned above all make tasty pineapple cakes and are extremely popular stores in Taipei.

No. 2- Taipei Urban-Style Gifts
Immensely creative accessories perfect for urban lifestyle people who have been to Taipei City Hall will surely remember the bookstore/gift shop on its premises. Boasting a colorful collection of creative souvenirs, this brightly lit store offers another good way to experience life in Taipei. Thanks to the growing trend toward tourism that makes travel information more accessible, Taipei City has recently enjoyed a surge in tourist arrivals. For those who have difficulty finding a gift that embodies the City's heritage, the urbanism-themed souvenir collection introduced by the City's Department of Information and Tourism might be the answer. The unique, chic and functional Taipei City souvenir collection was presented by the Department of Information and Tourism under "The City is the Brand" concept. As part of the marketing effort that makes Taipei City an international brand name, these souvenirs provide visitors with something to build a memorable trip on.

No. 3- Taiwanese Tea
Tea plantation in the middle part of Taiwan is world-class famous. Taiwan has produced many top quality teas, all can be called as "Formosa Tea". The best known ones including "Formosa Dongding Oolong", "Formosa Alishan Oolong", "Formosa Wenshan Pouchong","Formosa Oriental Beauty", "Formosa Shanlinxi Oolong", "Formosa Jade Oolong" and more. Tea souvenirs can be the representative of Taiwan, and it goes along with the pineapple cake as well.

What is Taipei's hottest night club at the moment?

OMNI
The very first night club in Asia that has won the iF design award in 2016.

Club Myst
Asia's only waterfall landscape, CLUB MYST party sexy transparent swimming pools can be seen upstream from the beginning, transparent above the swimming pool in the nightclubs. CLUB MYST in luxury design for the space orientation, LED lighting, dazzling sound throughout the region, and spent tens of millions of Hi-Fi equipment, building a top-class luxury and entertainment space.

Elektro
The atmosphere of the club is, as the name would imply, electric.