Monday 4th of April 2016 09:56:58 AM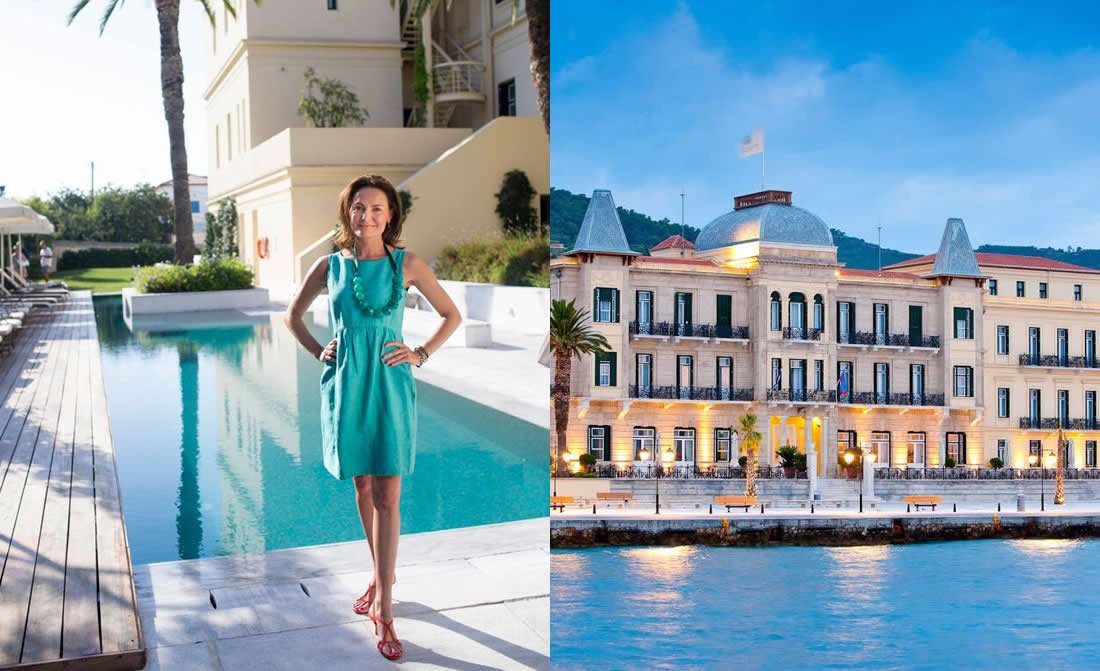 Maria Strati is a Hotel Manager at Poseidonion Grand Hotel on Spetses Island, Greece.

What is unique about the location of the hotel?
Poseidonion is all about uniqueness. Its architecture, its history, its tradition, its people and of course its location. The feeling is like being on French Riviera but in combination with so many other things that make it unique. It is the breathtaking backdrop of Spetses Island full of pine trees, the imposing ambience of the 102 year old building, the great history behind it, the elegance in every detail, the feeling of being at home and treated like this, the warm philoxenia of its people, the authentic tastes of its Greek creative gastronomy, as well as the bliss and wellness of its spa and beauty services, the variety of different activities on the island, the amazing and impressive events, the cultural exhibitions. In other words, Poseidonion is a world of its own at every point.

Can you name one interesting fact from the hotel's history?
There are so many interesting facts to name that it is difficult to choose. One of the most important is that the benefactor of Spetses and founder of Poseidonion Grand Hotel Sotirios Anargyros and the Prime Minister Eleftherios Venizelos, close friends at the time, were inspired by the common vision to see Greece as an internationally coveted destination. Thus, Poseidonion Grand hotel started its operation the summer of 1914 concurring with the establishment of the Office of Foreigners, the first official public tourism service to attract foreign visitors in Greece, precursor of today's Greek National Tourism Organisation. In addition, another interesting fact is that Poseidonion became the first hotel in Greece to offer its guests spa services.

What is the key quality for being a great hotel General Manager?
My philosophy lies in team work. Good managers are not judged only according to their personal success but also by the level of their team's success. The strongest the team players the better the manager performs and can take care of the details that make all the difference, especially in a boutique hotel. Recruiting is crucial, but training is even more important. Within my philosophy and when I am looking for new people to work with, I look for professionals who have a vision, who share my ideas about what hospitality is all about, who want to be part of a team that will constantly evolve in order to offer exclusive and personalized service that will exceed the guests' expectations, bringing it to the next level. This role is very demanding and managers must find their own strengths to bring the balance and success in their careers. I believe that patience and consistency are of immense importance in this job.

There are so many events in Spetses. What is the most thrilling one for you?
With so many impressive events such as Armata, Spetses Classic Regatta, Spetses Mini Marathon, Spetses Classic Car Race, Tweed Run and Spetsathlon while Poseidonion forming an integral part of each of them with its huge institutional role in the island, it is quite hard to pick out one! As a fashion enthusiast I must admit that I really enjoy the Tweed Run which is on the 15th of April! The Tweed Run is a stylish bike ride with classic bikes and truly elegant outfits in tweeds with a class from a bygone era. I really enjoy the finesse of this event as it is totally in line with Poseidonion's charm and beauty. Also, it is quite amazing to have such an event in a no-car island, totally safe for the participants and a unique experience in this beautiful landscape of nature.

What is your favorite Greek dish?
I am a gastronomy lover so I have a lot of favorites. I can never get enough of the "Sea bass a la Spetsiota" from Poseidonion's Chef Stamatis Marmarinos, included in the menu of our restaurant "On the Verandah". A traditional dish with fish from Spetses Island executed by our chef with a genius contemporary flair.