Friday 22nd of February 2019 11:42:38 AM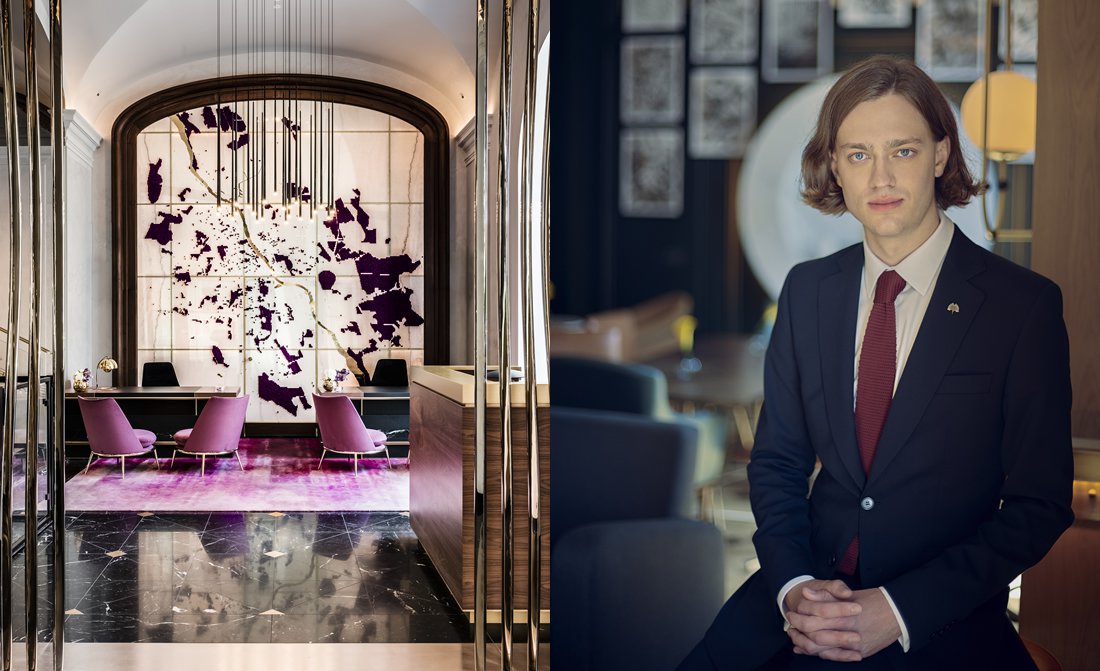 Meet Igor Bloch, a young and talented art expert, who currently works as an Art Collection Manager at Raffles Europejski, Warsaw's best luxury hotel. Learn about Igor's background in arts and why he decided to work for the hotel. He also mentions his favourite artists, whose pieces can be found at the hotel, tells more about private art tours he organizes for the hotel's guests and recommends some of the best places in the capital of Poland for art lovers!

Igor, we are pleased to be chatting with you today!
Please, could you tell us more about your background and the beginning of your career in art?
I am an art historian who graduated from the Academy of Fine Arts in Warsaw and the Courtauld Institute of Art in London. I am specialised in Polish and Eastern European modern and contemporary art. As each art history student I made a number of internships working both in private galleries and public institutions. Recently I co-curated a solo show of one of the best Polish painters Róża Litwa who in the past exhibited, for instance, at Lismore Castle.

And what made you decide to join Raffles Europejski Warsaw?
Before joining Raffles Europejski I worked as a client advisor in the biggest Polish auction house which I enjoyed a lot. I heard, of course, that two prominent curators Anda Rottenberg and Barbara Piwowarska are building one of the biggest private collections of Polish contemporary art. Out of curiosity, I applied for the position at Raffles and became the manager of the Hotel Europejski Art Collection who runs Art Concierge Programme.

What do you love most about working for a hotel?
An important part of my role is organizing private art tours of the collection for the guests staying at Europejski. They are extraordinary people - often art collectors or art lovers - but for most individuals passionate about expanding their knowledge. Contemporary art is in a niche already and we are presenting art created in a very specific Polish and Warsaw context. For many guests, the collection is an enormous discovery.

What are your favorite art pieces from this collection, that are definitely worth extra attention?
Hotel Europejski Art Collection consists of almost 500 artworks created by more than 120 artists. It is hard to name one person. Of course, each guest has to be acquainted with the most iconic artists of the collection - Wilhelm Sasnal, Monika Sosnowska and Leon Tarasewicz. Nevertheless, when I meet with the guest for the second time, I propose another path - discovering artists born in the 1980s like, for instance, Martyna Ścibior, Karolina Bielawka or Anna Orłowska.

I have to add that I am especially happy that in the collection there are photographs of Wiktoria Wojciechowska who recently was awarded Les Rencontres de la photographie - Arles 2018.

If your guests want to enjoy art in the city, what are your Top 3 places or activities that you would usually recommend?
Warsaw is extremely lucky to have three public contemporary art galleries. Located just next to Europejski - Zachęta National Art Gallery, MSN Museum of Contemporary Art and Ujazdowski Castle. They are exhibiting both Polish and international art emphasising presence of artists coming from marings of so-called western world. Next to this, we have more than 20 private art galleries who organizes Warsaw Gallery Weekend usually in the 3rd week of September. In 2019 we will have a special offer for our guests to join the event.

Can you describe Warsaw in 3 words?
Aspiring; Fulfilling; Undiscovered.


For more information about Raffles Europejski Warsaw and its rich art collection, please visit here.