Thursday 31st of March 2016 01:38:59 PM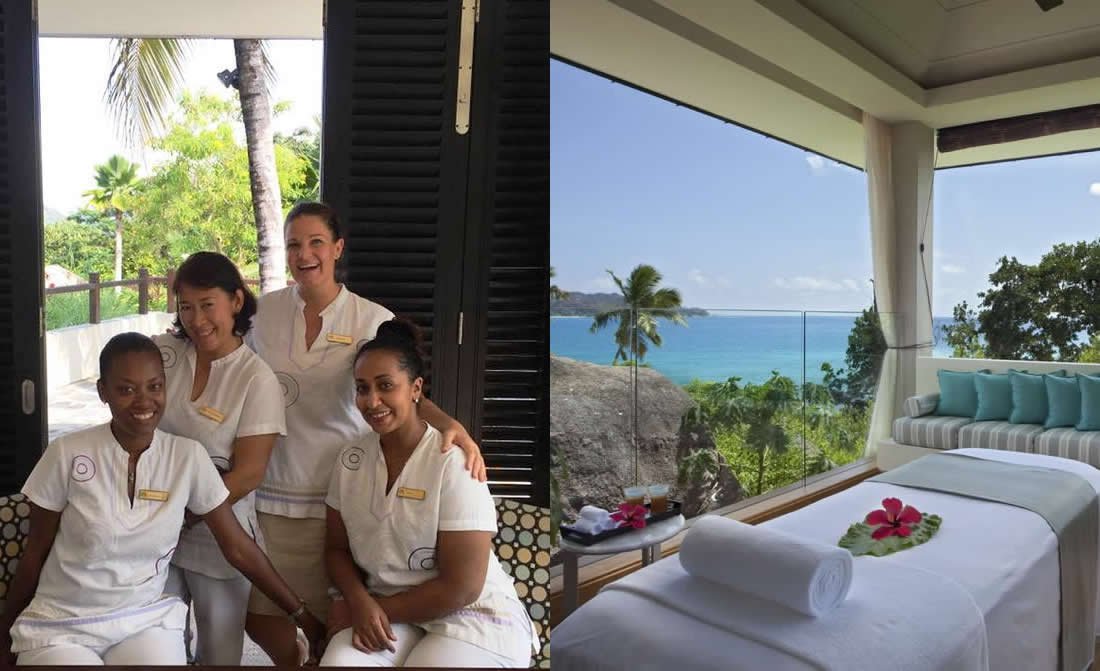 Robyn D'Avilar (second from the right), the Assistant Spa Manager at Raffles Praslin Seychelles, and her team shared some of their beauty and wellness tips and secrets with us.

What is the philosophy behind your Spa?
Our Spa Philosophy is based on the beautiful Lotus flower. It is admired for its magnificence and beauty across the world. The flower is elegantly delicate and its daily transformation is an inspiring symbol of revitalization and raw natural strength. It begins as a bud of pure vitality beneath the waters' surface. At sunrise it breaks through into the fresh air, radiant and full bloom, then retires once more to the calm stillness of the water when night falls.

It is the regenerative rise and retreat following the natural rhythm of the day that influences our vision for Raffles Spa. A balance between exertion and relaxation is the key to achieving a feeling of inner tranquility and rejuvenation.

Imagine a revitalizing oasis, nestled in the Indian Ocean, just steps away from the coastline of Anse Takamaka amidst stunning surroundings, carefully designed to calm the spirit and awaken the senses. Our luxurious spa features outdoor pavilions each showcasing the spectacular view of the blue ocean, tropical gardens and dramatic granite boulders.

What is the most unique wellness experience that you offer for your guests?
We have just recently launched our Wellness Menu and it is an incredibly exciting venture for us. De-Stress or Detox ? An indulgent variety of treatments to cleanse the body and ease the mind. The use of Thai coconut butter scrub or exotic Javansese lulur scrubs to exfoliate and cleanse. Warm healing honey or Marine algae wraps for top to toe rejuvenation. Followed by your choice of massage (Swedish, deep tissue, hot stone, ocean sea shell) with aromatherapy oils or organic coconut oil, or even frankincense foot reflexology, ending in a hydrating rejuvenating facial.

Our wellness experience includes a 15 minute foot ritual, nourishing green smoothie and access to dry sauna and hot tub. Perfect for a day of pure pampering and indulgence overlooking the ocean.

What is your favorite body treatment from the Spa's menu?
My favorite treatment would have to be the Pure Pearl Indulgence.

We have the pleasure of overlooking the only Black Pearl Farm in the world and so this unique to Seychelles treatment is designed exclusively for Raffles Praslin guests.

A 90-minute treatment consisting of Pure Pearl body exfoliating scrub, followed by an aromatic shower. A full body application of exotic essential oils ending with a Hydrating Kerstin Florian Facial.

What natural ingredients do you use for the procedures?
We use high end quality brands such as Aromatherapy Associates and Kerstian Florian. Pure natural essential oils and the finest quality ingredients for luxury skin care and visible results. These ingredients include: rose, neroli, caviar, raspberry extract, Moor mud and spirulina just to mention a few. As well as our wonderful exotic ingredients from our Wellness menu mentioned previously.

Can you tell us your top beauty tip?
Plenty of water, balanced diet, positive thoughts, and a constant exchange of rest and exertion. And, of course, spa pampering.