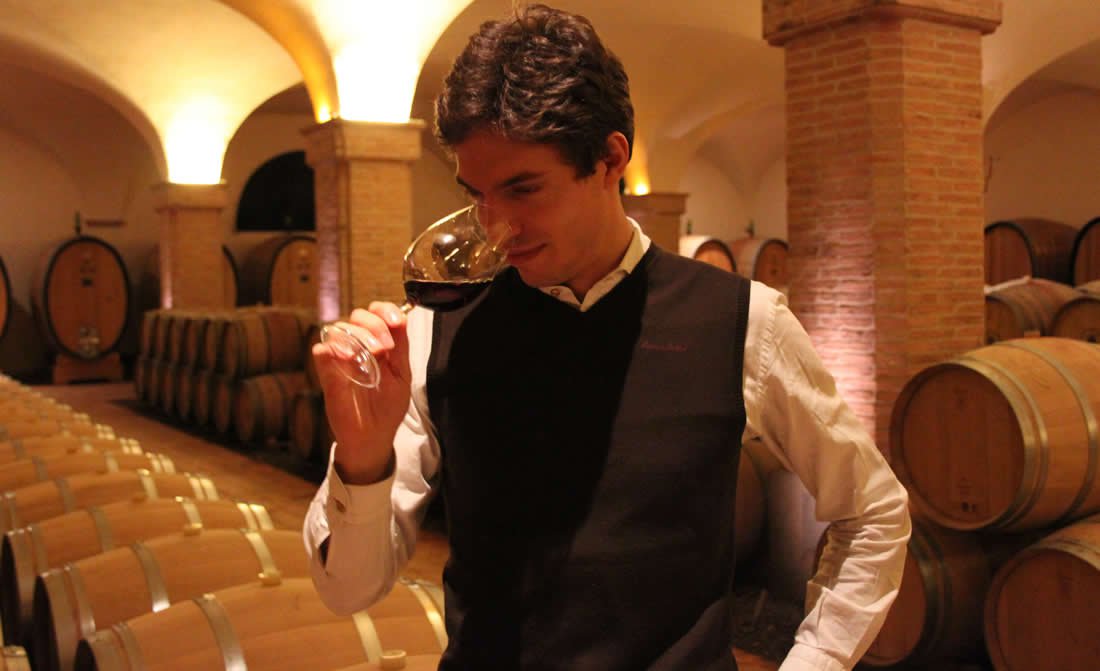 Ugo Fabbri works as a Wine Hospitaly Manager at Rosewood Castiglion del Bosco in Tuscany. The estate was founded by Massimo Ferragamo.

Ugo, can you tell us what makes Tuscan wine and grapes so unique?
Our biggest treasure in Tuscany, even more in the Val d'Orcia area, is called Sangiovese. In this area, this particular grape finds its perfect terroir to give its very best. Many other countries tried to plant Sangiovese but in no place in the world it can be compared to the way it grows in Tuscany. It's like a magic match, which also is the base for Chianti Classico, Morellino di Scansano, Nobile di Montepulciano and of course the magnificent Brunello di Montalcino. Luckily, the Sangiovese only recognizes these rolling and sweet hills, this quiet and untouched land, as its home; it grows and gets mature at the best only "under the Tuscan sun".

What is the most expensive, oldest and rarest bottle of wine in Castglion del Bosco's wine collection?
There are many. Castiglion del Bosco is one of the founding members of the Consorzio del Brunello di Montalcino in 1967 and, since then, we have produced great bottles, some remaining in the history, like the vintage 1985, the Riserva 1990, the famous 1997 and, of course, the recent Riserva Millecento 2010, one of my favorite bottles. But I always say that the best vintage is the next one!

What are the top aspects that everyone should consider when selecting a Tuscan wine?
The area of production mainly, since Tuscany is a large wine making area, and each area gives a different result. Of course, Sangiovese is the king of the region. But, if you think about the Tuscan coast for example, this is the perfect land for international varieties such as a Cabernet, Merlot, Petit Verdot, and the land where the Super Tuscan stars were born. Another gem is Cortona, with its Syrah, an heritage left by the Napoleon's soldiers during the 18th century. A recent discovery is the Pinot Noir from Mugello, an area located north of Florence, which is producing a great quality of wine. And, if you are looking for good white wines too, San Gimignano is the perfect place for a good glass of Vernaccia, to be enjoyed in the shade of one of the several towers of the old town. As you can see, every single corner of Tuscany donates specific treasures, which are unique and inimitable.

What wine-related experiences can you offer for your guests?
Here, at Castiglion del Bosco, wine lovers can find the perfect place to fulfil their wishes, as we have a huge selection of activities to offer our visitors. Visits begin with the stunning vineyard of Capanna, since we believe that, to better understand our wine, and all wines in general, first of all you have to see where the grapes grow. This way you can only really understand the wine when you taste it. We have the privilege to show our guests one of the most beautiful and unique wine cellar in Tuscany, the Members Cellar, one of a kind, see it to believe it! Beyond the classic tastings, we enrich the wine experiences with the art of food pairing, an extraordinary chance to taste a wide range of different local cheeses paired with our wines, the best activity of last year. We also offer the Vertical Tasting, for guests looking for unforgettable emotions, a journey in the past, tasting seven of the best vintages of our Brunellos. Last but not least, the barrel tasting, for those who can't wait to taste the new vintages not-yet-released.

What is your favourite wine and why?
My favorite wine of course is the Brunello. Sangiovese is in my blood, I have always found a bottle of Brunello on my table since when I was a kid, and my grandfather used to put some drops of wine in my water glass; my mother wasn't happy, but he always said it would help me to grow and become a real man. That aroma and those smells are like impressed in my memory as a basement, they definitively introduced me to the wine's world.