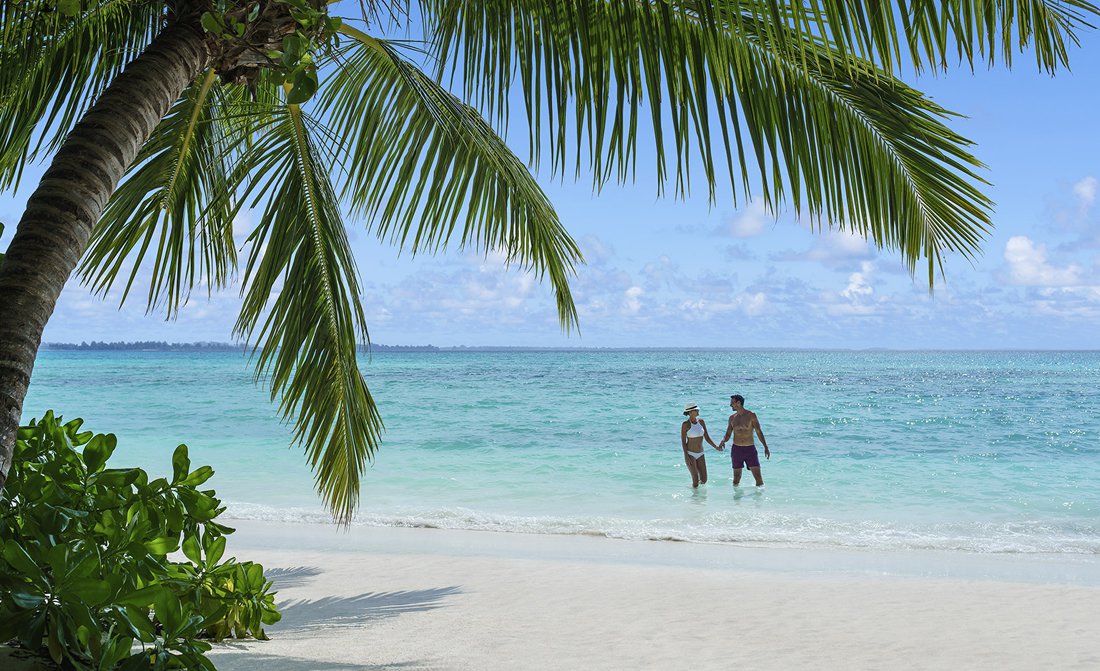 20 December 2017 – 20 January 2018

This festive season enjoy an epicurean journey of flavours from leading restaurants from around the world paired with a reflection of the chic atmosphere of our island. One of the many highlights of the season includes the arrival of Buddha-Bar Beach, one of the world's most recognised restaurant brands, known for its pulsating energy and unforgettable atmosphere attracting a sophisticated set of A-list celebrities.

DR. ALI'S
Get ready for an exciting gastronomic debut at the paradise. Experience the world renowned blend of gastronomy, mixology and music straight out of Raymond Visan's vision of "Buddha-Bar" for the very first time in the Maldives. Be taken by the unique aura which draws its guests into a magical atmosphere just as you step into Buddha-Bar Beach restaurant. The Buddha-Bar Beach a la carte menu is a fabulous culinary invitation to exotic lands of myriad of flavours, with pan-Asian and Japanese specialties combined with western influences served family style at the restaurant.
Time: 6:30 p.m. – 11:30 p.m.

MIXOLOGY IS AN ART!
Experience the bar's mixology corner headed by Buddha-Bar worldwide Executive Bar Chef, Matthias Giroud, for creative cocktails, blending Buddha-Bar's international favourites with local ingredients and flavours, to complement the sophisticated food offering.

ENDHERI POOL BAR
The al fresco lifestyle concept, Buddha-Bar Beach, will also take residency at the Endheri Pool Bar offering signature sounds and fabulous "tapasian" food against the backdrop of Villingili's pristine white beaches. Raise your spirits with the most classic and inventive cocktails made with products that come from the four corners of the world. Relax by the poolside with infinite views of the blue lagoon while Buddha-Bar mixologists shake up the perfect drink for you all day long. Groove to the resident DJ's from Buddha-Bar who passionately travel the world looking for increasingly rare musical pieces in order to create an utterly enchanting atmosphere while you soak up the sun.
Time: Buddha-Bar DJ performing from 1 p.m. – 5 p.m.

DJ MARIO FROM BUDDHA-BAR LONDON AND BUDDHA-BAR BEACH MYKONOS AND SANTORINI
You will be able to experience the subtle blend of house and lounge music with the world famous Buddha-Bar DJ Mario, performing at both venues. Mario is one of the most well-known DJ and producer of Greece, who is also the current resident of Buddha-Bar London, and whose tracks are featured on some of the world's bestselling compilations such as Buddha-Bar, Barrio Latino and many more.

VEUVE CLICQUOT CABANA BY THE POOL
22 December 2017 – 8 January 2018
For those wanting the most exclusive and luxurious treat, spend your day in the intimacy of the Cabana by the pool set against the blue azure waters of the lagoon with unlimited Veuve Clicquot served by your Champagne butler, to the sound of the DJ spinning the best chill out music.
Time: 11 a.m. - 5 p.m.


BARRIO LATINO POP-UP

Fashala
Bringing in the most vibrant and colourful spirit of South America to Villingili, set in the most stunning island settings, enjoy the glorious sunset at the northern tip of the island with a fine meal at the Barrio Latino restaurant pop-up. Barrio Latino is a leading restaurant and lounge concept established in Paris, with a fiery, feisty and sensual Latin atmosphere. The creative menu crafted by the culinary artists, reveals exciting flavours taking you on a culinary voyage from Buenos Aires to Rio de Janeiro.
Time: 7 p.m. – 11 p.m.

Patron & Margarita Bar & Lounge
Fancy the glamour of a bar set against the blue azure seas, enjoying a cocktail with your feet in the sand? On the shores of Fashala, the lively PATRON Tequila & Margarita Bar offers a laidback luxury vibe complete with comfy seating and elegant lanterns adorning the outdoor area. Let the resort's expert mixologist create and customise a range of tequila based cocktails for you, while you indulge with a selection of Barrio Latino "gastrotapas" including signature ceviches and tacos, Iberico Bellota ham, and the best caviar served by the spoon, for the ultimate gastronomic feast!
Time: 5 p.m. until midnight
You can also join daily "Patron of the day" mixology lessons, 6 p.m. to 7 p.m.

DJ SHEHZAD AND FIRE TRIBE
Spend your evenings at this trendy beach lounge, under the stars with fine wines and cocktails while experiencing the astonishing performance by the Fire Tribe Dancers, matching to the tunes of DJ Shehzad, winner of the "Ministry of Sound DJ Academy" 2014, who brings the party alive with his dance and electronic music.
Time: 9:30 p.m. onwards


Javvu
22 December 2017 – 8 January 2018

FLAVOURS OF THE OCEAN GRILLS
Set across two pavilions, Javvu has an airy and sophisticated atmosphere. The Mediterranean menu features expansive sea food grills created to suit the most discerning palates, including the health-conscious. The tantalizing menu served in the evening brings together delectable ingredients such as Iberico Ham, caviar and Guillardeau Oysters, while you sit by the al fresco terrace and take in the panoramic views of the lagoon.
Time: 7 p.m. – 10:30 p.m.

SUNSET CRUISE
23, 26 & 30 December 2017 - 2, 5 & 9 January 2018
There are few moments as enthralling as watching a tropical sunset out on the open sea and when the venue is a sublime, 21-metre yacht, it becomes an experience you would cherish for a lifetime. The resort's spectacular yacht will pick you up in the early evening and set sail while you feast on the most beautiful waters, the setting sun paired with unlimited serving of Veuve Clicquot and Caviar. Adding to the already dramatic setting would be the tunes of "Saxokid" who has earlier performed to the likes of Hed Kandi and popular European music festivals.
Time: 5:30 p.m. – 7:30 p.m.


Friday, 22 December
Tis' the season to be jolly! Join as the festive season is commenced with a magical Christmas Tree Lighting ceremony with the Genera Manager opening the festivities. Listen to the soft serenade of the "Voices of Villingili" carolers as they perform a medley of your favourite Christmas songs. Enjoy an evening of specially crafted cocktails offered by the Management.
Time: 7 p.m. to 8 p.m.
Venue: Reception area

Sunday, 24 December

CHRISTMAS EVE, SANTA'S ARRIVAL
As chimneys are few and far between in the Maldives, Santa Claus' much anticipated arrival for the hotel's younger guests on Christmas Eve will be a spectacular and memorable moment! He will be delighting both the little ones and their parents with special gifts and treats.
Time: 5 p.m. to 6 p.m.
Venue: M lounge

CHRISTMAS EVE DINNER
On this special occasion, treat yourself to three unique dining experiences including a Buddha-Bar Christmas dinner at Dr Ali's Restaurant with bottomless Veuve Clicquot, an exquisite Latin set menu by Barrio Latino with unlimited margaritas at Fashala or a Christmas Eve buffet at Javvu Restaurant with free flow of premium wines & Champagne, and an extravagant tribal fire show.
Time: 7 p.m. – 11 p.m.

Monday, 25 December

CHRISTMAS BRUNCH
For the big day, Javvu Restaurant will host a magnificent Christmas Brunch including Iberico ham and caviar stations, accompanied by live music from internationally acclaimed performer, SaxoKid. Set to be a spectacular celebration, festive themed children's activities have also been arranged to ensure families have a Christmas Day filled with laughter and lasting memories in this tropical paradise.
Time: 1 p.m. – 4 p.m.

Tuesday, 26 December and Wednesday, 3 January

WINEMAKER DINNER
For the ultimate luxury experience and some more exclusivity, enjoy a gastronomic 5-course Mediterranean set menu perfectly paired with five 100 pointers wines, some of the best wines in the world, expertly selected by the resort's Head Sommelier.
Time: 7 p.m. to 11 p.m.

Thursday, 28 December

VILLINGILI QUADRATHLON
Be part of the festive ritual! Calling out to all the adventure enthusiasts to brace up for the Villingili Quadrathlon. It is time to take the endurance test and participate in the event composed of four individual disciplines. Discover the island while you run 4 km, cycle for 2 km on the golf course, followed by one km of canoeing and finishing with 500 meters of swimming. So put your best foot forward and race on! The winners will get the chance to experience a blissful 90 minute couple spa treatment and the runner-ups, a mesmerising dolphin cruise for two persons.
Time: 7 a.m.

Friday,29 December

ISLAND FASHION SHOW
Watch your little ones taking over the show and turn models for the day, whilst wearing their favourite pieces from the Resort Boutique. The Island Fashion show hosted by the General Manager will take place in the tropical setting of Buddha-Bar Beach at Dr Ali's, with the stunning turquoise waters as the natural backdrop, along with complimentary soft drinks, while DJ Shehzad keeps you on your feet with his peppy music as you cheer for your little ones.
Time: 6 p.m. to 7 p.m.

Saturday, 30 December

BUDDHA-BAR BEACH BRUNCH AT DR ALI'S
Epicureans are invited to savour the a la carte brunch featuring tantalizing Pan-Asian and Japanese specialties in the sophisticated Buddha-Bar Beach atmosphere with free flow of premium Champagnes, wines and beer, while the live band, Gipsy Reyes, takes you on a trip down memory lane with the best songs from the 80's.
Time: 1 p.m. – 4 p.m.

23 December to 5 January

MASTER IN RESIDENCE: FAISAL ABDALLA
Shangri-La's Villingili Resort & Spa has partnered with world renowned celebrity personal trainer Faisal Abdalla, for a two week residency. Ranked on Ask Men's Flex 50 as one of the most influential people in the world of sport and fitness, alongside Andy Murray, Usain Bolt and Conor McGregor, Abdulla is an ambassador for Men's Health and an internationally soughtafter master trainer for both Nike and Barry's Bootcamp. Faisal is taking his fitness sessions outdoors onto the island's white sand beaches with various 'Beach Bootcamp' style workouts, a series of 'Run Clubs' where he will lead you around the 6km island on a running circuit to get the heart-rate racing and build cardiovascular endurance. Faisal will also host a 'Mount Villingili Triathlon Challenge', consisting of a relay style race in which teams must complete three challenges around the resort, ending on Mount Villingili. For those really looking to make a significant improvements to their fitness, Faisal will also be available for personalized 1:1 Personal Training sessions at an additional cost.


New Year's Eve White Party
Spend an exhilarating night with loved ones in true bohemian chic style as the resort transforms into a white tropical paradise and you count down together into a wonderful new year. Enjoy laidback luxury at its best, pick your white outfits or choose from the boutique, and join for the signature White Party of the season until the crack of dawn.

EXPERIENCE THE SPECIALLY CURATED NEW YEAR'S EVE GALA DINNERS.
To delve into the spirit of the night, the culinary masters have created delightful menus at three different venues, music and special entertainment will be counting down the clock to 2018 with a midnight toast to the New Year.

Sunday, 31 December

Celebrations will kick-off at the three restaurants, including a Buddha-Bar New Year's Eve Dinner at Dr Ali's, with celebrity Buddha-Bar DJ Mario, a Barrio Latino New Year's Eve Dinner at Fashala with worldclass entertainment by the Gipsy Reyes, and a MedGrill showcase at Javvu, featuring the freshest seafood and prime cuts and exquisite al fresco seaside seating, with DJ Shehzad, one of the most acclaimed DJ in the Indian Ocean, performing deep house music, along with superstar saxophone player, Saxokid.
From 7 p.m.

AFTER PARTY AT BUDDHA-BAR BEACH
Wherever you decide to dine, the party will culminate at Dr Ali's where you can dance the night away with exceptional entertainment and settings, for a celebration to remember under the stars!
From 11 p.m. till close

Wednesday 3 January

GOLF PUTTING COMPETITION
Try your hand at golfing with this putting competition, set in the idyllic settings of the only golf course in the Maldives, overlooking the Indian Ocean. Nestled on 7.5 hectares and located at the southern end of Villingili Island, this nine-hole golf course is designed for the enjoyment of seasoned golfers and beginners alike.

Friday, 5 January

VILLINGILI HUNGER GAMES AND THE AMAZING RACE
Join the action and challenge yourself with a range of exhilarating sport and fun activities taking place around the resort. Contestants will be striving to arrive first at the end of each leg of the race, to win attracting prizes.

Saturday, 06 January

ORTHODOX CHRISTMAS DOM PERIGNON CHAMPAGNE DINNER AT FASHALA
Guests can relish the fine selection of Champagnes available at the hotel and indulge in an evening of celebration with a special 5-course menu, crafted by the Chef. The dinner will offer guests the finest seafood selection including oysters, lobster and caviar, paired with the taste of five Dom Pérignon Champagnes.
Time: 7 p.m. – 11:30 p.m.


Dom Perignon Villa Package

Treat yourself to a truly unique epicurean experience for 5 nights with every evening a different Vintage bottle of Dom Perignon served in your villa along with canapes and cheese. The Vintages served include:

DOM PERIGNON 2005
An outstanding but yet very small (production) vintage, which will be the one to watch out for the future for wine collectors. Powerful yet elegant, the perfect example why Dom Perignon is amongst the best Champagne in the world.

DOM PERIGNON 2004 LUMINOUS EDITION
This bottle of Dom Perignon belongs to the family of night editions and has an illuminated label. The Champagne comes from a classic vintage.

DOM PERIGNON ROSE 2004
The paradox of Dom Perignon. Each vintage of Rose is a new beginning and a new exploration beyond the particularities of the year's harvest and into its sensual intensities and complex mysteries.

DOM PERIGNON OENOTHEQUE 1995
Oenotheque is the series of wines released, when showing the second or third faces of expression > 2nd and 3rd plenitude of the wine, with the first being the actual vintage release which was in 2001.

DOM PERIGNON P2 1998
Formerly know an Oenotheque, this has been renamed in P2 (plenitude 2) and P3, which stands for the second face of the wine, if matured longer in the cellars and only recently disgorged. This P2 was released in 2015 after 17 years of maturation in the cellars and now shows first signs of elegant aging with toasted aromas but still very lively and fresh.

More about the festive programme at Shangri-La Villingili Resort, Maldives can be found here.