Tuesday 28th of September 2021 08:58:33 AM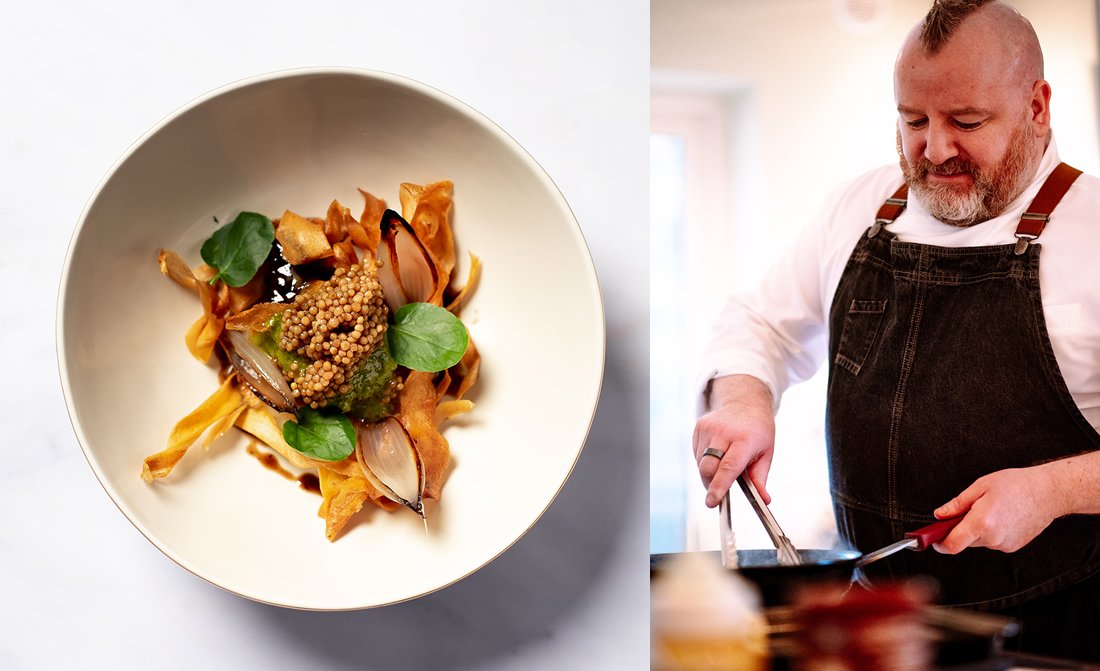 Gary O'Hanlon is an award-winning Chef, Broadcaster and Columnist. Currently, he is the Executive Chef at the Château du Coudreceau in France's beautiful Loire Valley and he was previously the Head Chef at Viewmount House since it opened in August, 2008.

Gary, you come from Ireland. How did this country influence your cooking style?

Massively. I grew up working with wild Irish oysters on the north Donegal shorelines and when we weren't doing that we were farming. I grew up in an era where it was commonplace for every house in rural Ireland to grow their own food & fish the seas & rivers. I was immersed in food from an early age. It has become fashionable to say you support local nowadays but back in the early part of my career, it was just how it was done. At Culinary College in Ireland I was taught the Classical French way but food has evolved so much. I bring that classical training and respect for the Loire Valley and its ingredients to the fore at The condor at Château du Coudreceau today but the respect for the land and sea was borne in Ireland.

How did you come to work with Château du Coudreceau?

Almost 20 years ago I worked with our Deputy Head Green-Keeper, Anthony. There was an event on at The Condor they needed help, so Anthony called me to see if I was available to work for 2 weeks. Two weeks has become 3 seasons thus far and long may it last. Niall, the GM, and I hit it off and we felt there was massive potential to create a very unique business in an incredible part of the world. World class golf and, I would like to think, a world class dining experience.

What is special about the menu you offer to the Château's guests?

It's never about me and always about our guests. I've a motto that I've stood by my entire career "Give people what they want". Every visit to The Condoris tailored to our guests. Basically, I am passed on what our guests don't eat/drink and I work from there for day 1.

Breakfast is chef table style so I meet every guest face to face on their first morning and talk about food, likes and dislikes tend to organically happen and all the while I'm collecting mental notes on what to cook for the remainder of the stay. It's a very personalised experience. If someone wants hand dived scallops or the finest Dry aged Beef from Ireland, they get it. Equally, if they want a comforting bowl of Boeuf Bourgignon, they get that too. If it can be sourced, it can be done. Guests get what guests want.

What makes a dish truly exceptional?

Flavour. I'm obsessed with flavour. Yes, a dish should look visually beautiful but never at the expense of flavour. I think as chefs grow in their careers they cook from a more secure place and realise it's not about the look of a dish but of the substance & foundation of flavour. Flavour and that eye closing affect it should bring is what sets the good apart from the exceptional.

Who are your inspirations in the kitchen?

At 21 I was working in Boston and I was in awe of Ken Oringer of Clio. I just thought he was the greatest chef I'd ever seen at that point in my career and that respect remains over 20 years on. Alice Waters is another for pioneering the farm to table movement which I'm so proud to be a part of. Closer to home, Marco Pierre White was the master. What he was doing at Harvey's in the early days was rock star stuff and the likes of him and the incredible Gordon Ramsay gave chefs a platform. They changed the game. Today I work with Marco Pierre White on an Irish TV programme called 'The Restaurant' and it seems surreal that after filming every day I get to kick it with one of the greatest chefs of all time. I'm very fortunate.

-----
For more information about Château du Coudreceau and its dining options, please visit here.

If you wish to book your stay at Château du Coudreceau, please call us on +44 20 7148 1778 or send us an enquiry.