Monday 5th of February 2018 02:42:49 PM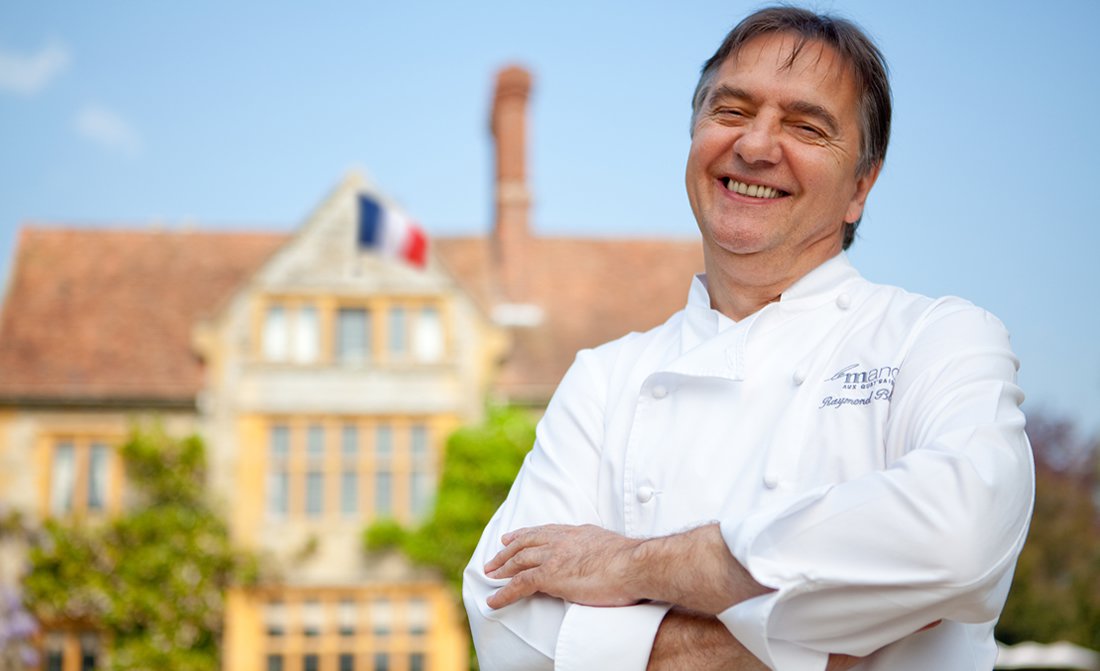 Today we are talking to Raymond Blanc, the Chef Patron of Belmond Le Manoir Aux Quat'Saisons, a luxury country house hotel in Oxfordshire, England. In this interview, exclusively for Hurlingham Travel, Raymond tells us a lot about his childhood which was very closely related to food and explains how to become rich when you are only 10 years old. He also says the reason why he decided to buy the hotel and reveals his greatest heroes of the culinary world.

Raymond, where does your passion for cooking come from?
My childhood was probably a cliché of French rural life. It established the foundation and the structure of my approach as much to cuisine as to people. At the age of 7, my father took me to the garden, made me take a handful of earth, look at it, smell it, taste it! And of course, I was very much involved in all the toiling in the garden, whilst my friends were playing football. Then the veg would be picked, topped and tailed and cooked by my mother and often bottled for the winter. From the age of 7 I was also a hunter-gatherer across the woods of Franche-Comte where there are fields growing numerous types of wonderful produce – mushrooms, chanterelles, wild asparagus, wild berries and flowers. All that we picked would be handed to my Mum to create a simple creative act of cooking and the rest sold on the side of the street. This gave me a good understanding of the cycles – and also made me a rich young man by the age of 10!

We would mostly eat only seasonal food which came either from our garden or from the farms around. Everything we grew was organic – although the word didn't exist back then. If we had chicken or rabbit, I would do everything to prepare it for the cooking pot - I would run after the wild beast, corner it and eventually, after a long fight, bring it home, slit its throat, keep the blood, remove the feathers and chop it up, saving the heart, liver kidneys and stomach. Then I would give it to my mum to apply her simple creative art. So food was very much at the heart of our house. But so was the gift of food – food was an act of love which was to be shared with the people you love, your family. All of those values have permeated my own approach to cooking and preparing food.

When and how did you decide to acquire the property?
I always wanted to have a small house, with a few rooms to entertain my friends and a large garden to grown produce for my menu. When I saw Le Manoir for the first time, I instantly fell in love with it - rather larger than I had ever imagined, but an idyllic, typically English setting, ready for me to add a little French flair.

What are the main goals of your Cookery & Gardening Schools at the hotel?
Our goal is to help nurture your natural love of food and provide you with the skills you need to translate this love into beautiful and imaginative cuisine. Each aspect of what we do is driven by ethical, environmental and seasonal values, wherever possible. Each course at The Raymond Blanc Cookery School provides a hands-on opportunity to develop your culinary skills in a practical and supportive learning environment, as well as being a holiday in the most luxurious and beautiful surroundings.

Way back in 1984, the first thing I did at Le Manoir was create the vegetable garden, which would provide for my kitchen and for our guests. Now we have 11 different gardens and a 2500 strong heritage orchard. Each is inspired by my travels, my childhood, my papa's garden, books I have read and the wonderful people I have met over the years. The gardens are an essential part of the extraordinary Belmond Le Manoir journey - you will spend as much time in the garden as you will at the table. With our 11 gardens there is a whole world of art and sculpture, all are the making of a perfectly integrated eco-system and the living magic or Belmond Le Manoir. We provide a variety of courses to suit the novice up to those with experience with a day of discovery in truly enchanting surroundings. Guests will learn so much about the magic of growing whilst being immersed in an array of no less than 250 varieties of vegetables - all of which are grown for their flavour.

Your restaurant has 2 Michelin stars. What does it mean to you?
We are extremely proud to have held 2 Michelin stars since 1984. This truly due to the continued commitment and vision of every member of the team. We continue to evolve, always try to improve ourselves, and strive for perfection in cuisine, service and comfort.

Whom do you admire most in the culinary world?
I admire many people in the culinary world. At Le Manoir we have trained over 30 chefs who have gone on to earn Michelin stars of their own - I have such pride in watching these proteges grow into accomplished chefs. We recently saw the passing of one of the worlds most respected chefs, Paul Bocuse. There is an immense respect for the man. Beyond the respect there is also much love for his values, his legacy and what he has achieved during his lifetime. He was a natural leader. He supported modernity and the deeper understanding of nouvelle cuisine. He also exported French cuisine across the world. Through his ability to understand human nature he became both a much loved man and a role model to many. He had a natural wisdom and people naturally looked up to him. He was a true statesman in our industry. Another huge achievement of Paul's was to create a new role for the chef. Traditionally chefs were employees and Paul almost single handily created the new era of Chef Patron, in charge of their own destiny and their own business. That is why he was called "Le pape de la cuisine" or more simply "Monsieur Paul". I am proud to have been counted as one of his friends.

For more information abou the hotel and its dining facilities, visit here.