Tuesday 4th of February 2020 09:53:48 AM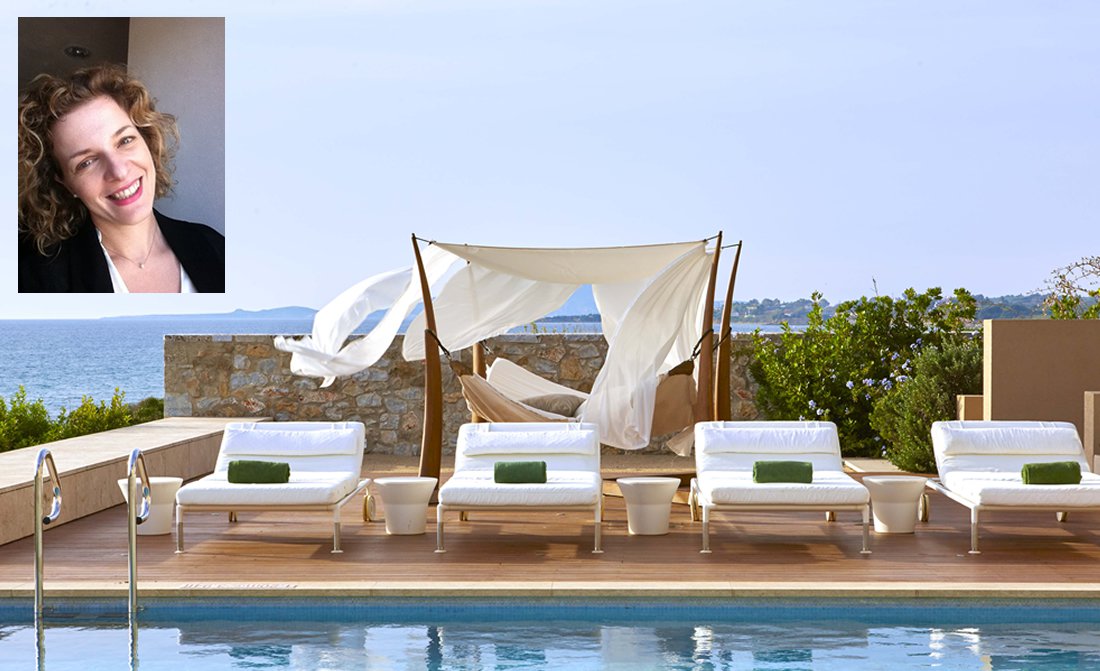 Natasa Glaraki, Destinaton Experience Manager at The Romanos, a Luxury Collection Resort in Greece, talks about the uniqueness of Messinia, which is famous for Kalamata olives and one of the best olive oils in the world.


Natasa, please tell us a little bit about yourself? Where were you born and where did you grow up?

I am Natasa Glaraki – Destination Experience Manager and I belong to 70% of locals that work in Costa Navarino. I was born in Kalamata, Messinia. Having a keen interest in Cultural Heritage, I followed this academic field while working for several years in cultural organizations in Greece and abroad gaining a profound knowledge on history and culture. My last projects before joining Costa Navarino was the renovation of Ancient Olympia Archaeological museum and the opening of Archaeological Museum of Messinia. At that point, I decided to proceed with Touristic Management studies, to support the organizations' operations in relation with the touristic market.

How did you decide to work in Costa Navarino?

Costa Navarino has a conclude philosophy in relation to history and nature that inspire associates and guests! Being a local, I witnessed for many years, prior to opening, the story of Captain Vasilis, the founder of Costa Navarino, who followed his dream to create a universal touristic destination in Messinia, a brand new region in regards to touristic development. His long term vision and focused practice led to the creation of a unique environmental sustainable destination inspired by locality and traditions. I was fortunate enough to join the project from the very first day and follow its development during the last 10 years.

Please, tell us more about the experiences you can arrange for your guests?

In Costa Navarino, guests are encouraged to discover the beauty, history and culture of Messinia by engaging in authentic cultural experiences that enable them to become part of an age-long heritage. The Messinian Authenticity program offers a wide variety of intriguing activities to choose from (Authentic Village Cooking, Olive Oil Tasting, Wine Harvesting, Philosophy Walk, Ancient Greek Theatre workshop etc) and have the chance to interact with locals, taste traditional recipes and discover secrets taught from father to son.

One of the tours is Philosophy Walk. Could you tell us more about it, and also reveal your favourite Greek philosopher whose ideas are closest to your heart?

Guests follow in the footsteps of the ancient Greek thinkers on a 'Philosophy Walk' against the idyllic backdrop of the Messinian countryside. Led by classical scholars, these walks offer a unique opportunity to discuss important modern-day issues through the prism of ancient Greek philosophical thinking and find answers to contemporary problems by drawing on the wisdom of the past. Personally, I trust Plato in regards to education which is somewhat different than our contemporary understanding: it involves the total training of character and aims at producing a morally mature individual.

What is unique about the history and traditions of Messinia?

Messinia extra virgin olive oil from the Homeric times to today. The olive oil of Messinia, dubbed "liquid gold" by Homer, is considered by lovers of good food to be among the finest in the world. The best known olive varieties are Koroneiki and Kalamata, the famous table olive. Around 250 olive-oil presses operate in Messinia, producing an average of 50,000-55,000 tons annually, 95% of which is cold-pressed, extra virgin olive oil. In Costa Navarino guests experience first-hand one of Messinia's most enduring agricultural and culinary traditions, as they participate in each step of the olive's seasonal journey from tree to table.

What would you like to wish for our readers for 2020?

An amazing year full of authentic and memorable experiences!


-----
If you wish to book your stay at The Romanos, a Luxury Collection Resort, please call us on +44 20 7148 1778 or send us an enquiry.

For more information about the experiences and activities offered at this luxury resort in Messinia, please visit here.