Thursday 28th of December 2017 11:09:42 AM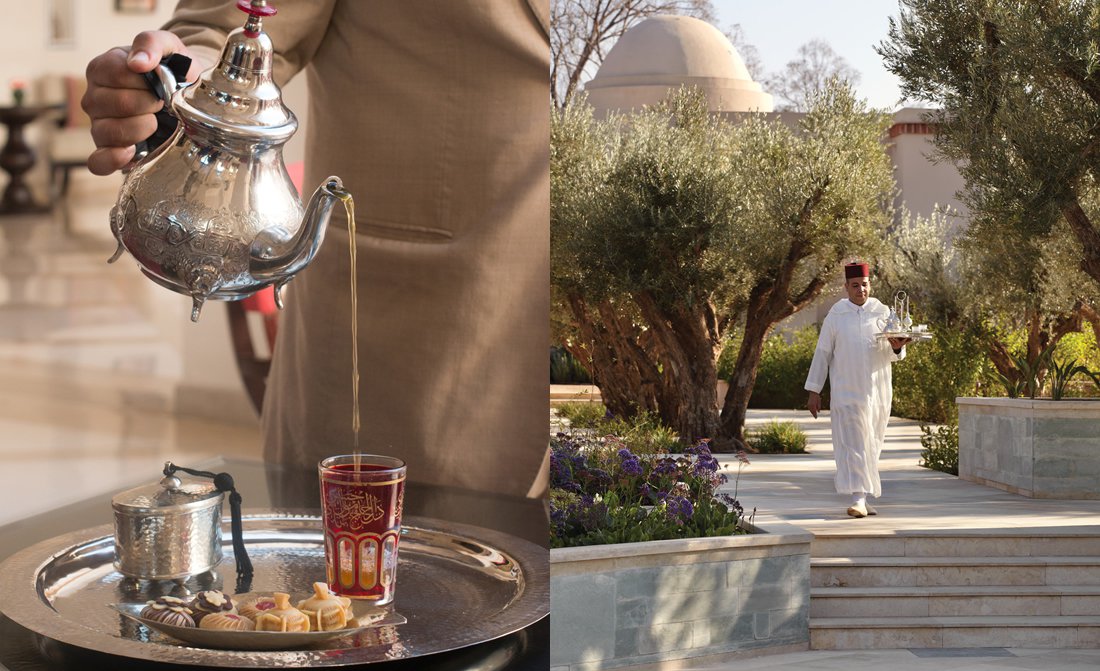 Today meet Abdelaziz, who is a Tea Man at the luxury Four Seasons Resort Marrakech. In the interview, specially for Hurlingham Travel, Abdelaziz tells us about traditional Moroccan tea, its recipe and instructions how to make it. He also reveals his favourite places in Marrakech to have a good cup of this authentic drink.

Abdelaziz, how did you join the Four Seasons Resort Marrakech?
I joined Four Seasons Resort Marrakech more than 5 years ago. I was already working in the hospitality industry but it was a real achievement to join a company like Four Seasons. It is such a well known and internationally acclaimed company.

Can you reveal us the recipe of the perfect Moroccan mint tea?
There are just a few basic ingredients for mint tea: dried green tea, fresh sprigs of mint, large lumps of sugar, and boiling water. Typically, a small amount of boiling water is added to the green tea in the teapot. It is not mixed. After approximately one minute, the dark water is poured into a small glass and set aside for around five minutes. In the meantime, more water is added to the teapot and the now-opened tea is swilled in the water. This water is poured from the pot and discarded. The first glass of water is returned to the teapot. The pot is then filled with boiling water and the teapot is put on the stove or fire for approximately five minutes. A handful of mint and sugar lumps are added to the tea when it's removed from the heat.It is then poured into a glass from a height, adding plenty of air to the drink so that the top gets rather frothy. This is then returned to the pot, with the process repeated several times to thoroughly mix the sugar and minty flavour. People might taste the tea between pouring to gauge how many more times it should be mixed. Ideally, let it rest for 5 minutes before pouring.

Depending on personal preferences and the season, other ingredients, such as verbena, geranium, thyme, and rosemary, might be added to the pot.

Please, tell us a little bit more about the art of making, pouring and drinking tea in Morocco?
Depending on your taste, you can add more tea, mint or sugar... Moroccans tend to put a lot of sugar, which is a sign of wealth. Never serve a full glass of tea as you want to make sure you drink it very hot.

Drinking tea is often a huge part of any social gathering in Morocco, with the drink symbolizing friendship and hospitality, as well as showing a warm welcome. Tea is generally made in front of guests.

The resort guests have an opportunity to enjoy a tea class. Please tell us more about it.
As per the Moroccan tradition, we do offer Moroccan mint tea upon arrival to all our guests.

It comes then very naturally to have guests asking for the recipe. Instead of just giving them a piece of paper, I tend to show them live. It is a great moment of connection and I do really enjoy sharing this experience with our guests.

Do you have your favourite place in the Medina for a really good cup of this drink?
My favourite place to have tea will be when I enjoy a picnic with my family in the Menara gardens - I am usually the one making the tea.

In the Medina, I would recommend the "Cafe de France", you have the perfect view on the Jemaa el Fna place and you can enjoy your mint tea while watching the frenzy of the square.

Click here for more information about Four Seasons Resort Marrakech.