Wednesday 7th of March 2018 10:35:37 AM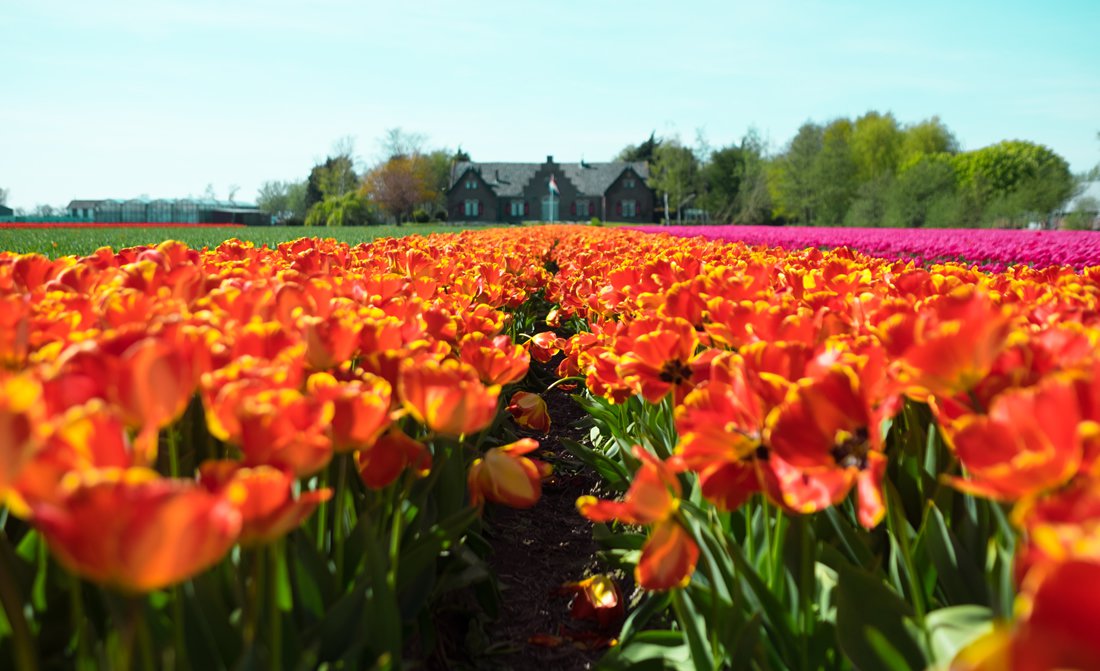 Conservatorium Hotel in Amsterdam, Netherlands, is offering a unique opportunity to experience the Dutch tulip gardens by helicopter tour.

Experience the Dutch tulip gardens in one of the most unique ways possible: by thrilling helicopter ride. As the time is approaching for the seasonal tulips to blossom in the Netherlands, the Conservatorium hotel is welcoming guests again this year to immerse themselves in this colourful traditional and see the beautiful tulips at the hotel. Amsterdam's leading luxury lifestyle palace, located in the heart of the city, will be dressed with over 1,000 of its bespoke tulips in celebration of the annual Tulip Festival. Last year, in celebration of its 5th year anniversary, Conservatorium revealed its very own tulip variety that was grown on the estate and will be on display throughout the hotel in 2018.

In honour of the country's national flower, the Conservatorium hotel will be offering guests a unique package to fully explore the flower festivities. The 'Tulips in Bloom' package includes:

- A helicopter tour/flight on Saturday with extensive views over the vast multi-coloured tulip fields, flower parks and Dutch coast. The EC 120 helicopter can accommodate one pilot and four passengers and the flight is only available on Saturday.
- A private driver for an exclusive journey across the grounds of a tulip farm for a unique introduction to art tulip cultivation. Guests will get the chance to learn the fascinating history of this craft and even pick their very own tulips to take home.
- Entrance tickets to Keukenhof, the Netherland's celebrated flower garden. Seven million bulbs and 800 varieties of tulips will adorne the park for a select period of time from 22 March until 13 May. Guests will enjoy the 32 hectares of flowers, spectacular flower shows, inspirational gardens, unique art and other tulip related events.
- Two night's stay in one of Conservatorium's luxury guestrooms or suites including breakfast.
- A two night stay in a luxurious guestroom or suite
- Daily breakfast in the Brasserie
- Access to Akasha Holistic Wellbeing Centre
- Free Wi-Fi access during your stay
- Welcome drink upon arrival

The 'Tulips in Bloom' Package will be available from 29 March until 28 April, with rates starting from €1695,- per night inclusive of VAT, exclusive of 6% city tax, subject to availability. This package needs to be booked 14 days in advance. Rate includes VAT and excludes city tax which is charged per room, per night. Promotion may not be used in conjunction with other offers or negotiated rates.

To BOOK this offer call us on +44 20 7148 1778 or send us an enquiry.



About Conservatorium Hotel

The Conservatorium hotel building was originally designed by the Dutch architect Daniel Knuttel as the Rijkspostspaarbank, the national saving bank, and sparked the regeneration of the Museum Quarter at the end of the 19th century (1897). When the Rijkspostspaarbank had to move offices following a series of merges, the building was abandoned in 1978. After lying empty for five years, it became the home of the newly formed Sweelinck Conservatorium, consisting of three musical institutes. Some remodelling was required to modernise Daniel Knuttel's architecture into functional acoustic classrooms. In April 2008 the Conservatorium of Amsterdam outgrew its home and departed to its current location at Oosterdokseiland. In 2008, The Set purchased this wonderful building, attracted by its glorious past. In a vision to restore its former beauty, award winning Milan-based designer Piero Lissoni guided the creation of the hotel whose rich historical narrative is woven with utmost care. Learn more.


Photo by Owen Williams on Unsplash