Thursday 17th of May 2018 12:38:12 PM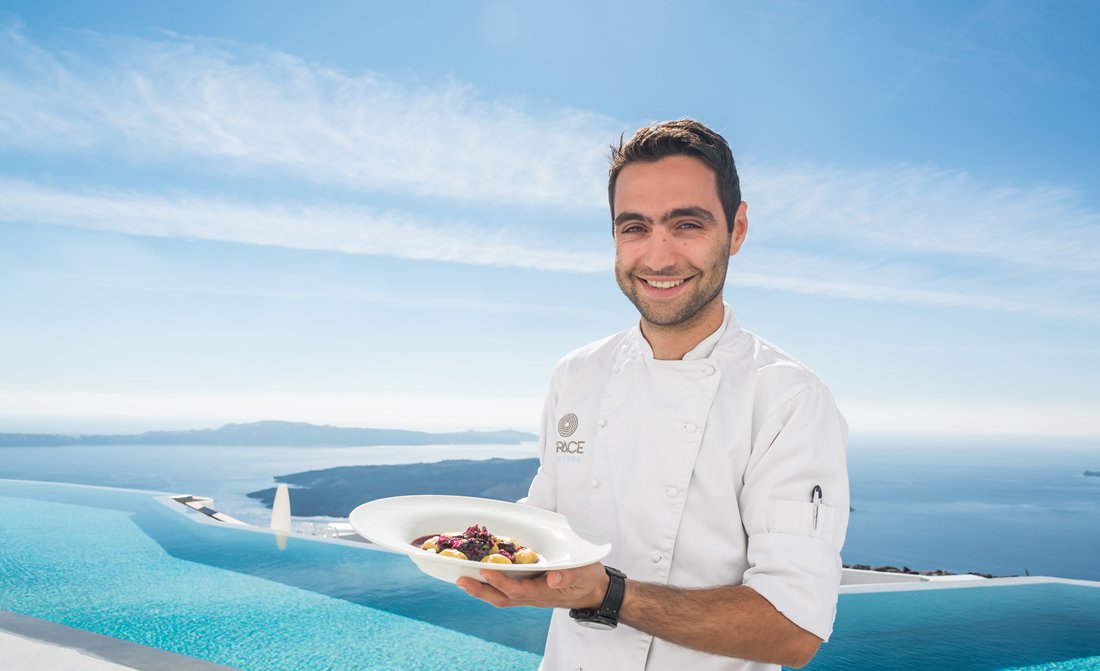 Spyros Agious is Executive Chef of the award-winning luxury boutique Grace Santorini at its iconic view restaurant, Santoro, and sister property Grace Mykonos, overseeing the intimate restaurant located on the pool level.

Inspired at a young age working alongside his father at the family-run butcher in Corfu, Chef Spyros gained invaluable insight into the restaurant world, discovering the importance of local produce and finest quality ingredients. He embarked on his career at the tender age of 17, committed to working the summer seasons at hotel restaurants throughout the Greek Islands, whilst pursuing his studies in culinary art.

In 2005, Chef Spyros made a defining move in his career, leaving Greece for London, taking up the role of Chef de Partie at internationally renowned Italian restaurant, Cecconi's. He progressed quickly and continued to develop his culinary skills and expertise with roles at some of the world's most prestigious restaurants including The White Barn Inn and Michelin-starred establishments Le Gavroche and Gordon Ramsay at Claridge's.

Chef Spyros has been based at Grace Santorini since 2009 and has overseen cuisine at Grace Mykonos since 2015. He is inspired by the flavours and products of the Cycladic islands, the distinctive cooking of Greek villages and his international experience. With its extensive variety of quality ingredients and centuries of culinary wisdom, Greek cuisine is celebrated globally.

Chef Spyros's unique menus are created using the best local and regional ingredients, many of which are exclusive to Santorini or caught in the South Aegean Sea and sourced from carefully chosen local producers. Menus change frequently throughout the season.

Confident yet humble, Chef Spyros enjoys life in the kitchen, overseeing all aspects of dining at Grace Santorini, including room service, the Champagne Lounge and Santoro.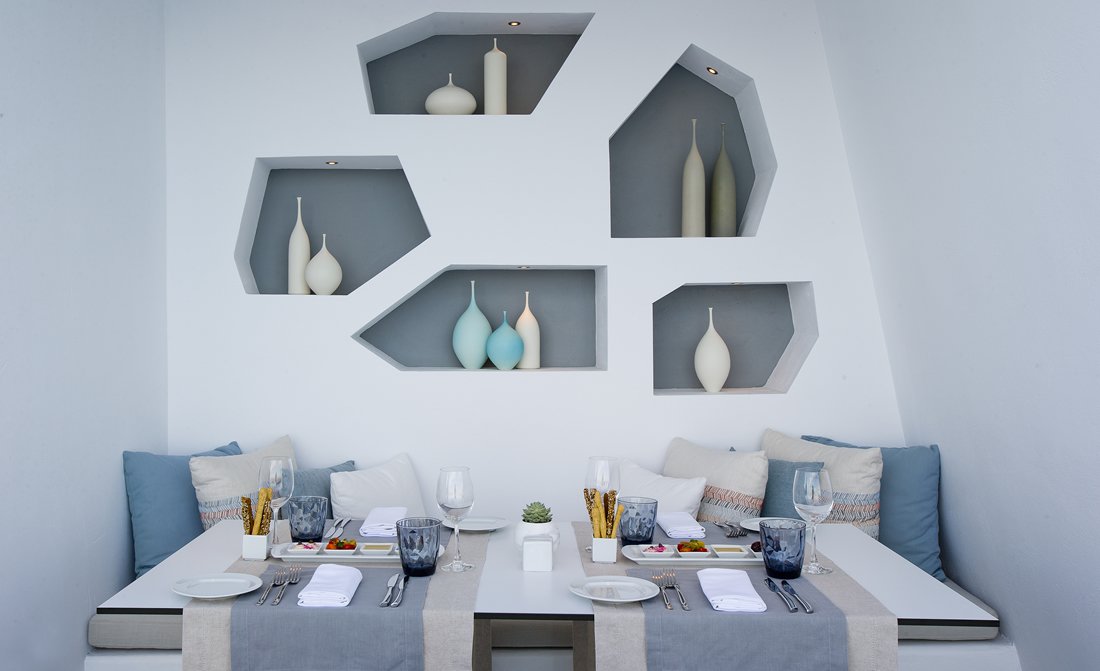 Santoro Restaurant at Grace Santorini

After collecting the 'Greek Cuisine 2016' and 'Young Talented Chef 2016' awards at Greece's Golden Toques (Toques d'Or), Spyros and his talented team led Santoro to win its first 'Golden Toque' at the prestigious awards in 2017. The Golden Toques are widely acknowledged as the most authoritative gastronomic awards in Greece, establishing Santoro as one of the top restaurants in the country.


Spyros, when and how did you decide you wanted to become a Chef?
My family's business growing up was a butcher in Corfu and I was always surrounded by food, which really inspired me from a young age. I was often working with my father, helping him in the butchers, and watching my mother as she cooked.

Where does your inspiration come from to create menus for the restaurants at Grace Santorini and Grace Mykonos?
Through my career I have taken inspiration from the different restaurants I have been lucky enough to work in. I learned something from each experience – especially the value of local produce and the finest quality ingredients, and this has really inspired my cooking. Greek cooking culture, which is all about the recipes and local ingredients, inspires me the most and continues to fuel my interest. When I first moved to Santorini there were a number of ingredients I had never used before in my cooking, which was really exciting and very inspirational for me. I love how Santorini's unique terroir in combination with the climate gives the local ingredients their distinct flavours. All our ingredients are sourced from carefully chosen local producers, with menus changing throughout the season. I also use many ingredients from the sea, as our location allows us to use the freshest of fish.

While respecting the local traditions, we innovate by introducing new techniques: the fava bean is transformed into gyoza, the lemon olive oil is enhanced and transformed into a fine, foamy texture. Another example could be is our marinated and grilled calamari with smoked mackerel powder, red lentil and pepper coulis. It combines the best of the island's produce in a modern way. The result is a fine, seasonal dining experience. Whilst our style of cuisine at both Grace Mykonos and Grace Santorini incorporates techniques that are used worldwide, my method is ultimately based on the Greek way of cooking. The mix of the two gives me the tools to create a memorable experience for all visitors.

Another aspect that I appreciate greatly is the local wine, which is indispensable to us. Assyrtiko is one of the best Greek white wines, and it is unique to Santorini. It has a characteristic acidity and minerality.

What is your favourite Greek dish and dessert?
You will of course find them on our menu, where I have included all my favourite Greek dishes and desserts! I particularly like the Seabass Moussaka with Greek yoghurt béchamel, tomato and basil, and the Tahini Halva with red miso, passion fruit, mango & raw cacao beans!

But it's not just about the dishes – it's the whole experience which we craft for our guests which we hope they remember. The surroundings here in Santorini are simply breathtaking – sunset dining at its best, facing one of nature's most awe-inspiring views.

What do you usually like to cook and eat at home?
I love breakfast!!! All day…

This is the main reason that at both Grace Santorini and Grace Mykonos we serve our signature Champagne breakfast. It is made up of a set menu of five courses with a different theme which changes daily, so guests can try something new each morning. For example, day one: Greek yogurt, golden berries and hemp granola; day two: homemade 'Spanacopita' Pie with a strawberry smoothie; day three: sweet pepper pancake with Arseniko cheese and chunky guacamole spinach…

If you could prepare dinner for anyone in the world, who would this person be and what menu would you offer?
It would be for my local fisherman! The most important ingredients I use are the regional ones as they give the dishes that authentic quality.

At the local fish market we co-operate with fishermen who catch a specific type of fish using their own techniques – for example large eye dentex, scorpion fish, which is popular in the Mediterranean, bonito or red mullet. So I would really like to give to them the opportunity to taste one of our delicious dishes – the Seabass Moussaka.

For more information about Grace Santorini and Grace Mykonos, click here.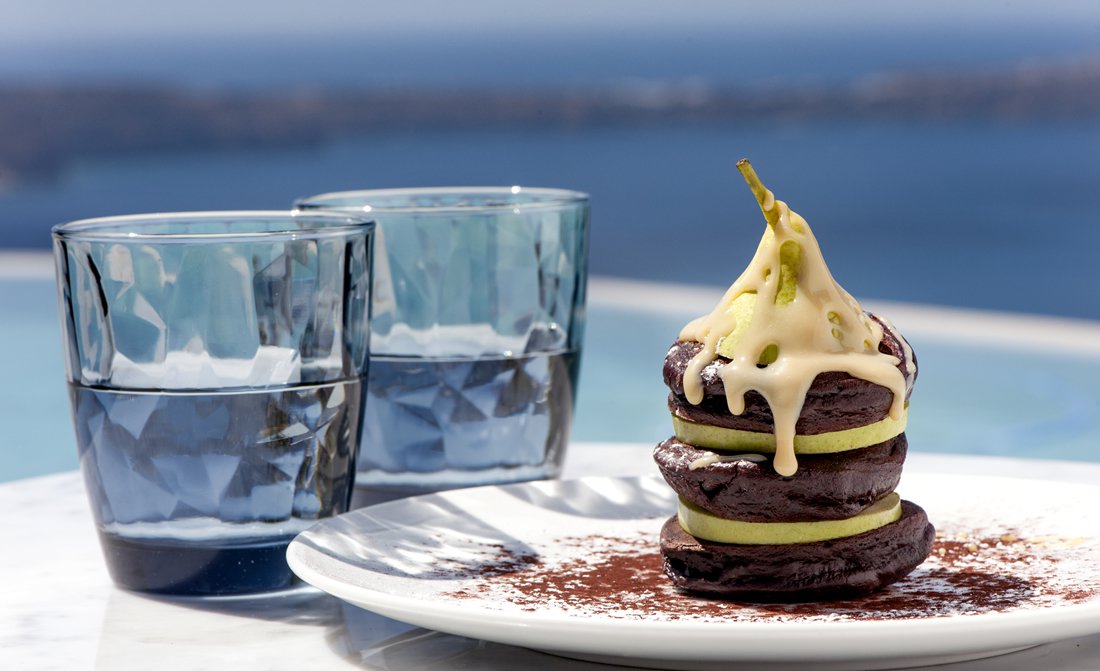 Chocolate pancakes served with pear and "Dulce de Leche"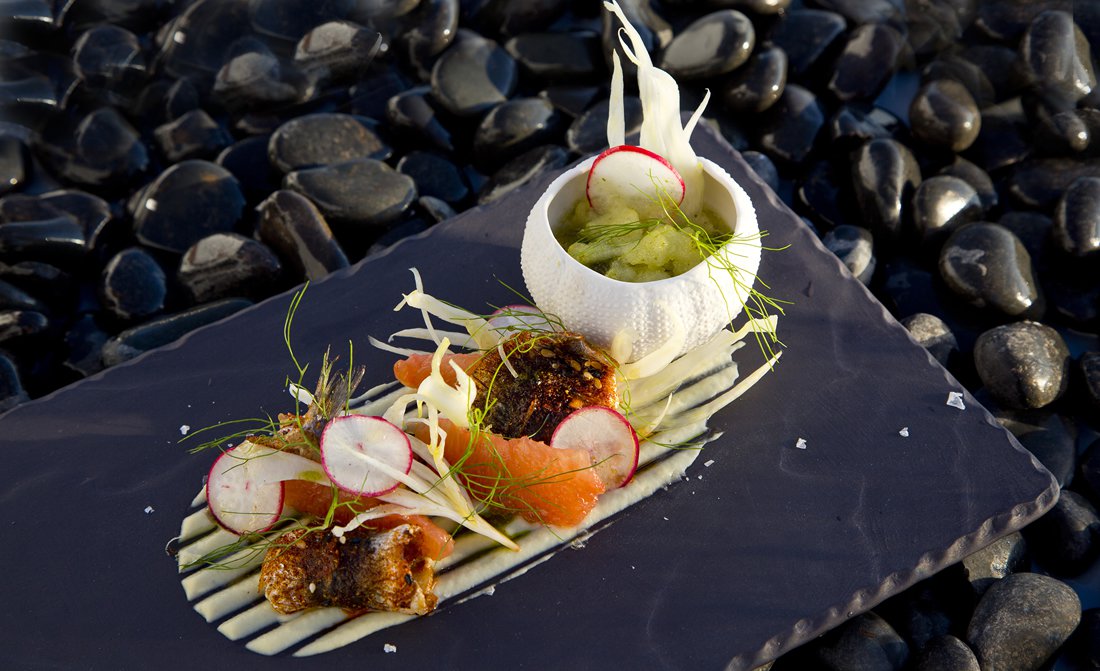 Spiced sardines, pink grapefruit, fennel and lime basil sorbet