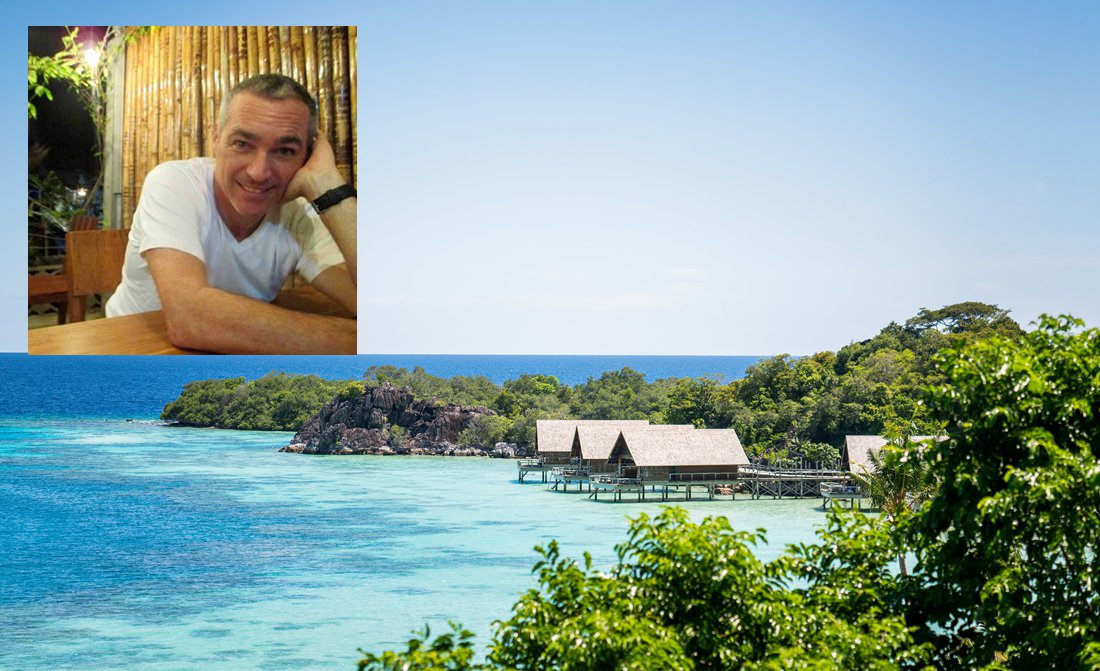 Thomas Blachere is the Executive General Manager of the Bawah Island in the Anambas, Indonesia, where he is responsible for the overall smooth operations of the 35-suites island property's facilities and departments. However, his journey leading up to the position, spanning more than two decades, has indeed been quite an illustrious one, and nothing short of exciting.

In fact, when it comes to the travel and leisure industry, perhaps none can say that they have "been there and done that" more than Thomas. From managing a scuba diving centre in French Polynesia, to setting up a scuba diving cruise company in the Maldives, to working his way around the world, setting up and managing top resorts and hotels – all before the age of 40 – Tom, as he is affectionately known, has already established himself as a true top-notch hotelier in a class of his own.

Tom left home in the French Brie region at the tender age of 18, eager to make his mark in the world. His involvement with a student exchange programme found him setting foot in Louisiana in the United States, where he graduated from high school with Honors. Upon his return to France after high school, someone told him that most people work during the week, only to live their weekends, but if one were to live a life of passion, he would truly live his life.

That moment created a zeal inside him that would chart the course of his professional career ahead of him. He enrolled in one of the best scuba schools in the country and received his first degree a few months later, going on to gain two more degrees after that, making him not only a certified diver, but a certified dive instructor and first aid instructor as well.

His early professional career was spent managing a scuba diving centre in French Polynesia. Gaining crucial knowledge and experience, and the respect of Tour Operations in the region, Tom went on to set up and manage his own diving Cruise Company in Maldives, which he ran for nine years, exploring 3⁄4 of the country, both above and underwater.

In 2001, Tom sold his company and went on to join the management of HPL Hotels & Resorts, which owned the beautiful Rihivelli Beach Resort in the Maldives, where he was General Manager for six years, following which he was taken on as a consultant for the pre-opening of the Kandooma Beach Resort in the Maldives.

His exceptional expertise in the hospitality industry soon led Tom to move on to greater heights, and he soon found himself in yet another part of the world in 2007, this time in Penang, Malaysia, where he was instrumental in the conceptualization, setting up and pre-opening of the Hard Rock Hotel, Penang. His demonstration of sound industry knowledge, backed by his passion and experience led Tom to be promoted to General Manager of one of the group's boutique hotels – Casa Del Mar in Langkawi, which has been his "home by the sea" till today.

Under his leadership, Casa del Mar has won numerous awards including the World Travel Award for Asia's Leading Boutique Hotel in 2010 and the TripAdvisor Traveller's Choice Award for three years in a row including #1 top hotel in Malaysia, Top Ten ranking in Asia as well as #1 Service in Malaysia, ranked among the first 15 in Asia.

Tom is living proof that if anyone truly has a passion for what he does, he can succeed in anything he sets out to do. His demonstrated success in the industry has led his appointment as Chairman of the Malaysian Hotel Association in 2012.

In his free time, Tom enjoys a myriad of activities including scuba diving, sailing, underwater cinematography, paragliding, kite surfing and skiing.


Tom, what brought you to this beautiful mini archipelago?
Passion and people. Passion has always been the driving force in my career and life. Just fell in love with the archipelago itself and the fact that the owners wanted to build an eco-resort. Their commitment to conservation is exemplary.

It was a chance to be part of a project at its early stage, putting your personality into it and a privilege to open a destination which remains today still quite mysterious. I did love my life in the Maldives, but always regretted missing the first years of tourism there, I was obviously too young!

What is the biggest challenge for you, as Bawah Island's GM?
Logistics. Bawah Reserve is 300 km away from the mainland right in the middle of the Natuna sea between East cost of Malaysia and Borneo. Our logistic center point is located at Batam. Our locally made wooden cargo boat carries different needs that go from jet fuel for the seaplane to food in a running chillers, spare parts etc. It is not rare that 2 to 3 months separate us between an order made and its physical delivery on site. That imposes a careful crafted attention to planning.

Could you give us a sneak peek into the resort's kitchen menu? Are there any exotic dishes that guests simply must try?
Omar Bernardi, our Italian Executive Chef, and Ardian, his Indonesian Sous Chef, are a perfect duo. Both have different culinary background that complement each other. Our cuisine style is obviously a fusion of the two personalities and talents bringing Asian and Indonesian flavours and savour faire with the Mediterranean Italian ones. There is a menu that is used as a base, but both rather talk personally to guests to find out their tastes and desires. They also have to take in considerations what comes from the sea and the garden. They are as passionate as I am in their domain, I particular like how they provide chance to the rest of the kitchen team to come up with new dishes and idea under their supervision.

Here are two example of foods.

Tuna Tongkol Carpaccio
Tongkol is a local tuna in Indonesia. We use fresh tongkol and slice thinly to make a carpacio. Then we use the local Dabu Dabu salsa and we deconstruct it. Ingredient of dabu dabu is lemon grass, lemon, tomato, chillie. we use lemon grass and make it into a granite, tomato agar agar, chilli gelatin sheet, lemon foam. Last we add sambal matah. Sambal matah is a Balinese chillie sauce and we add on top the tongkol. We take Indonesian flavor and use European technique onto our dish.

Squid tagliatelle with Indonesian gulai and 63 degree egg
We use Italian technique such as the squid Tagliatelle and we add Javanese gulai which is Indonesian curry with coconut milk based then on top we finish it with 63 degree egg. Here we have a special dish because we take classical Italian pasta but we deform the pasta and use squid instead, Indonesian gulai as sauce and my personal favorite 63 degree egg.

What is your favourite travel quote?
I have two.

"Remember that happiness is a way of travel – not a destination." by Roy M. Goodman.

"And if travel is like love, it is, in the end, mostly because it's a heightened state of awareness, in which we are mindful, receptive, undimmed by familiarity and ready to be transformed. That is why the best trips, like the best love affairs, never really end" by Pico Iyer.

To find out more about Bawah Island in Indonesia, click here.