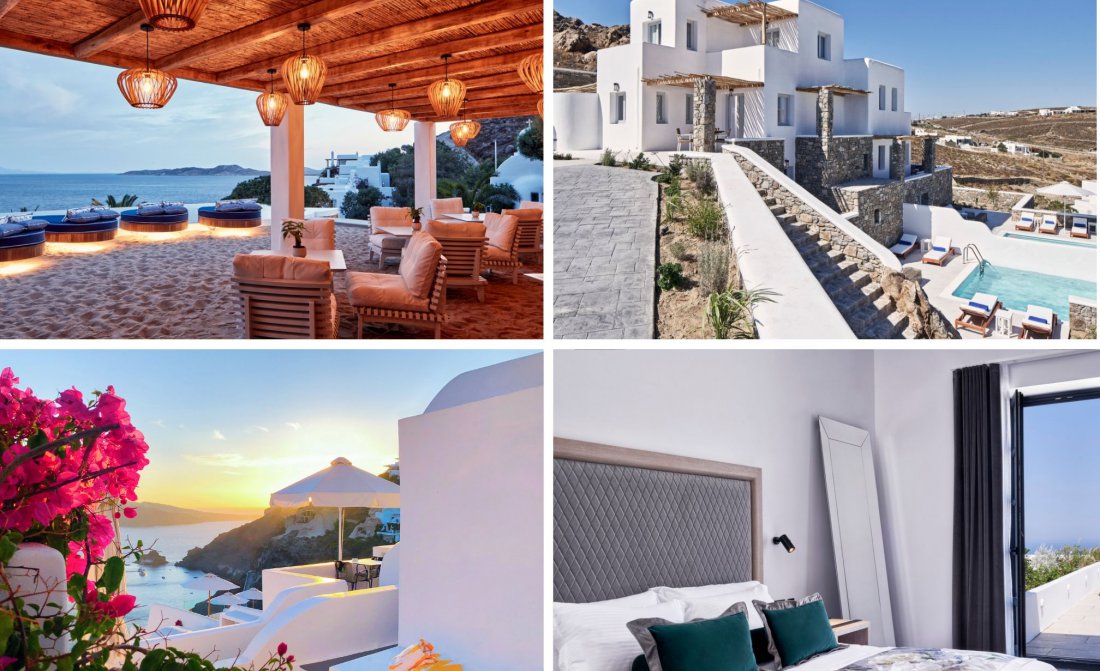 I had only been to Santorini once before and that was in early April, so I was really looking forward to seeing it at its sizzling best in July.

After an early but fuss-free 3.5 hour BA flight from Heathrow, we arrived in sunny Santorini just in time for a late lunch. It worked perfectly being two hours ahead Greek time, I was starving and more than ready for the glass of crisp, chilled white that greeted us on arrival at Chroma Restaurant in the cool Chromata hotel.

Situated in the small village of Imerovigli, about an half hour scenic walk from the bustling capital Fira, Chromata is one of six boutique, luxury hotels in Santorini owned by the Katikies Collection. Blending seamlessly in to the white, snow-drift panorama of properties that cling to the side of the famous caldera, Chromata still manages to live up to its name (it means colour in Greek) with splashes of vibrant purples, blues and reds dotted throughout the contemporary interiors.

We ate a memorable meal of good-looking Aegean-style food that showcased some of the region's freshest and most vibrant produce. Just-caught grouper, floral herby salads, zingy ewe's cheese and the best tiny, red tomatoes I can ever remember tasting, all washed down with some showstopping Santorini wine. You can literally taste the sunshine. I love Greece!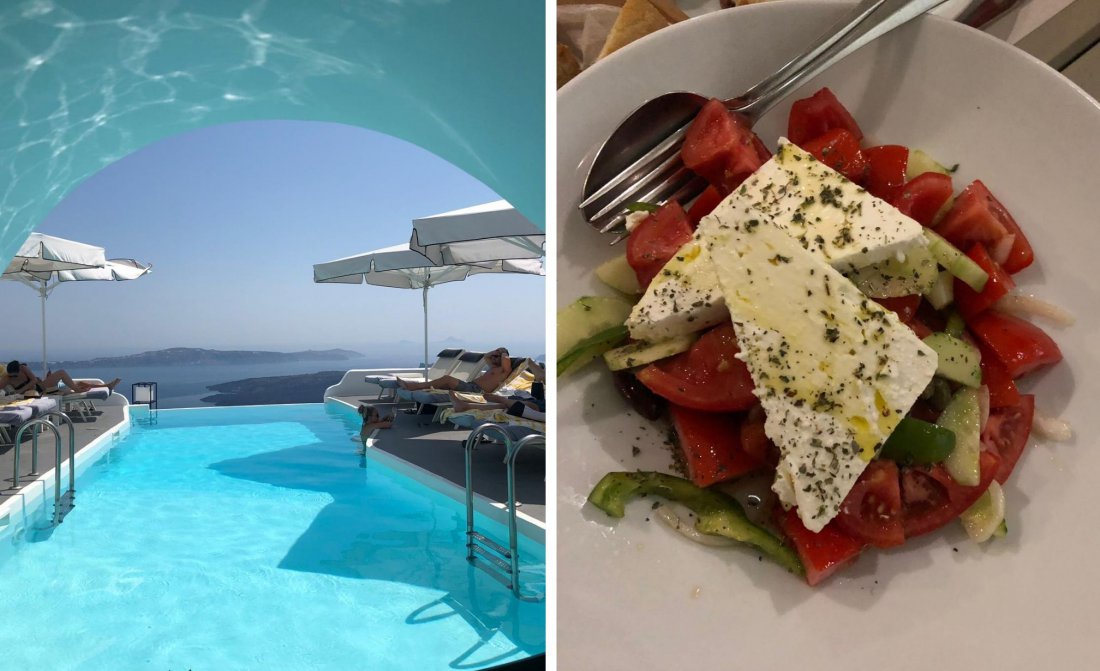 Chromata has just 27 rooms and suites all boasting spacious terraces with incredible views over the caldera and, in many cases, a sexy outdoor hot tub or pool. No wonder it's a mecca for loved up honeymooners. For a really intimate setting though, it's worth checking out the San Nicolas Cave House just a few minutes' walk from the main hotel. Although considered very much part of the hotel itself – with service to match and all facilities at your disposal – this very private two bedroom 'cave house' villa, built into the side of the volcanic rock, is hidden away in its own domain with a delightful caldera-view terrace and pool. It sleeps five people here, so along with the honeymooners it's a good alternative for a small family group or anyone who likes to slip under the radar.

From the white-bottomed, turquoise infinity pools that drape seductively over the cliff-edge, to the deep blue, sparkling ripples of the Aegean Sea, water is everywhere you look in Santorini. The irony is, however, that it's not the best place for beaches, with only a few black sand options on the other side of the island. It's as if the sea was put there just to compliment the white-washed houses, pretty domes and churches that jostle for position on the steep curve of land. Best viewed from high up on a sun-drenched terrace, or from the back of a cool motor yacht, it feels like the sea is simply an accessory to this picture-perfect landscape.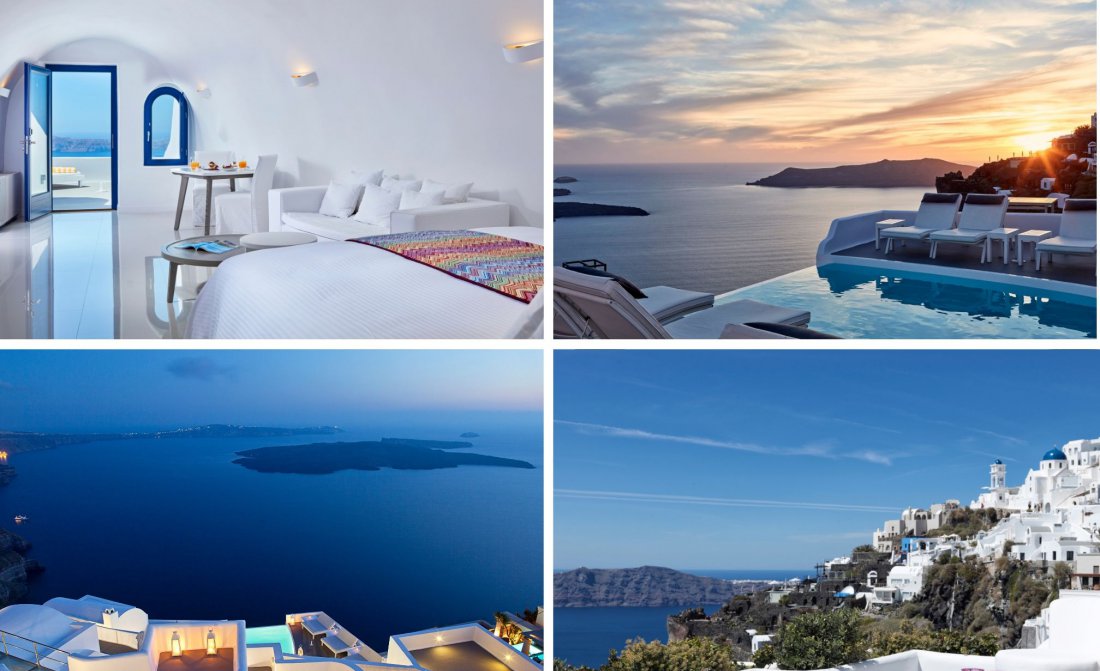 My first night on the island was spent at the brand new (and not entirely finished as I write this) Katikies Garden hotel. This fashionable 40-bedroomed converted monastery in the heart of Fira is the latest addition to the privately-owned collection and is already sporting its Leading Hotels of the World badge with pride. The interiors have been designed by the same team responsible for the uber-cool Mykonos flagship hotel, Katikies Mykonos and are a witty melt of rich emerald and blush-pink velvet, modern florals and funky, Starck-style minimalism. All of which makes for an interesting and unique contrast to the high vaulted ceilings, stone pillars, echoey cloisters and cobbled courtyards of the ancient monastery building that surrounds them. You won't find anything quite like this anywhere else on the island.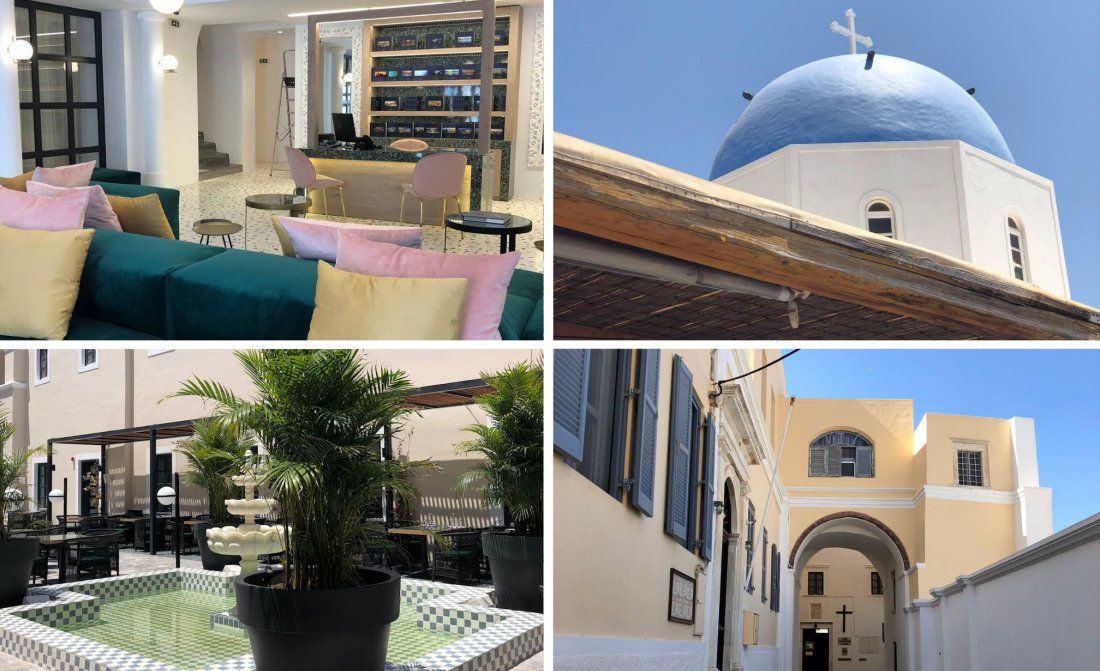 Katikies Garden is pretty unparalleled when it comes to location, too. Situated behind thick monastery walls, punctuated by cute wooden doorways, the hotel is on the main, narrow thoroughfare straight down into Fira town. Riad-like in its anonymity, it offers an oasis of calm just minutes from the tavernas, boutiques and bars of the lively, but still lovely, capital. You can at once feel as close or as far away from the hustle and bustle as you choose. That's what makes it a particularly good choice for families who need to keep the kids entertained, but still crave the adult sophistication of a boutique hotel with a seriously good kitchen and wine cellar.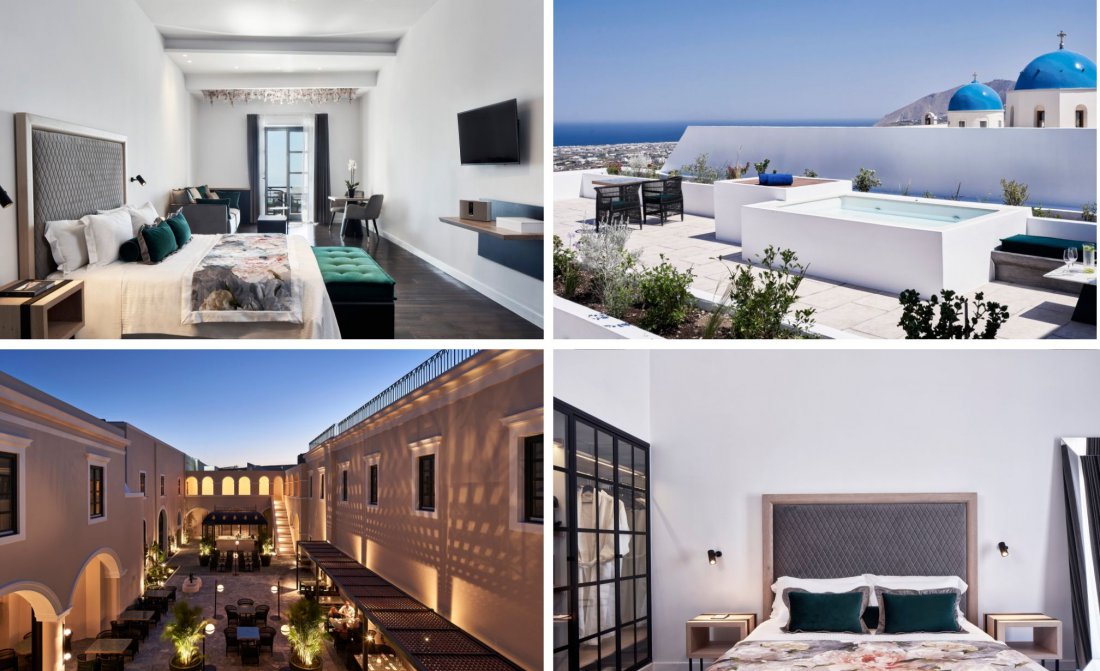 The Du Paul restaurant in a pretty, open-courtyard setting is fast becoming one of the real foodie highlights on the Santorini gourmet scene. The concept here is led by the impressive wine cellar paired with Santorini speciality dishes using locally-sourced produce. We enjoyed a spectacular lunch crafted to perfection.

After a good night's sleep in an absolutely huge bed in my absolutely huge room with its super-cool black and white tiled bathroom, it was time to see if the breakfast lived up to the lunch. I shouldn't have doubted it for a moment. A dizzying array of organic yogurt with various nutty, grainy, fruity toppings; freshly squeezed juices, tiny melt-in-the-mouth pastries still warm from the oven; sour, salty cheeses with olives and sun-ripened tomatoes; fluffy, filled omelettes any way you like them and a host of cooked-to-order hot plates awaited. No abstinence practiced within these monastery walls, I'm happy to report.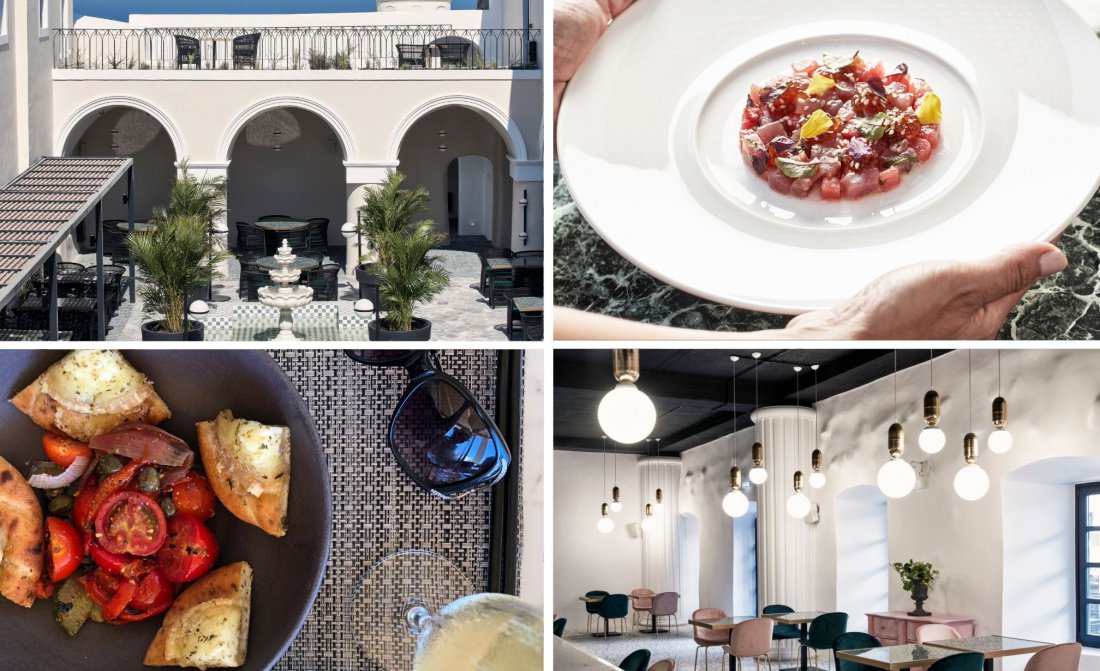 With more than sufficient sustenance under my belt it was time to join the heaving throng at the main port for our two-and-a-half-hour catamaran crossing to Mykonos. While not exactly an experience one would ever look forward to, once you've cut through the chaos of confused tourists, heavily-laden backpackers and beeping cars it's a pretty comfortable, cheap and efficient way to get between the two islands. Unfortunately, there are no flights connecting Santorini and Mykonos, but you could opt for a helicopter transfer or private speedboat if you crave a more refined arrival. For those who decide to do as the locals do and take the ferry, buying a business class ticket grants you access to a more civilised seating area above the main deck. You also benefit from the small, harbourside business lounge where you can wait with your luggage and enjoy some refreshments before you get on board. I would recommend it every time.

As much as I love Santorini (it should be on everyone's bucket list), my heart truly belongs to the magic and the madness of Mykonos. This grown-up playground of fabulous beaches, even more fabulous beach clubs, bars and boutiques manages to mix laid back bohemian beauty with super sophistication to create an island atmosphere like no other.

See and be seen at one of the island's famous beach clubs where all the action happens during the day and people watching turns into a national sport. Gay, straight, hippy or Hermes-chic. Singles, couples, friends or family groups of all ages, there is a beach club to suit every person and their pocket on Mykonos. They are all within easy reach of Katikies Mykonos hotel and Katikies Villas Mykonos where I had the absolute pleasure of spending a couple of nights.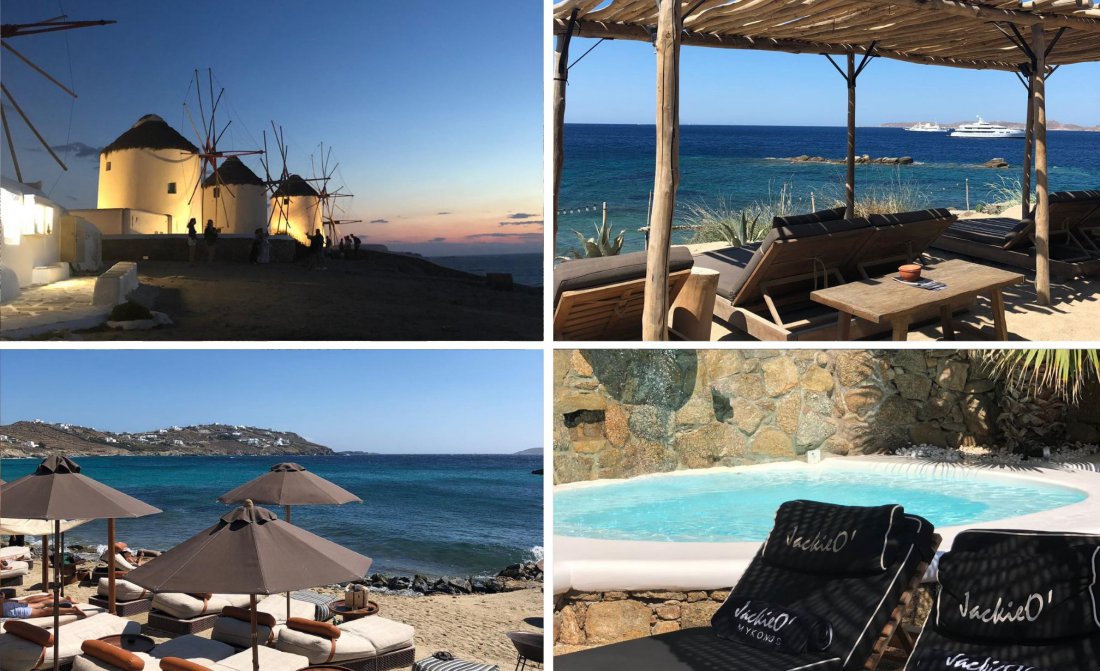 The 12 one to three-bedroom villas are the very latest jewels in the Katikies crown and are located close to Elia Beach, approximately 25 minutes away from the airport, port and main town. Guests of Katikies villas can enjoy free return shuttle transfers between the airport and port for 2019 and 2020 seasons. Transport is also complimentary between the villas, Elia Beach and Katikies Mykonos hotel which resides some 20 minutes away in Agios Yiannis.

Although only recently opened at the end of June, the villas already feel homely and are impressively appointed with contemporary, rustic-lux furnishings indoors and out. Multi-storey, they each boast their own sizeable private garden and pool and gorgeous outdoor shower and bathroom – heaven in the heat of the summer. The two-bedroom villa we stayed in adjoined the garden and pool terrace of another equally spacious two-bed villa next door. It would make the perfect option for two families holidaying together who each want their own living space, but also want to be able to socialise outside.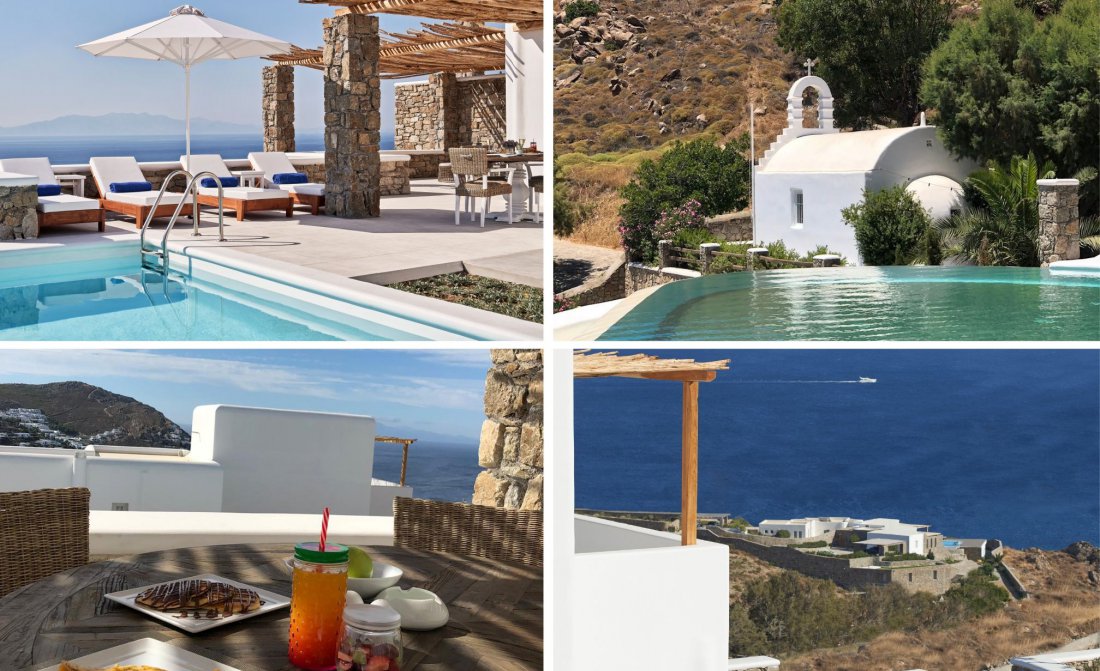 Inside, every bedroom has its own bathroom and large comfortable beds with great linens. Kitchens are small and serviceable with all the cutlery, crockery and glassware you could ever need, a fully-stocked snack and mini bar fridge and that all-important Nespresso machine for mornings after Mykonos nights.

What you won't find in this kitchen is a cooker. These luxurious pads are equipped for pleasure only and not the drudgery of domestic duties. Every villa has a directory of menus and a chef and kitchen team on site who will rustle up your heart's desire, deliver it to your door or set it up wherever you choose to eat. Room service is 24-hour and I have got to say, it really works. Guests of the villas are also considered guests of Katikies Mykonos hotel and so if you fancy a change of scene for breakfast, lunch or dinner, or want to book into the spa or gym, it's only a phone call – and a free shuttle – away.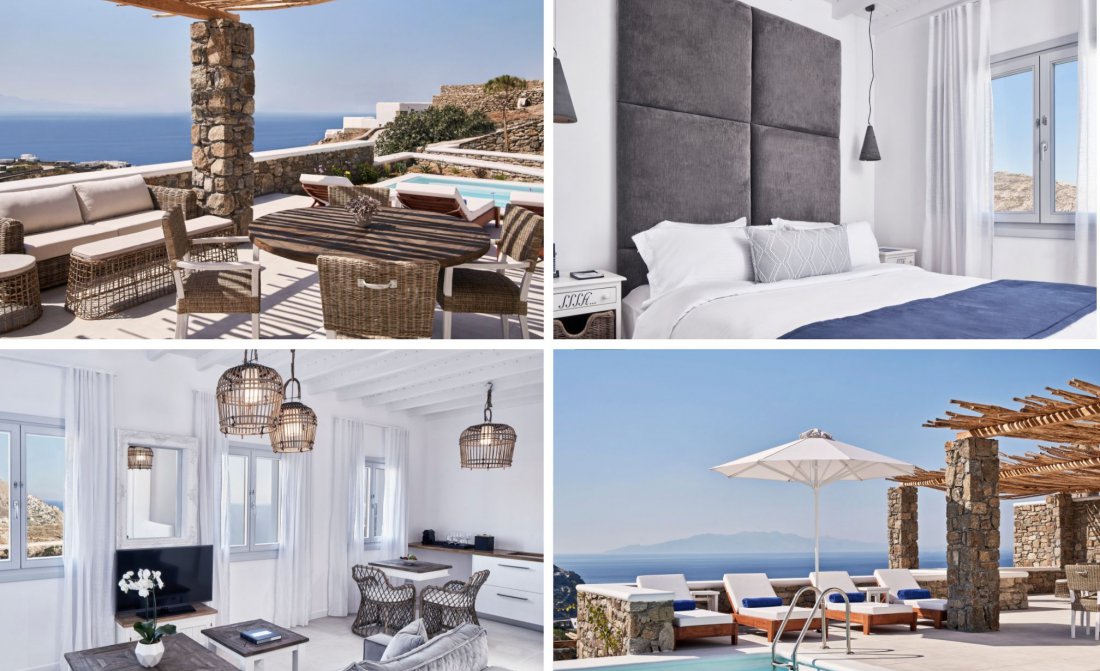 Hedonists head for the labyrinth of cobbled streets and twinkling olive trees in Mykonos town after dark and we were more than happy to follow in their footsteps on our last night in Greece. A place where you can dine at a fabulous, upmarket taverna, shop 'til you drop into the wee small hours and finish the evening dancing the night away at the heaving Baos bar perfectly placed on Little Venice's wave-lapped seafront. You see all life here but it was only when Elvis left the building – literally…there was a guy at the bar inexplicably dressed as Elvis Presley in his Vegas hey-day - that we decided it was time to go home to our VIP villa and call it a night. Well, morning actually!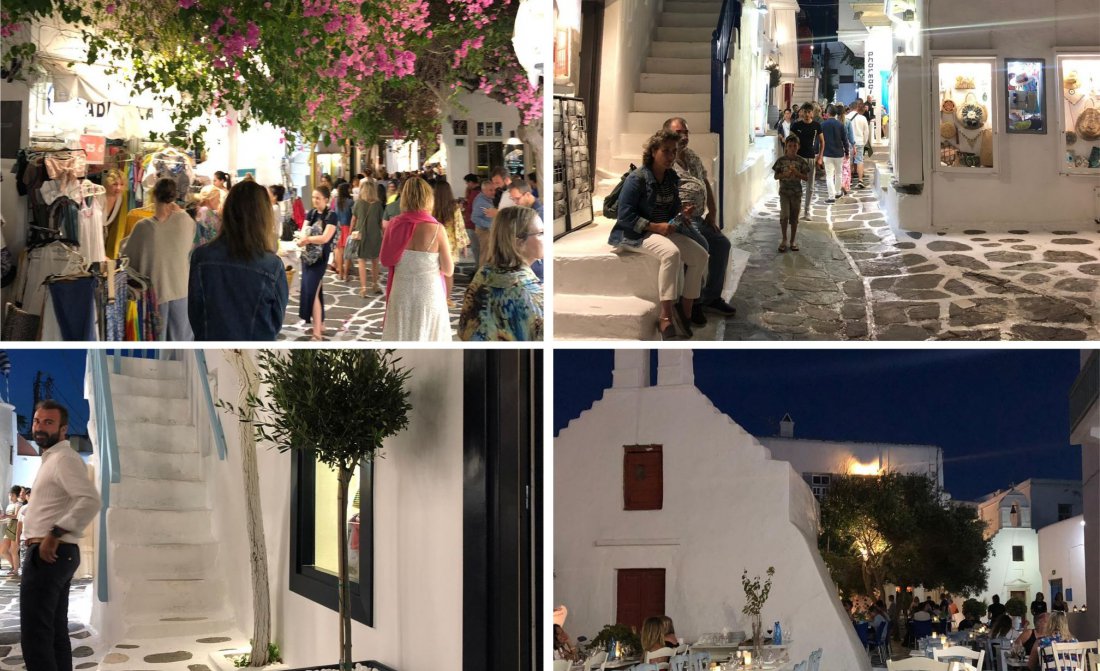 The Katikies collection of luxury, boutique hotels and fully-serviced villas comprises the following: Santorini – Katikies Santorini, Villa Katikies, Kirini, Chromata, Sun Rocks and Katikies Garden. Mykonos – Katikies Mykonos, Katikies Villas Mykonos. Guests of any of the Katikies properties are welcome to use the restaurant and spa facilities of any of the other sister hotels in the collection.

-----

If you wish to book your stay at one of the properties from the Katikies Collection, please call us on +44 20 7148 1778 or send us an enquiry.

For more information about Katikies, please visit here.