Tuesday 3rd of April 2018 10:33:20 AM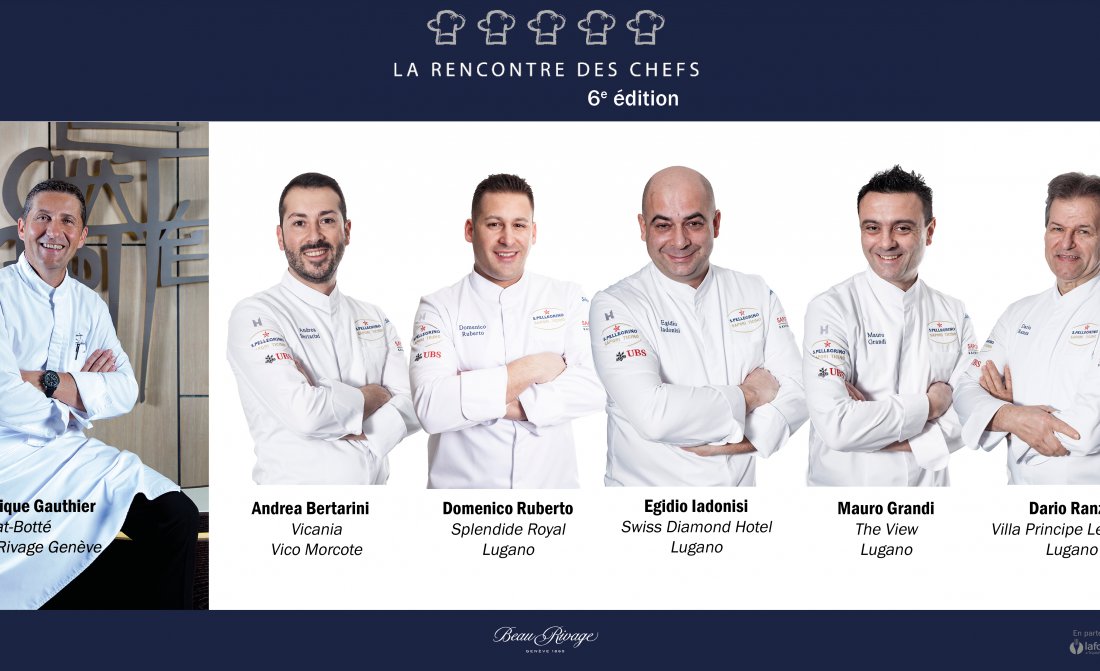 Have you ever had the opportunity to taste in one evening, ten dishes prepared by six prestigious chefs? Beau-Rivage Genève organizes and invites you to the exceptional and renowned "Rencontre des Chefs" to be held on Tuesday 17th April 2018. This 6th edition promises new culinary flights with Mediterranean flavors.

The Michelin-star Chef of Le Chat-Botté, Dominique Gauthier, invites you to discover five great names in Ticino gastronomy in a festive atmosphere and sharing to delight gourmets.


From creation to degustation

Each of them will reinterpret the "haute cuisine" in a new format and share with you their passion. An exceptional opportunity to discover in a single evening the gastronomic flavors of these stars of the kitchen:

- Dominique Gauthier: Michelin-star Chef of the restaurant Chat Botté, Hôtel Beau-Rivage - Geneva

- Dario Ranza: Chef of the restaurant Principe Leopoldo, Villa Principe Leopoldo - Lugano

- Andrea Bertarini: Chef of the restaurant Vicania – Vico Morcote

- Domenico Ruberto: Chef of the restaurant La Veranda, Hôtel Splendide Royal – Lugano

- Egidio Iadonisi: Chef of the restaurant Lago, Swiss Diamond Hôtel – Lugano

- Mauro Grandi: Chef of the restaurant The View, Hôtel The View - Lugano


A Michelin-star experience

During this unique cocktail party, orchestrated in the meeting places of Beau-Rivage Genève, the chefs will welcome you for an exceptional live cooking show. During this evening, you will taste ten glimpses of their legendary signature dishes around five ephemeral workshops and will exchange exclusively with these virtuoso stoves.

Attention, places are limited.

Information and booking :
La Rencontre des Chefs at Beau-Rivage Genève I Quai du Mont-Blanc, 13 - 1201 Geneva
- Tuesday 17 April 2018 from 06.30 pm to 09.00 pm
- Cocktail party
- Price : CHF 160 .- including two culinary creations by workshops around drinks chosen by the chefs

If you want to book your place at this event, call us on +44 20 7148 1778 or send us an enquiry.