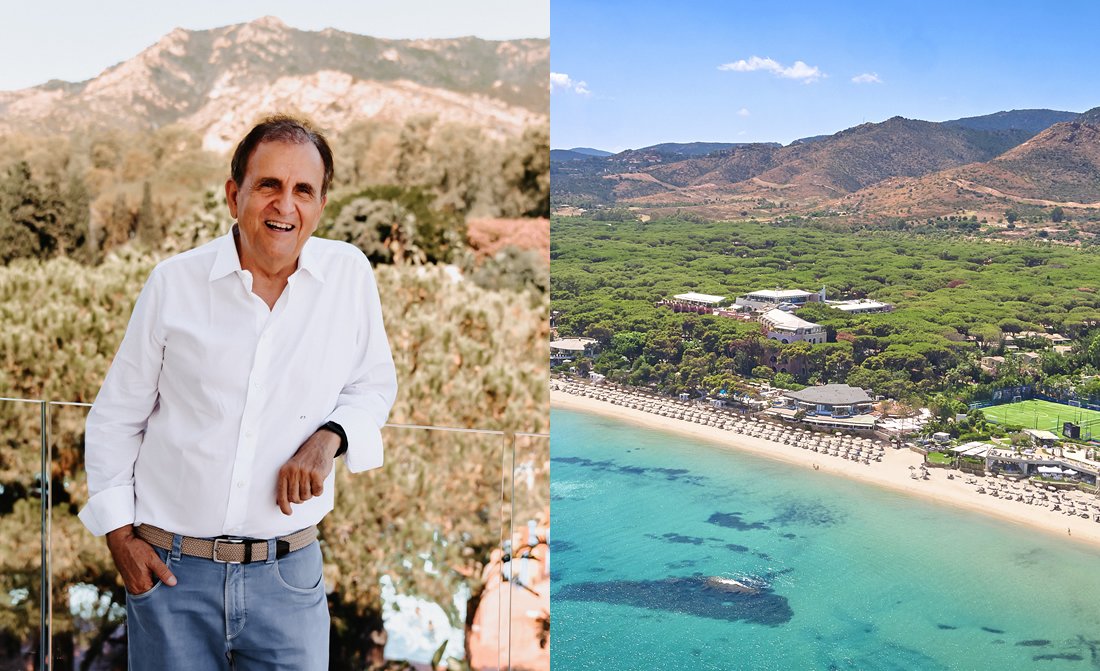 Photo* credits belong to Anne Wahl (*the photo of Mr Lorenzo Giannuzzi)


We are thrilled to interview Mr Lorenzo Giannuzzi, the Co-Owner of Forte Village Resort in Sardinia. This stunning beach resort is beloved among our clients, therefore, we asked Mr Giannuzzi to tell us more about the resort and himself, so our clients and ourselves can know more about what is behind the philosophy of this fantastic holiday destination.


Mr. Giannuzzi, can you tell us a little bit about the history of Forte Village? How was the idea to open a luxury resort in Sardinia born?

The history of Forte Village begins when Lord Charles Forte, an Englishman of Italian origin and at that time Chairman of the Trust House Forte chain, a true legend in the international world of hôtellerie, recognized the tourist potential of this beautiful and charming part of Sardinia, where the resort is nestled, and decided to launch his holiday club here. In 1970, the first guests arrived. Over the following decades, the property was gradually enhanced with the development of new features and rooms till it became a sort of holiday village with one hotel and 700 bungalows. In 1994, the group bought the Le Méridien company and Forte Village became also part of it. In 1995 Lord Forte asked me to move back to Italy - at that time I was Managing Director of the Caribbean and Western Atlantic properties of the group, which had 10 hotels, including the Nassau Beach (Bahamas), Belmont e Harmony Club (Bermuda), Pegasus (Jamaica) and the Sandy Lane in Barbados – and I was appointed General Manager of the resort. The deal was that I would stay only for two years but I fell in love with the place: I have been running Forte Village for 29 years now. Imagine that in the meantime there have been 10 different ownerships! Since then, I identified a process of gradual improvement to eventually bring the resort to the highest level. From a holiday village I decided to make it evolve into a "village of hotels": in fact, we gradually launched eight hotels, each with a different style and personality in our fabulous park, which spreads over 50 hectares. I also decided to transform the property into an exclusive destination where guests can have everything on hand and experience exclusivity at all levels. The evolution obviously took some time and it was gradual. As you can imagine, the most challenging task was to make a 700 rooms hotel become a five star luxury property. We had to change the mentality, raise the standards and gradually build this product. There was also a huge investment: during my 29 years here, we invested almost 80 million euros. The hotel is now a literally one of a kind property. There is no other place in the world that can be compared to our resort.


Please describe the resort in three words.

Extraordinary, Stunning, Green. Let me explain. Forte Village is a one of a kind resort with a great variety of hotels, extraordinary restaurant offerings, a wide range of activities devoted to children and adults and a choice of sport and leisure facilities, which is second to none in the world. The resort is located within the pristine destination of southern Sardinia, right on a beautiful white sandy beach and immersed in a 50 hectares sub tropical park and Mediterranean garden. It is a true masterpiece of nature, a green oasis which we are committed to protect, as confirmed by the achievement of the Global Sustainable Tourism Council Certification (GSTC), which represents the highest level of sustainability achievement within the travel and tourism industry.


Can you tell us a fun fact about the resort that not many people know?

One fun fact about Forte Village that not many people know is that we have some flying parrots flying around in our beautiful park. It all started about 10 years ago when a beautiful Ara arrived to the property. We tried to find the owner as we thought it would belong to some of the neighbours with no luck. Since that moment, the parrot has lived here at the resort – we named him Mario - so we decided to give him company with three other friends: Kira, Brigida and Brontolo. They have become our mascots. They are the most photographed personalities at the resort. Encountering them by chance is a delightful experience for nature enthusiasts and families alike. They are very attached to a one of our member of staff, Stefano, who works in our maintenance department.


Forte Village offers a lot of dining venues and options. Could you tell us your favourite restaurant and dish?

Dining in Italy is always special but at Forte Village we have managed to take the experience to an even further level. If you are a foodie, you can rest assured that your highest expectations are always satisfied in our 21 restaurants, ranging from ethnic and classic Italians to fine dining. The most acclaimed chefs in the world consider the resort their second home, including the three Michelin starred Chef Heinz Beck who launched his restaurant in 2019, not to forget Massimiliano Mascia and his Terrazza San Domenico and Giuseppe Molaro, Head Chef of Belvedere, located on the panoramic terrace of Villa del Parco. Not to mention the top performers of Italian and international haute cuisine who feature the unforgettable gourmet evenings called Celebrity Chef Night.

It is hard to pick one favourite restaurant and dish as they are all different. Every restaurant has a specific signature dish, which makes it unique. If I really have to choose, I would say the typical Sardinian "Pasta with clams and bottarga" by one of our local chefs and the "Seadas", a crisp, deep fried pastry filled with lemon and cheese and soaked in warm honey.


What do you look for personally when you check-in to a luxury resort for the first time?

I do value a warm welcome and the attitude of the members of staff at all levels who can really make the difference. Staff should be friendly and professional at the same time and genuinely interested in making the guest's stay exceptional and memorable. Personalized service and attention to detail are also paramount. The ambience is also crucial, not only in terms of design, but also for the general feeling they can give.


Besides stunning beaches, what do you love most about Sardinia?

The Island of Sardinia is an authentic jewel with its astounding history, charming culture, amazing food and natural beauty. I do love the quality of life here, which is one of the reasons why the Island is also a Blue Zone, one of 5 areas in the world with a very high number of centenarians. Just to give you an example, in one of the nearest town to Forte Village there are 12 centenarians at the moment and a big number of elderly people who are about to turn 100 years old.


Where is your favourite holiday destination?

I am very attached to the Caribbean area. I lived there for 7 years when I was Managing Director of the Caribbean and Western Atlantic properties of the group and I do love the combination with natural beauty and cultural richness which results in vibrant art, cuisine and art as well as the warm and welcoming hospitality locals are famous for.


Thank You!

-----

If you wish to book Forte Village Resort, please call us on +44 20 7148 1778 or send us an enquiry.

For more information about this luxury resort in Sardinia, please visit here.