Wednesday 12th of December 2018 10:54:29 AM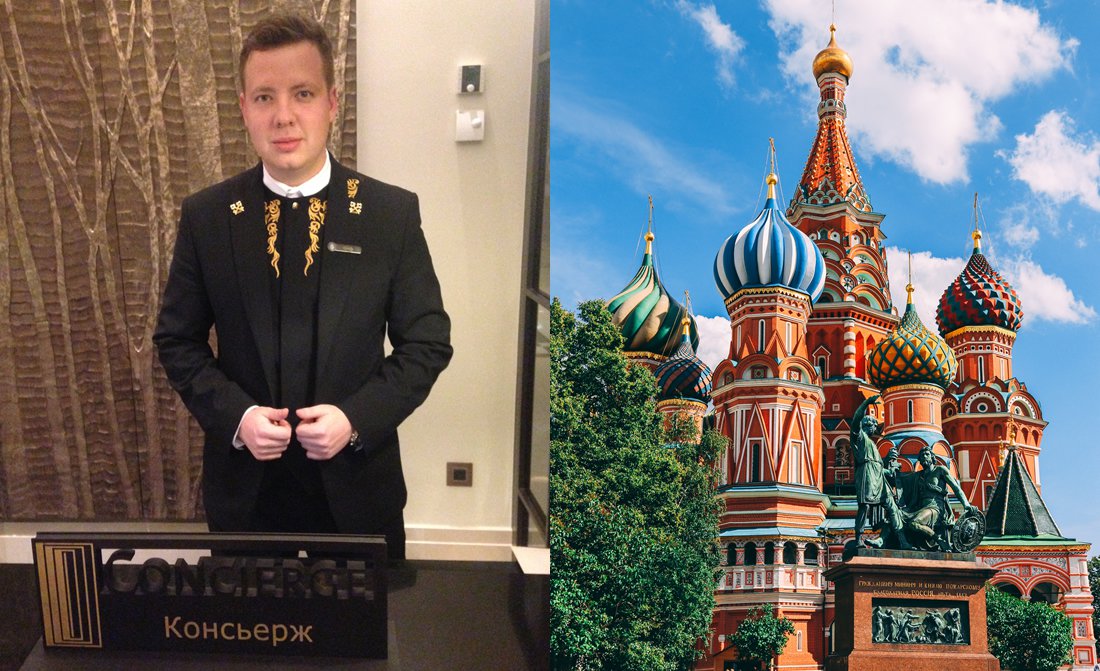 Gleb Kryuchkov is a Chef Concierge at the luxury Four Seasons Hotel Moscow. Today we asked him some questions to inspire you to travel to Moscow and visit some of the city's best places.


Gleb, how long have you been working with Four Seasons Hotel Moscow?
I have been working for Four Seasons Hotel Moscow for more than 4 years, since the opening of the hotel in 2014. Some members of my team I know more than 10 years.

Do you remember any particularly crazy requests that you've had from your guests?
We do not call these unusual requests "crazy request", we call them "Special mission'. I will tell you about some of those missions: one of the guest wished to pet a baby white tiger, who was born 3 days ago in Moscow Zoo. Another guest wished to block the main street of Moscow Tverskaya street to ride a bicycles with his entourage. There was another great request, one guest who was a big fan of football wished us to rent for him a football stadium, to find 2 professional football teams, to find referee and to arrange a real match where he would be a forward player in one of those teams. No doubts he wished to play for the winner team.

We managed to proceed all of these 3 requests.

What would you advise first timers do in the capital of Russia?
Our hotel has the best location in Moscow, all of the major sights are literally few steps away from the main hotel door. That is why I start my recommendations for first timers with short walk to the Red Square, you will see the GUM department store famous for its Christmas fair and open skating rink, then you will walk to St. Basil Cathedral, one of the most popular symbols of the country. After St. Basil's I recommend walking up the Flying Bridge of Brand New Landscape Park "Zaryadye" to see the panoramic view of the Kremlin walls and Moskva River. The view is stunning.

If you are in Moscow you must try some Russian cuisine in typical Russian restaurants: casual "Grand Café Dr. Zhivago" or elegant "Bolshoi" Restaurant.

If you have enough time I suggest to visit famous Sandunovskie Baths, the oldest "bath palace" of Moscow. Russian steam bathing or banya has been an integral part of the Russian culture for centuries.

What top Christmas or New Year's Eve events would you recommend for someone staying in Moscow during the festive season?
At first, I would recommend to visit the main theatre of Moscow Bolshoi Theater and watch the best Christmas ballet performance "Nutcracker". It is performed on the historical stage of theater daily from December 22 till January 7 (January 1 – day-off).

I recommend visiting the newly opened "Winter City" at VDNH, the most entertaining venue for family outdoor activities. There guests of the city will enjoy the biggest skating rink "the Flower Garden" and "Rocket" skating rink bustled with music, movies, comics and extreme sports. Also you have fun playing yukigassen or curling , as well as experience amazing tubing slides.

Do not miss the opportunity to celebrate New Year on the Red Square and watch the fireworks at midnight.

Can you share with us what you do on a Sunday when you have a day off?
Concierges have a great sense of humor. I love to go to stand-up comedy shows, comedy clubs and other events related to humor. Besides comedy shows I am fond of sport events, together with my concierge friends we usually visit basketball, hockey and football matches. It is a big fun for us.

Do you have a slogan or guiding principle in your concierge role?
I am following the motto of our international concierge organization: "In Service through Friendship"". It means that hotel concierge with golden keys on his uniform will do everything possible and impossible to complete the guest's request. Our international concierge friendship will help us to make the dreams come true.

For more information about the Four Seasons Hotel Moscow and things to do in Moscow, visit here.