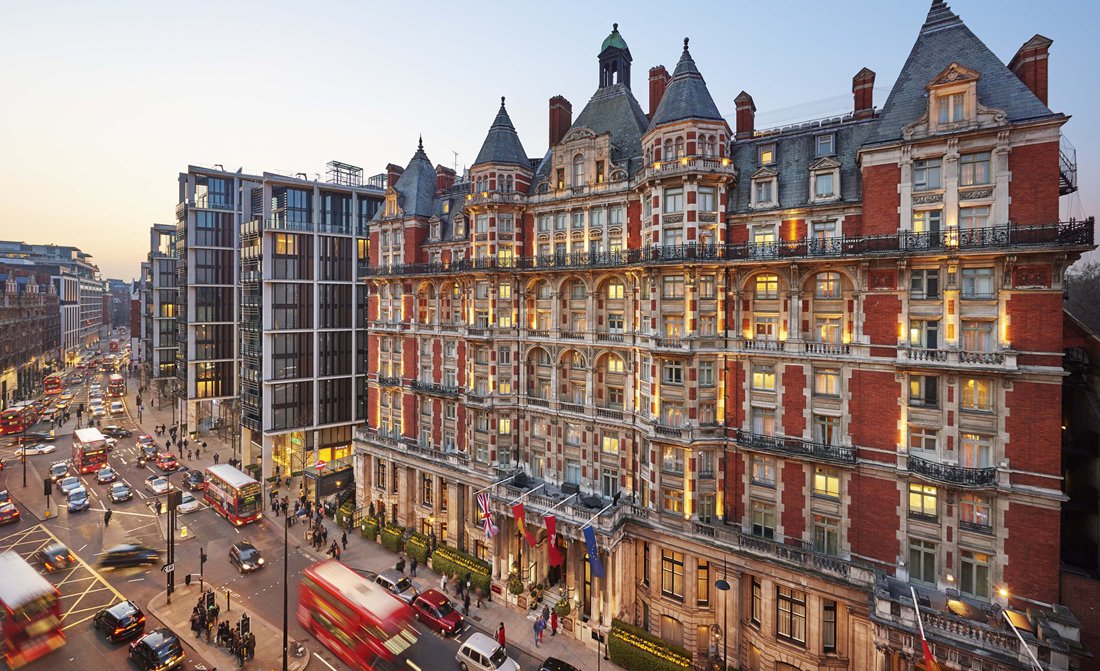 There's a new buzz in Knightsbridge as Mandarin Oriental Hyde Park, London proudly unveils the first half of its exciting restoration. Internationally renowned designer Joyce Wang has been commissioned to oversee the transformation of the hotel rooms, suites and public areas. Inspired by the natural beauty of the hotel's park side location, the exquisite details and contemporary craftsmanship within the new Knightsbridge wing guest rooms, suites and reception areas, along with the legendary service, will enchant and delight you.

Light and contemporary, the new guest rooms are uniquely designed and individual in layout, overlooking either vibrant Knightsbridge, or the calming living garden wall of the inner courtyard. Sumptuous beds, large leather-topped writing desks, generous wardrobes and marble bathrooms are offered alongside the latest technology and exemplary attention to detail.

Featuring colours and accents inspired by Hyde Park, the newly renovated Knightsbridge wing suites are individually designed, offering guests a refined living area decorated with velvet upholstered furnishings, spacious bedrooms, walk-in wardrobes, a large working area and beautiful Volakas marble bathrooms. Bespoke wallpaper, hand-etched mirrors and acorn inspired chandeliers add to the feeling of modern luxury, whilst surround-sound technology and Miller Harris bathroom amenities and Jo Hansford hair products add a welcoming touch.


HYDE PARK ROOMS AND SUITES

From summer 2018, guests will be able to stay in rooms and suites enjoying wonderful views over neighbouring Hyde Park. Inspired by the hotel's peaceful park side location, each room and suite will be individually decorated with carefully curated artworks and custom-designed furniture, creating a warm and inviting environment. Bespoke Fromental wallpaper, horsehair light scones, gloss painted patterns that reference the carriage paths through Hyde Park, striking gold and crackled glass custom-made acorn chandeliers and Volakas marble bathrooms are also part of the new design. Many will feature private terraces and balconies.

Two entirely new stunning penthouse suites on the ninth floor will offer unobstructed views of Hyde Park from floor to ceiling, and are interconnecting. The interiors are inspired by the natural landscape surrounding the property. Bedrooms with luxurious upholstery and exotic marble table-tops lead into incredible master bathrooms. The penthouse suites will enjoy private terraces leading from the bedrooms to the living areas and will be available for guests to enjoy from summer 2018.


DINNER BY HESTON BLUMENTHAL

In only a few short years, Dinner by Heston Blumenthal has won two-Michelin stars and become one of the city's most talked-about restaurants. Together with Executive Chef Ashley Palmer-Watts, Heston Blumenthal has put together a menu celebrating British culinary history with dishes inspired by recipes dating back to the 14th century. With a sophisticated interior designed by Adam D. Tihany and celebrated dishes such as the Tudor-inspired Meat Fruit, Dinner is officially one of the top 50 restaurants in the world according to The S. Pellegrino World's 50 Best Restaurants. Innovative, inspiring and often surprising, dining at Dinner is always a talking point. A Private Dining Room is available for intimate affairs; the hotel also offers guests the option of reserving the Chef's Table.


BAR BOULUD, LONDON

Serving a menu based on seasonal, rustic French cooking, Bar Boulud offers a taste of France in the heart of London. Under the direction of superstar chef Daniel Boulud, the restaurant features an Adam D. Tihany designed interior complete with zinc-topped bar, open kitchen and two private dining rooms for intimate celebrations. With charcuterie, homemade terrines, saucissons and pâtés served alongside classic French dishes and arguably the best burgers in town, Bar Boulud, London has fast become a local institution.


THE ROSEBERY LOUNGE

The chic surroundings of The Rosebery Lounge provide the perfect backdrop for Afternoon Tea, that most British of pastimes. Channelling the spirit of an Art Deco tearoom from the 1920s, the stunning lounge embodies both a classic and contemporary feel with huge glass windows, exquisite light fittings and beautifully upholstered furnishings in shades of green. Handpicked teas are paired with sandwiches, pastries and cakes, whilst champagne and cocktails take precedence as night falls.


MANDARIN BAR

Located in the heart of fashionable Knightsbridge, Mandarin Bar has become one of London's most popular destination bars. Designed as a catwalk that springs into the room from a glass wall and flanked on either side by high bar stools, the glass back-wall is lit in a warm red creating a backdrop of silhouetted images. Bespoke, handcrafted cocktail glasses resemble the models walking the runway as they sit on the bar, whilst the cocktails themselves are inspired by fashion.


WELLNESS

The Fitness Suite has been tailored to the cosmopolitan, luxury traveller and boasts state-of-the-art Technogym™ equipment, a 17-metre indoor stainless steel swimming pool and a yoga/Pilates studio. The changing area offers a sauna in the male area and a steam room in the femal area, revitalising experience showers and a relaxation area with Four Senses Loungers.

In early summer, The Spa at Mandarin Oriental, London will introduce impressive new features with fresh, elegant interiors by Adam D. Tihany inspired by traditional Chinese fashion and symbolism. Whilst the spa undergoes a stunning transformation, guests can still enjoy a series of carefully selected treatments.


BALLROOM

A fairy tale setting where HM Queen Elizabeth II learnt to dance; this Ballroom is the most enchanting of rooms. This stunning event space is currently being renovated to reinstate it to its former glory with re-gilding, new wall to wall carpets and luxurious furnishings for guests to enjoy from summer 2018. Elegant chandeliers and vast windows add a sense of glamour to the space, which can be adapted for all kinds of events. With a private entrance onto Knightsbridge, the Ballroom also enjoys an exclusive Royal Entrance onto Hyde Park and a unique outdoor terrace.


THE LOGGIA

The Loggia, with its own Royal Entrance, boasts an abundance of natural daylight. With a distinctive circular design, elegant gilding and tall French doors opening out onto a terrace, it offers the most marvellous setting for an intimate dinner or cocktail party. With a refreshed balance of colour and contemporary design, guests can enjoy a multitude of events in this exquisite room.


ASQUITH AND BALFOUR

These interconnecting rooms can be cleverly partitioned to create a number of layouts suitable for board meetings, launches, presentations and private dining. New wallcoverings modernise this event space and new hand-tufted carpets create a warm environment. The rooms have updated equipment, improved acoustics, the services of a personal butler and a private entrance from Knightsbridge.


More information about the hotel renovation.