Thursday 18th of July 2019 01:19:48 PM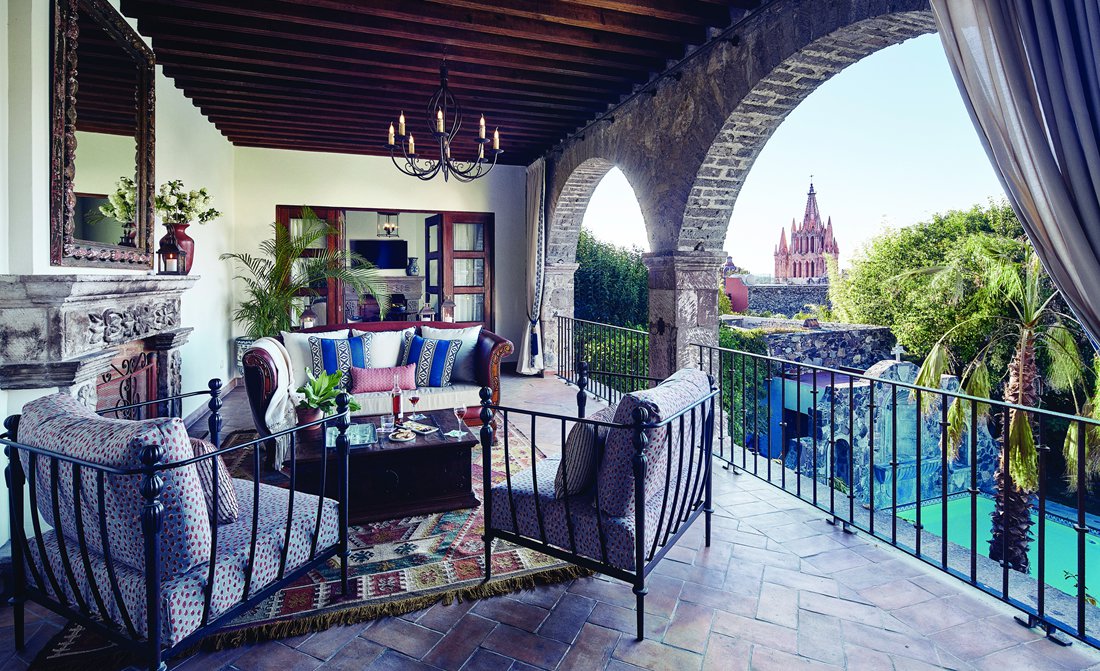 In between its cobblestone streets, fabulous weather and baroque architecture, San Miguel de Allende in Mexico boasts an impressive gastronomy scene. The city has drawn chefs and cooks both locally and from beyond the border.

Today the legacy of this vibrant gastronomic community is tangible. Many chefs seem to work around every ochre-hued corner, making their creations the perfect destination to unwind and enjoy.

Amongst this magnificent gastronomically vibrant city, a heritage hotel that houses one of the most iconic Restaurants in town - well known for many years before this gastronomic fever started- is now lead by Chef Mariel Beiza, a young female chef who is originally from a small town in beautiful Oaxaca state. She has lived and worked in the kitchen since childhood, guided by her grandmother from whom she inherited her love of cooking.

Mariel has taken the Belmond Casa de Sierra Nevada Restaurants and left her imprint on them, creating unforgettable culinary experiences for local guests and visitors. Surrounded by a fabulous team who are her support to rustle up exquisite creations in both restaurants. Each restaurant is unique with its' own personality and type of cuisine as well as two distinct locations downtown. In this great team that makes up the kitchens of Belmond Casa de sierra Nevada, you also find Ruben Yañez, Pastry Chef and also in charge of the Sazon Cooking School, where you can experience the ultimate in cooking vacations. The Sazón cooking school is housed in a magnificent 18th-century mansion. Study the bold flavours and rich history of regional Mexican favourites, or learn the techniques to creating an elegant modern masterpiece.

Students are enchanted every day with the fun and jovial tour to the colorful San Miguel Market to learn how to select the best produce. Back in the kitchen, their chosen ingredients will be worked into mouth-watering salsas and salads which can enjoyed with handmade tortillas. In this class students will learn about the incredibly variety flavours that define the country. The hotel's expert chefs will teach them tips and tricks to creating tempting dishes that can be showed off to family and friends.


You can enjoy a special package "A taste of San Miguel" offered by Belmond Casa de Sierra Nevada hotel.
It includes:
- Luxury accommodation
- Welcome amenities including a margarita and snacks
- Daily American breakfast
- A market tour with the Chef, per person per stay
- A cookery class at Sazon, per person per stay.


More about Belmond Casa de Sierra Nevada
An enchanting hideaway in a fairytale city. Water fountains and blooming flowerpots dot the cluster of heritage mansions that make up the hotel. A large pool, fringed with lush foliage and plants, provides the perfect place to cool off. 17th- and 18th-century buildings reveal inner courtyards, terraces and gardens. Here, history is woven into every stucco wall, tiled bath and curved ceiling, all balanced with modern luxuries.


-----

If you wish to book your stay at Belmond Casa de Sierra Nevada and include this gastronomy package into your trip, please call us on +44 20 7148 1778 or send us an enquiry.

For more information about this luxury hotel in San Miguel de Allende and it's cooking related experiences, including the Sazon Cooking School, please visit here.