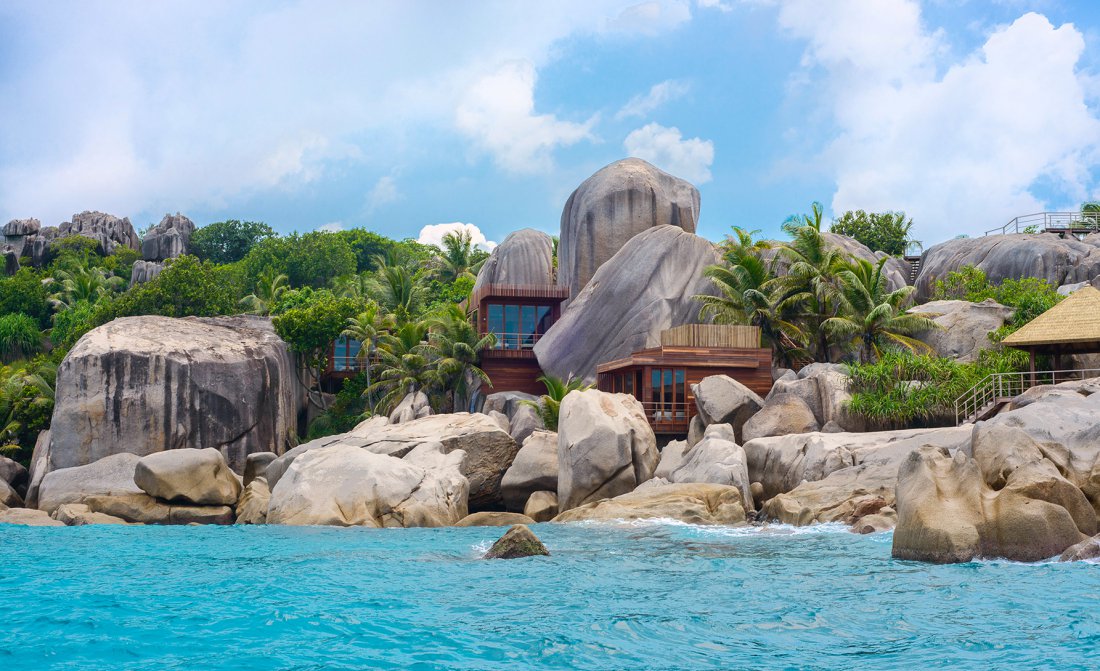 Following the acclaimed launch of Six Senses Zil Pasyon in Seychelles last October, the hotly anticipated Six Senses Spa Zil Pasyon is now open. Created by Six Senses Architecture and Design team and Richard Hywel Evans of Studio RHE in London, the spa is completely immersed in the private island's natural beauty of towering rocks, granitic boulders, lush jungle and the Indian Ocean.

A SPA TAMED BY NATURE & SUPPORTING CIRCADIAN RHYTHMN

Six Senses Spa Zil Pasyon is spread over 19,000 square feet (1,765 square meters) of the island's rugged environment and accentuates the island's beautiful topography through its materiality, texture and form. It is designed to be an integral part of the island's ecosystem, a symbiotic experience of the surrounding environment and to mirror the existing landscape.

Anna Bjurstam, vice president, Six Senses Spas said, "At Six Senses Zil Pasyon we felt that nature was so dramatic that we could not tame it, instead we wanted nature to tame us. We looked at how nature could guide us in our design, and consequently we have treatment villas situated between rocks, on top of rocks and floating above the ocean. Even the yoga pavilion and wet area are not built inside a building - they are built on top of the rocks amongst lush foliage and the infinity-edge pool offers expansive sea views for exclusive spa guest usage. In addition, we focused on using natural materials such as wood and rock, chemical-free upholstery and smart biological lighting at night to ensure that the design supports our circadian rhythm*."

THE SPA LANDSCAPE

Six Senses Spa Zil Pasyon features an elevated open-air saltwater pool with a sundeck, sauna and steam rooms as well as a yoga and meditation pavilion. A viewing deck has been positioned to offer some of the most spectacular views in the Seychelles and will also be used to host a variety of wellness classes.

The spa reception, located on top of a hill takes advantage of the sweeping sea views. It is home to the latest Six Senses retail collection including the exclusive yoga line by Ana Heart, natural skincare lines, resort wear, swimsuits, jewelry and accessories. The reception area also includes manicure and pedicure stations. A circular, open-air oasis leads to female and male changing areas and from here guests embark on a serene journey to the treatment villas beyond.

Three of the resort villas are located next to the spa and provide convenient access to guests following personalized spa programs.

SPECTACULAR SPA VILLAS - ROCK, HANGING, OCEAN, CAVE AND NATURE

The spa journey takes guests on a winding pathway through, and underneath, the vast granitic rocks to five double treatment villas, made of refined timber and carefully positioned among the island's rugged topography and landscape. Design-wise, the villas reflect the island's colors, textures and moods and have been created with the idea that guests will spend several hours there. For minimal intrusion on the landscape, they are linked with lightweight timber steps and rope bridges, while fabric shading-sails create areas for rest and relaxation.

The Rock Villa – fully glassed and constructed between large granite boulders, this villa is entered via an expansive platform and provides a dramatic setting for any spa treatment. It also features a rock shower on the cliff edge to allow guests to fully appreciate its striking location.

The Hanging Villa – this villa is built on a large rock and its outdoor deck provides a perfect setting for post-treatment renewal and relaxation.

The Ocean Villa – approached through a descending walkway set between dramatic boulders and passing through a cave, this villa is located right above the water offering 180-degree views of the sea.

The Nature Villa – surrounded by lush vegetation and designed to help guests reconnect with nature, this villa features an outdoor shower experience, herbal steam room and swinging day bed.

The Cave Villa – has a herbal steam area and swinging day bed.

SPA EXPERIENCES

The spa offers a wide range of signature treatments, result-driven facial and body therapies by The Organic Pharmacy and locally-inspired scrubs and beauty services.

Teaming up with organic skincare brand Terres d'Afrique, there will be five exclusive journeys. Examples include the Ocean Journey inspired by the powerful energy of the sea, combining aromatherapy, acupressure and reflexology with hot and cold massage techniques to unblock energy pathways. The Rock Journey takes its cue from the surrounding rocks and boulders and is designed to release muscle aches, stress and tension by using stretching techniques and cross muscle fiber techniques with heat. The Floating Journey focuses on reconnecting the body and mind, and uplifting the spirit. In addition, the spa team and Terres d'Afrique created a special spa journey for couples (Ubuntu) which reignites togetherness in a mindful and playful way through a series of treatments and time spent together.

The spa also offers the recently launched wellness screening which allows in-house wellness experts to measure and analyze key physiological biomarkers of health to provide guests with lifestyle advice, and design a personalized program of spa treatments, fitness and wellness activities.

There are also the group's popular Six Senses Yogic Programs, which include Discover Yoga, Yogic Detox and Yogic Sleep.

ABOUT SIX SENSES ZIL PASYON

Six Senses Zil Pasyon is located on the private island of Félicité, the fifth largest island in Seychelles offering unsurpassed vistas of the ocean and surrounding islands. This 30-villa resort occupies one third of the total land and has been brilliantly designed to embrace the picturesque landscape of untouched beauty.

Six Senses Zil Pasyon offers several dining options in a relaxed but sophisticated ambiance and showcasing the freshest products of the surrounding areas. A wide range of activities and excursions are also available for everyone in addition to the Six Senses Spa.

Six Senses Spa at Zil Pasyon is located among beautiful rock formations by the sea. All spa facilities, including individual villas for treatments, unique wet area experience and a yoga platform, fit seamlessly into the natural surroundings, at one with the nature.


*Circadian rhythms are physical, mental and behavioral changes that follow a 24-hour cycle, responding primarily to light and darkness in an organism's environment. They are found in most living things, including animals and plants.