Monday 25th of November 2019 11:19:47 AM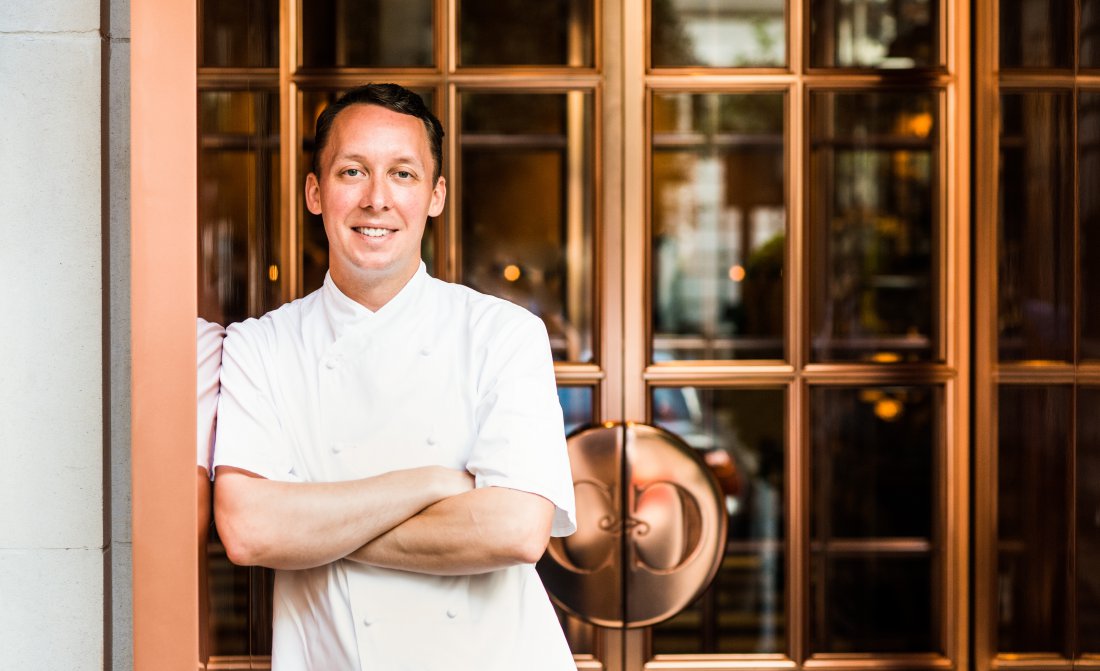 Meet Calum Franklin, the Executive Head Chef of the Holborn Dining Room at Rosewood London. Learn how Calum decided to become a chef and why he focuses on British cuisine. In this interview he also shares his secret to making a perfect British pie and reveals what he thinks about Michelin star ratings.


When did you realise you wanted to become a Chef?

I took a job at the end of my secondary school washing dishes at a local restaurant and immediately felt at home in the environment. It was a huge moment for me as I was a bit lost at the time, I had no idea what I wanted to do career wise, my friends were all going off to university to study and everything felt a bit bleak. The kitchen offered me my first sight of something I could put hard work and dedication into, enjoy what I was doing and achieve results.

Why did you decide focusing on British cuisine, and especially on pies?

I've always leaned towards craft technique in cooking, I enjoy work that takes time and discipline to achieve a beautiful end product and British pies fall inside that. We have a vast tradition of pies spreading back through British history that is well documented so you can see how they have evolved, I felt it was time to look at some more refinement and also celebration of a much-loved dish.

What is your secret to a perfect British pie?

That as beautiful and intricate the pie can be on the outside, there needs to be honesty and integrity to what is on the inside. It's important to champion great British produce cooked with skill that can still give us the homely embrace that pies are famous for.

Can you tell us more about the Pie Room at Holborn Dining Room?

I designed a space that reflected the pie rooms of Victorian London, an important period of history to me, that a team of chefs could use to produce all of the savoury pastry for the restaurant, where you can see their skills on show and also buy takeaway pies through the windows and interact with them. Over time we have developed it to also host masterclasses at the weekends (we offer wellington, pies and children's classes with more to be revealed soon) and also private dining in the room in the evenings. As a dining space it's quite unique and very Dickensian, lots of candelabras and copper, we can host up to ten guests in there with different menu options.

Who is your hero in the culinary world?

I appreciate people who take on singular subjects and throw themselves entirely into enhancing and celebrating them and there are many out there doing this but I've worked with Allison and Will Abernethy, the butter makers from County Down, for many years now and have huge respect for the work they do. They make one of the most beautiful products in the world and are thoroughly wonderful people to go with it.

What do you think about Michelin star ratings?

It's a super exciting time of year for chefs when they are announced although it's probably slightly more important to others than it is to me. I love to cheer on the chefs who are clearly Michelin focused because I know how much it means to them but really I just want to worry about the guests who come back here week after week and make sure they are happy, I don't want things to distract from that.

What do you usually eat when you're at home?

I'm very lucky that my wife often cooks for me before I get home, which is usually quite late at night and she waits so we can still share that time together. We eat meat or fish dishes a couple of nights a week and simple vegetarian dishes for the rest of the week, just trying to achieve a balanced diet. Every now and then we treat ourselves to a takeaway, we have an amazing Turkish Mangal restaurant around the corner that does a mixed grill that is truly god-tier.


-----

If you wish to book your stay at Rosewood London, please call us on +44 20 7148 1778 or send us an enquiry.

For more information about the Holborn Dining Room, The Pie Room and other dining options at Rosewood London, please visit here.