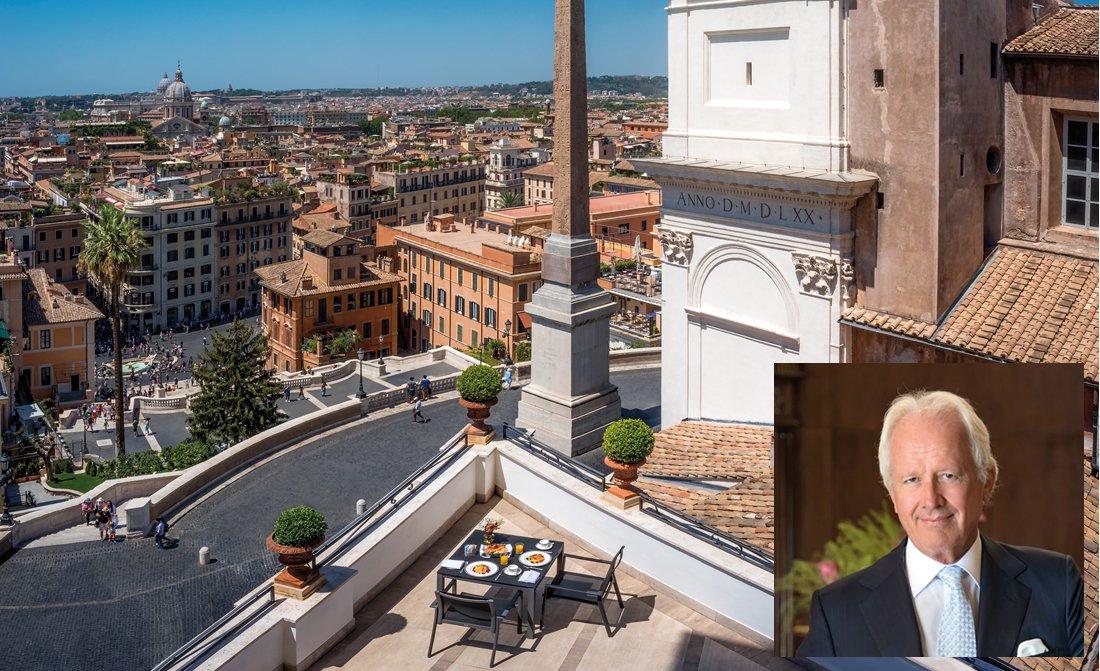 Roberto Wirth is the Proprietor and General Manager of the Hotel Hassler Roma, a luxury hotel nestled in the heart of Rome, just atop the legendary Spanish Steps. Today, we feel honoured to be talking to Mr. Roberto about the history of the hotel and why it is different from other five-star hotels in the Italian capital.


Roberto, could you tell us about how your family acquired the property and how it became a hotel?

I am the second-generation owner of the Hotel Hassler, and fifth generation of a famous hotelier family of Swiss origin. My dynasty began with Franz-Josef Bucher, now considered one of the pioneers of the hotel industry in Europe. In 1890 Franz-Joseph appointed his son-in law – and my grand-father - Heinrich to manage Hotel Quirinale and later Albergo Minerva, bought by Bucher in 1894.

Then, one of my grandfather's family friend, Franz Nistelweck, who was son-in-law of Hotel Hassler founder and Hotel Eden owner, proposed a partnership between them to manage Hotel Hassler and Hotel Eden. My grandfather entrusted the management to my father Oscar who became General Manager of both the hotels. In 1964, my father Oscar became the sole owner of the prestigious Hassler Hotel.

A curiosity: during Mussolini's dictatorship, the Hassler had to change its name and became Villa Medici. Thereafter the hotel was requisitioned by the U.S. Air Force to serve as their Rome headquarters during World War II. In 1947, the Hotel (again) Hassler reopened to travellers from around the world and took up its traditional position as a temple of hospitality.

My first home was the Hotel Eden. Since I was a child, I could experience firsthand the hotel life. My father managed the Hotel Eden in Rome and I lived in the hotel, I ate in the hotel; all my life, as well as my family's life was synchronized with the hotel's routine. It was like a brain washing… I always wanted to become an hotelier. And it was not easy to realize my dream because I had not the support of my family. Above all my father strongly took position against my desire. He was convinced that my deafness could be an insuperable obstacle. I had to face and overcome many difficulties before I succeeded but I never gave up. When I was 14 years old, we moved to the Hassler; we lived on the first floor and I remember I liked to look out the window observing the clients in the garden bar while they were sipping a coffee or a drink.

Today, I consider the Hotel my home and my family heritage. My first aim is to keep it as a jewel that shines more and more. It is an independent Hotel, I am proud of it.

The "Hotel" has always fascinated me, throughout my childhood and earliest memories, since I grew up in this environment. Passing through the various rooms, the Concierge's desk, how the waiters served clients at the restaurant…and through it all observing my father manage what appeared to me to be a royal palace… being born profoundly deaf, all this left an indelible imprint on my mind as a child… I have learned the true sense of hospitality from my family. I knew from the very start that this is what I wanted to do. Even when my father attempted to discourage me explaining that there was a lot of verbal and telephone communication involved. The imprint in my mind was set, and there was nothing dissuading me that this was to be my life. Today, I consider the Hassler my passion, home and family heritage.

Please, describe the profile of your guests?

The Hassler has always been renowned for being "the" home away from home for sophisticated travellers. With more than 40 years of managing the Hassler and 15 years of experience in the hotel business, I, as Owner and General Manager, personally welcome guests as I would in my own home, with consideration and care. I always keep an eye on every aspect of the Hotel in order to give our guests the best service and experience when in Rome. I welcome and greet them to make them feel like at home and willing to come back. Furthermore, I always guarantee the utmost the privacy during their stay.

What does Hassler Roma offer that other luxury hotels in Rome don't?

At the Hassler we can make every wish come true. When a hotel offers a great experience, all guests, VIPs and less VIPs, are treated equally: each of our guests should feel like royals when entering the Hassler. Our job is to anticipate their desires, learn in advance about their habits, offer them something unique, up to their expectations.

Have you noticed any new trends of experiences that people want to try when in the Eternal City?

Hospitality industry has changed a lot; do not forget the cutting-edge that is having a huge influence in every aspects of our life, the "globalization" which affected everything. We have clients coming from every country of the world and the biggest trend is the request of a customized service that can turn a travel in one-of-a-kind experience.

How does a perfect day in Rome look like for you?

At the Hassler you live a dream, an "exclusive" experience, itself, is being in the heart of Rome. What else?

The Hassler, set theatrically at the top of the Spanish Steps, next to the magnificent 16th-century Trinità dei Monti church, is within walking distance of the abundant greenery of Villa Borghese gardens and Villa Medici, Via Condotti, and the city's most fashionable boutiques and ancient Roman ruins. With this in mind, I suggest to discover Rome step by step through its traditional streets that lead you to an always different beauty.

Can you share with us an interesting yet lesser-known legend or myth about the city?

Rome is the city that surprises for its beauty and for its historical and cultural richness. It is the largest open-air museum and, from this point of view, its charm is unchanged. Not only art, culture and food ... there is also the climate to consider. During the Roman Empire, the city of Rome was the largest megalopolis and it has chosen for its strategic position and for the ideal weather. The architecture of Rome was emulated from other cities: such as the Arena of Verona, Verona; the Arch of Hadrian, Athens; the Temple of Hadrian, Ephesus in Turkey; the Orange Theater, France, and in several other locations, for example, Leptis Magna, located in Libya. The Roman Empire represented a success story. Ancient icons such as the Colosseum, Roman Forum and Pantheon recall the city's golden age and it is still possible to visit. Rome is a lively city and it is common that excavations bring to light new archaeological sites and hidden treasures. Recently, in April, archaeologists have presented the well-preserved remains of an ancient Roman workshop with large-scale furnace, or kiln, used in the commercial production of glazed ceramics and tableware, at Palazzo Corsini in the city's Trastevere district. It is incredible! In Rome you can breathe the history, is really a charismatic city.



If you wish to book your stay at Hassler Roma, please call us on +44 20 7148 1778 or send us an enquiry.


For more information about Hassler Roma, a luxury hotel in the city of Rome, please visit here.