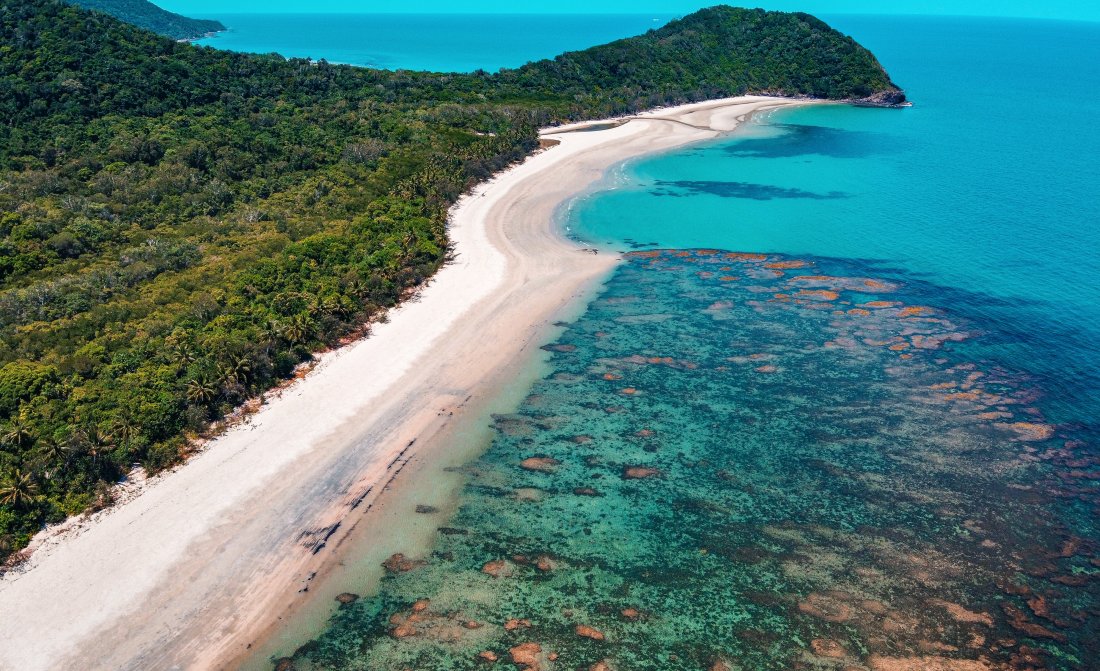 Whether you're visiting Australia for the first time, or are a local wanting to explore more of the country's great backyard, travellers are often drawn to Australia's most iconic attractions.

Several of these destinations are internationally recognised, such as the red monolith of Uluru, the white shells of the Sydney Opera House on the Harbour, and the tropical vistas of the Great Barrier Reef. Visiting these icons is always a memorable experience – however, a journey to Australia's icons is made exceptional with a thoughtfully crafted itinerary offering authentic interpretation and quality guiding to create a genuine sense of place.

Australia's enormous diversity of experiences keep travellers coming back time and time again. While every traveller seeks their own specific Australian adventures, there are five signature experiences we believe any first-time traveller to Australia should discover. It is like Australia's 'Big 5':

Explore our favourite ways to explore these five major attractions which we can weave into a luxury travel itinerary created just for you.


Sydney

Australia's oldest and largest city, Sydney ranks alongside Vancouver, Cape Town, and Rio as one of the world's most stunning ocean-side metropolises. Its laidback outdoor lifestyle, friendly locals, and stunning natural beauty make an outstandingly easy and pleasant city to visit. There is a wide-ranging cultural life, dynamic food scene and vibrant cityscape of outstanding contemporary and colonial architecture to discover, all within easy reach of the city centre.


Our top luxury experiences in Sydney

- Rest at one of the city's stunning five-star hotels offering premium service and overlooking the city's icons and skyline
- Enjoy behind-the-scenes access to internationally recognised icons: climb the Sydney Harbour Bridge and admire the skyline from a 360° angle, and go behind the scenes of the Sydney Opera House on a private hosted tour
- Sail the Harbour waters from the deck of an indulgent super yacht, complete with canapés and premium Australian beverages
- Take a surf lesson on the white-sand shores of Bondi Beach and soak up the sun-kissed Australian beach lifestyle
- Discover the secrets and hidden gems of the city with an expert local via private walking or biking tours—whether your interests are the arts, food, or the outdoors


Wildlife & Nature

Australia boasts a rich and diverse range of wildlife, with some of the most bizarre animals on the planet found within our lands, waters, and skies. Marsupials dominate the landscape like no other destination on earth, colourful birdlife chorus their way across the continent, whales conduct their annual migration along major coastlines, and fascinating flora sprouts across several different climate zones, ranging from tropical rainforest to a dry Mediterranean environment.

Our top luxury wildlife & nature experiences

- Experience the best of the best at eco-luxury accommodation nestled within remarkable landscapes: discover private retreats overlooking the sea on Kangaroo Island, and luxury lodges close to stunning remote National Parks in Tasmania's Freycinet Peninsula or New South Wales' Blue Mountains
- Go nose-to-nose with wildlife as they're meant to be experienced—in the wild waters off the Eyre Peninsula, in the charming bushland of Kangaroo Island, and in the remote National Parks of Tasmania
- Wander through landscapes with expert guides who know the areas intimately and can reveal the secrets of each region's distinctive flora and fauna
- Give back to the environment and local communities by getting involved with conservation efforts with expert local scientists
- Take the longer off-road path and walk and hike through lesser-explored landscapes while delivering a low ecological impact on the environment


Outback

Remote, vast, and beautiful—Australia's Outback is a loosely defined area of Australia's interior encompassing several climates and dramatic landscapes. Frequently, getting there is half the adventure. These sprawling and unique destinations are best discovered with the expert guides and local hosts who love the landscape and will leave you with a different perspective on both life and land.
Our top Outback luxury experiences

- Stay on former sheep grazing land turned private conservation area in the ancient Flinders Ranges and discover pastoral lifestyle amongst dramatic landscapes
- Settle into one of the Top End's sprawling outback stations (ranches) and get hands-on with the crew by learning real Aussie bushcraft
- Indulge at a luxury lodge nestled within dramatic and breathtaking surrounds, such as overlooking Uluru or spread across 69,000 acres of heritage-listed Queensland outback
- Discover the country's most remote coastlines bordering rugged wilderness interiors while resting in rustic yet chic eco-camps in the northern Kimberley and along the coral coastline at Ningaloo Reef
- Traverse the centre of the country from toe to tip on one of the world's most renowned rail journeys through vast, dramatic landscapes


Great Barrier Reef

One of the Seven Natural Wonders of the world, a UNESCO World Heritage-listed site, and a living structure so big it can be seen from space – the Great Barrier Reef is one of Australia's most enduring icons located off the coast of Queensland. This natural wonder is made up of over 2,900 individual reef systems and 900 islands, with each distinct area of the reef offering its own natural beauty, unique aquatic life, boutique accommodation, and more.

Our top luxury Great Barrier Reef experiences

- Unwind in the Northern Great Barrier Reef at one of the region's finest five-star lodges offering exceptional access to the reef's best snorkelling and diving sites
- Frolic upon the beaches of the Whitsundays with accommodation to suit, whether you're looking to experience the best of Hamilton Island or want to escape further afield to a small, adults-only resort hidden amongst the archipelago
- Charter a super yacht to access the most remote areas of the reef that people rarely get to visit
- Snorkel and dive amongst the colourful reefs and coral gardens the Great Barrier Reef is known for, admiring the vibrant aquatic life that lives below the water's surface
- Explore private island hideaways and secret sand cays, and set up your own castaway island fantasy complete with a gourmet picnic


Aboriginal Art & Culture

Australia's Aboriginal and Torres Strait Islander peoples offer some of the oldest living cultures across the globe. With over 60,000 years of enduring and diverse histories and cultures found across all regions of the country, a journey engaging with the everyday life and traditions of one of Australia's many Aboriginal cultures is a memorable part of an Australian hand-crafted journey and offers deep, immersive, and profound knowledge of these vast lands.
Our top luxury Aboriginal art & culture experiences

- Venture into the rugged and vast wilderness of Arnhem Land in the Top End to discover outstanding rock art and landscapes filled with beauty and enduring pre-colonial knowledge
- Stay at a 100% Aboriginal-owned and operated accommodation on the Traditional Land of the Jawoyn people, and explore the lush landscapes of Nitmiluk Gorge and National Park with outstanding guided interpretation
- Marvel at the breathtaking natural monoliths of Australia's Red Centre with dedicated touring companies and be led through interpretive Anangu walking tours within the spiritually significant Uluru-Kata Tjuta National Park
- Wander at the precipice of the Daintree Rainforest and the Great Barrier Reef with a local Kuku Yalanji Aboriginal Elder who can offer profound interpretation of the flora, fauna, and lands where he grew up
- Discover contemporary Aboriginal art galleries and learn about the impact of pre-colonial history and how Aboriginal cultures are present in everyday life with specialised tours in Australia's major cities.

-----
If you wish to book your dream trip to Australia, please call us on +44 20 7148 1778 or send us an enquiry.

This information was provided to us by our business partners in Australia - The Tailor.