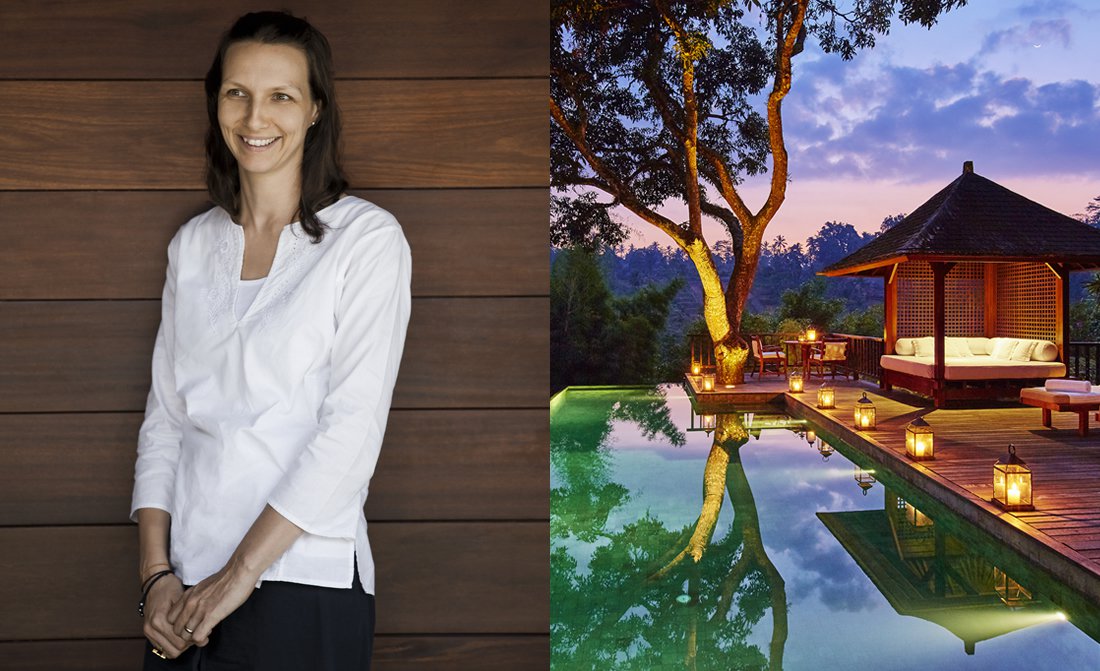 Sally Halstead is a Wellness Manager at COMO Shambhala Estate in Ubud, Bali, Indonesia. In this interview, she tells us about the unique experiences that this luxury Bali resort offers, shares her thoughts on the latest trends in the luxury spa industry and even breaks the myth that juices and superfoods are good for everyone.

Sally, can you tell us how the Spa at COMO Shambhala Estate creates a local experience for guests?
COMO Shambhala Estate is a dedicated Wellness Retreat, located in Ubud, Bali. Our spa is sympathetically situated in the beautiful surroundings of the Estate, with several different locations. We have four treatment pavilions in Kedara, deep in natural rainforest, with open air pavilions poised above the river below. We have nine indoor treatment rooms at Ojas, at the heart of the property. One of our Yoga spaces sits at the end point of the property, facing the volcano chain in the distance, perfect for viewing sunset in the evenings. So we provide plenty of opportunities for guests to have their wellness services in the natural environ of Bali.

Our extended Wellness Services Menu offers several uniquely local treatments including our own Balinese Healer, Pak Dewa, who offers traditional energy healing, local-style. We also have Taksu massage, taught to our therapists by another local healer, Pak Ketut Arsana, a treatment based upon Balinese massage, combined with some stretching moves and acupressure point work. Our body care rituals involve locally sourced herbs and spices as the base of their scrubs and masks.

Our COMO Shambhala glow cuisine uses fresh, local ingredients as its base. Kudus House restaurant offers Indonesian fare from across the region.

What is the most unique procedure or ritual that you offer?
We have a range of Wellness Programmes at COMO Shambhala Estate in Ubud, including Ayurveda, Be Active and Cleanse, so we have lots of supportive services, including Ayurveda treatments like Shirodhara and Nasia Karma, colonic hydrotherapy and manual lymphatic drainage massage. Our signature body care is our COMO Shambhala Bath, which uses our own Invigorate range of products including essential oils, massage oil bath salts and body scrub.

In your opinion, what are the upcoming trends in the luxury spa industry?
In this age of modern technology, devices, the internet and virtual reality we are looking for places where we can unplug and reconnect to nature, people and actual reality. People are looking for perspective shifts and deeply transformative experiences rather than superficial massages which hit the mark for tan hour and leave little lasting impression.

So as people are becoming more and more stressed and burned out, they are seeking not just regular pampering services at spas, but interactive wellness services which can help them combat stress and find a way back to balance. I am already seeing our guests seek out our wellness experts to receive their advice on how to best raise a self-awareness so they can implement new ways of being into their lives.

Another upcoming trend is the integration of traditional wisdom with current science and research to provide the best treatments for the modern person. Many conventionally trained medical doctors are understanding the limitations of allopathic medicine and are turning to older, more established systems such as Ayurveda, Oriental Medicine and Naturopathy to help fill the gaps, all being systems which we practice here at the Estate.

What is your top wellness secret?
My top wellness secret changes all the time as I discover new things or get reminded of old wisdoms, all with the understanding that everything is absolutely based upon the individual and can't necessarily be transferred to anyone else. This relates to the old saying "one man's meat is another man's poison". So I'm constantly updating my beliefs upon latest research I hear/ read or depending upon the outcomes of my own personal experimentation with / bio-hacking my lifestyle. So for example, do you still think juices are good for everyone? They are not. Are all superfoods automatically good for every single person? Of course not!

Our body composition and requirements are unique and differ even from one day to the next. There is no such thing as an unhealthy food, all foods have their place in diets, for the right person, at the right time, in the right dosage, for the right reasons and when eaten in the right circumstances, including the right frame of mind. We need to go on a journey of self-discovery to find out which foods suit us as individuals. This is the same with absolutely everything in life, including our exercise regime, the relationships we conduct, the livelihood we chose, etc.

Therefore my top wellness secret is, the path to wellness is to cultivate self-awareness and to constantly modify your approach based upon your personal experimentation.

How does your perfect day OFF in Bali look like?
My three boys, a picnic bag stuffed with delicious, organic, local food and coconut water, a swim suit and sun hat, a book/ podcast and a sunbed on a beautiful Bali beach…

For more information about the spa services, treatments and therapies at COMO Shambhala Resort, a luxury wellness retreat in Ubud, Bali, click here.