Tuesday 6th of November 2018 09:12:50 AM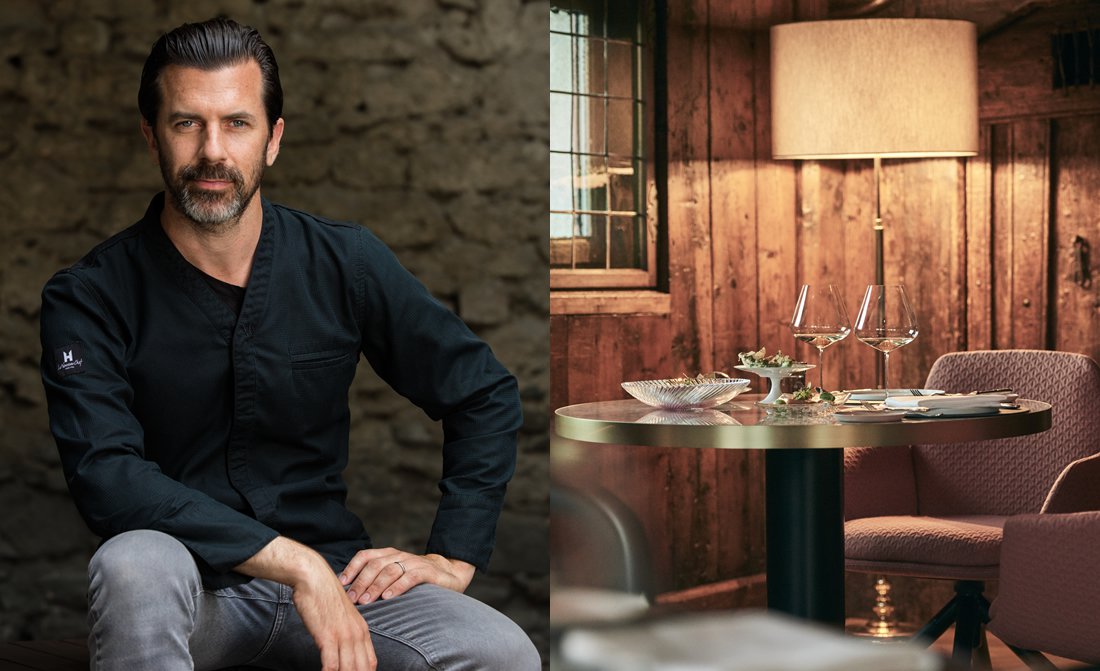 What an honour is to be chatting today with Andreas Caminada, a well-known Swiss Chef! Awarded with 3 Michelin stars and a numerous other prestigious awards, Andreas says that for him and his team what matters most is the positive opinions from his guests.

Andreas, how was your passion for food born?
My passion for cooking was born at teenager age. I realized my interest for gastronomy and hospitality during an internship. So I started dreaming of being a chef and began my apprenticeship. Afterwards I got the chance to work in Vancouver for a year which was a great experience at the time as the variety of food and restaurant over there was very impressing. It broadened my horizon and push me to follow my career with a lot of enthusiasm.

What is the concept behind your restaurant IGNIV by Andreas Caminada at the Badrutt's Palace Hotel?
The name IGNIV comes from Romansh, my native language, and means "nest". With her interior design concept Spanish-born interior queen Patricia Urquiola created a space within the glamorous Badrutt's Palace Hotel that gives guests a feeling of comfort and security, just like in a nest. Perfect service and genuine hospitality at the highest level create a relaxed and sociable atmosphere, in which our fine-dining sharing experience is the focus. All food is shared in the middle of the table and the individual dishes are created not only to stimulate the senses but also to animate conversation around the table. Our cuisine is innovative, but uncomplicated and authentic. The presentation of the dishes is very important to us, so that our guests are completely at ease while they share a connecting experience.

The restaurant has recently been awarded with a Michelin star. What does it mean to you?
It is a great honor for the whole team and head chef Marcel Skibba; especially as the restaurant received its 1st star so quickly after opening. And just some weeks ago went up to 17 Gault Millau points as well. Recognitions from different guides and gourmet testers are always a vital source of input and motivation to aim higher. But the far most prestigious award we get as chefs is positive feedback from our guests!

Could you recommend any good websites, social media profiles, books, magazines or other sources of food inspirations that you like a lot?
Like many chefs I do follow my colleagues around the world on Instagram, not that much for information or inspiration, but it is perfect to stay in touch. Moreover, I enjoy our food related media in Switzerland – Swiss newspapers, for example, NZZ and Tages-Anzeiger have excellent food writers. And of course, we have a good variety of news website like Gault Millau Channel or high-class restaurant blogs nowadays. All worth following as these people adore food as much as we do and travel extensively around the world in search for it.

On your website, you quote a thought by George Bernard Shaw, which is "There is no sincerer love than the love of food." Do you completely agree with it?
I think food is unique as it is important for everyone. Regardless of culture, religion or nationality it is a nourishment for the body and the soul. It brings people together and has the power to build bridges between cultures and nations. And it makes you dream! That's why I founded my foundation Fundaziun Uccelin – to share my love for food as well as to inspire and foster the next generation of talented chefs.

For more information about IGNIV by Andreas Caminada at Badrutt's Palace Hotel, visit here.