Thursday 4th of May 2017 02:57:08 PM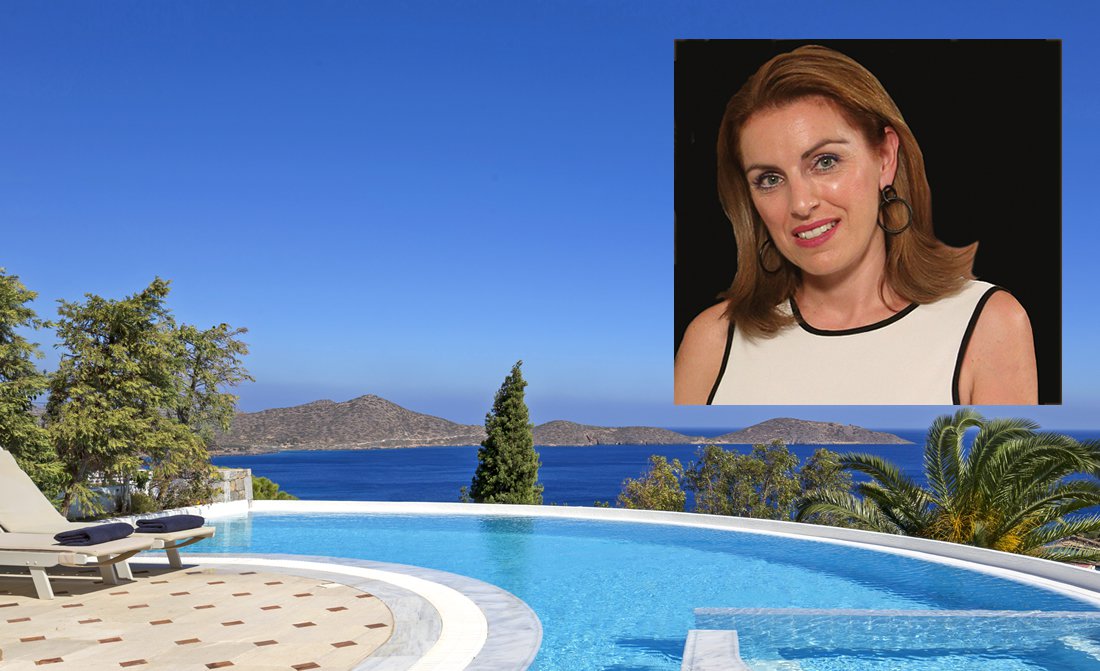 Anthi Kadianakis is the Owner and Sales and Marketing Director at Elounda Gulf Villas & Suites in Elounda, Crete, Greece.

Anthi, can you tell us a brief story of how you and your family decided to acquire the Elounda Gulf Villas & Suites?
Astonished by the original and virgin environment, the magnificent Mirabello Gulf, the authenticity of the locals and the tranquility and peacefulness of the scenery, my parents Dimitris and Anna Kadianakis decided to build a summer house when first visited the area of Elounda at the end of 90s. As time passed by, they begun to fall more and more in love with the area and decided to convert and expand their summer house into a unique boutique villa hotel. Their dream was to give the opportunity to all guests to experience Cretan hospitality within a luxurious, personalized service and facility environment. Being a civil engineer by preofession, my father succeeded to design and construct the hotel in such a way as not to interfere with the authenticity of the scenery. My mother on the other hand, with her elegant and enthusiastic interior design flair, decorated all the villas and suites in a unique style and character.

Their dream was finally consummated in 2002 as Elounda Gulf Villas was operated for the first time as a luxurious Boutique Villa Hotel, one of its kind in the area of Elounda.

Today, my mother Anna, my sister Charitini and myself, are all engaged in the day-to-day management of the hotel, ensuring all guests receive utmost attention and tailor-made service with the purpose to have memorable moments and to increase the frequency of repeated customers.

What do you love most about the town of Elounda?
Elounda is a small beautiful traditional fishing village. It is the tranquillity and peacefulness of the entire scenery, the warmth of the local people towards guests, the authentic local food and the history of the place, which all combined makes Elounda a unique and ever-lasting travel destination. How can someone not love such a place?

What is one Cretan dish you love most?
I love Greek salad. It combines all the vegetables that Greece has to offer and, with feta cheese on top, provides a very nutritional, healthy and delicious Greek dish!

In your opinion, what skills does a successful hotelier need?
A successful hotelier should be hospitable, welcoming, a good team player. Hoteliers, especially those of luxury boutique villa hotels, such as Elounda Gulf Villas, should treat their hotels as their homes. At Elounda Gulf Villas we as owners welcome every single guest the same way we
welcome "friends" and "family" at our home. This homey warm and family atmosphere is not easy to be found and achieved. It is the product of teamwork for the same goal and sharing the same principles. A successful hotelier should always motivate his team to feel the same passion and love of what they are doing. It is only then the guests receive the same atmosphere, the same "air" of the hotel. The staff, their service and caring feeling with their prompt response and attention to every single detail, makes each holiday memorable and unique. This is something that starts from hoteliers and is passed on to their team and all together to the guests. At Elounda Gulf Villas each guest is part of our family and our family consists of all of us, the staff and the guests. This is something that my family, as hoteliers, always try to achieve.

Besides Greece, what is your favourite country for holidays?
I like traveling to Italy. This country combines nice scenery, nice food, nice people. What else should someone expect from his holiday?