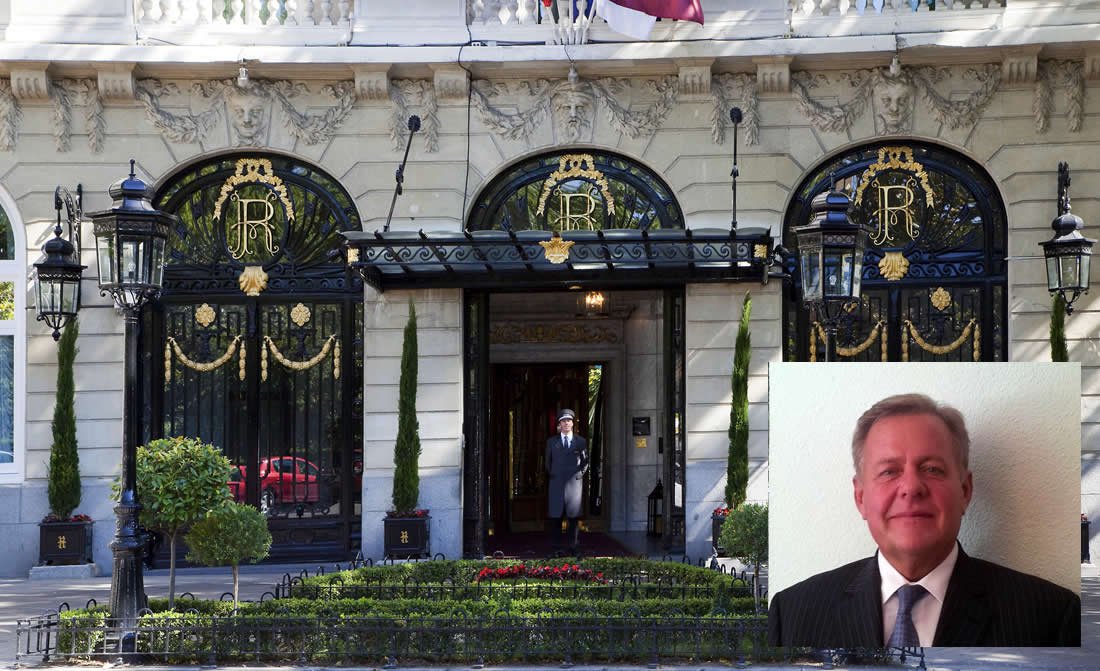 Marcelo R. Moscheni works as a Sales & Marketing Director at Hotel Ritz, Madrid.

Marcelo, can you tell us one interesting fact about Madrid?
Wow, I can tell you a few! It is the highest capital in Europe (650 metres above sea level) and the capital with the most days of sun! It is a great pleasure to live here or visit it, because it is almost always sunny. Even in winter, while in the rest of European capitals it may be snowing, raining, cloudy, foggy, we enjoy blue skies and sun. A real treat! Amazingly, Madrid has no access to the sea or ocean, but it has the second largest fish market in the world, after Japan. Cost of living is very reasonable here, and for shopping it is second to none, with great value for money buys. It's a happy city, where people love to go out to eat or have a beer or tapas!

What do you love most about the capital of Spain?
I love that it is a safe place! It's not huge, and has around 3.3 million of people. Madrid is an easy and pleasant city to go around. It has great public transportation, with the underground being the 2nd largest in Europe, very clean, efficient and cheap!The capital of Spain is a multi-cultural city, whose inhabitants come from all over Spain and Europe. It is a city open to new social tendencies and has a lot to offer, not only its important museums like the Prado or Reina Sofia, but also its churches, convents, narrow streets, squares and gardens and, of course, its well-known "night life": the famous "movida madrileña". There is always something nice and interesting to look at!

Does the hotel participate in any charitable campaign?
We do continuously participate and support social and charitable campaigns. In fact, our famous yearly party to inaugurate our Terrace and Garden season is a social event, where the "well known" society icons expect to be there. It is always organized 100% in benefit of a ONG or local charity, raising money for them and creating awareness. On a yearly basis, we also organize a charitable "Christmas Market" and support different organizations donating great raffle prices throughout the year. Our team also helps doing social work at the Madrid Food Bank.

Where can you find the most authentic Flamenco show in the city?
For me, The Corral de la Morería is the most authentic flamenco show, the true expression of what real Spanish art is all about. It is a delight for your senses, not only for the show itself, but also for it´s delicious food. Not to be missed!

What is your favourite Spanish dish?
It is a very good question, because it all depends on the season. In Madrid we have summer and winter dishes. Throughout the year, the famous Tortilla de Patatas (potatoes omelette) and different versions of Paella (vegetarian, sea food, meats, etc.) are always welcome and nice to have.

Summer dishes that are a must to try are cold soups like the famous Gazpacho, cold Melon soup, Ajo Blanco Soup (with crashed almonds), Salmorejo etc. and also beautiful fresh fish and sea food. One of the very well-known is the Gambas al Ajillo (shrimps with garlic).

My favourite winter soups are Sopa de Ajo (garlic soup), Caldo Gallego from Galicia and the incredible cod, chickpeas and spinach soup! And for the main winter dishes I love Lentejas (lentils from the simple vegetarian way to the most complete with chorizo and black pudding), the famous Cocido Madrileño (a water boiled stew with different meats, vegetables and chickpeas), Fabada (an amazing rich Spanish bean stew), which is a hot and heavy dish and for that reason it is most commonly eaten during winter.

But I have to say that my favorite Spanish food are the Tapas, which can be practically anything - from a chunk of tuna, a cocktail onion and an olive skewered on a long toothpick, to piping hot chorizo sausage served in a small clay dish or a gourmet slow-cooked beef cheek served over a sweet potato puree - or anything in between. Tapas are served daily, throughout the year, in bars and cafés throughout Spain. A great way to eat lots of different things in small servings!

I do not know if Madrid is the best place to be on a diet, but certainly it is the best place to delight your taste buds!