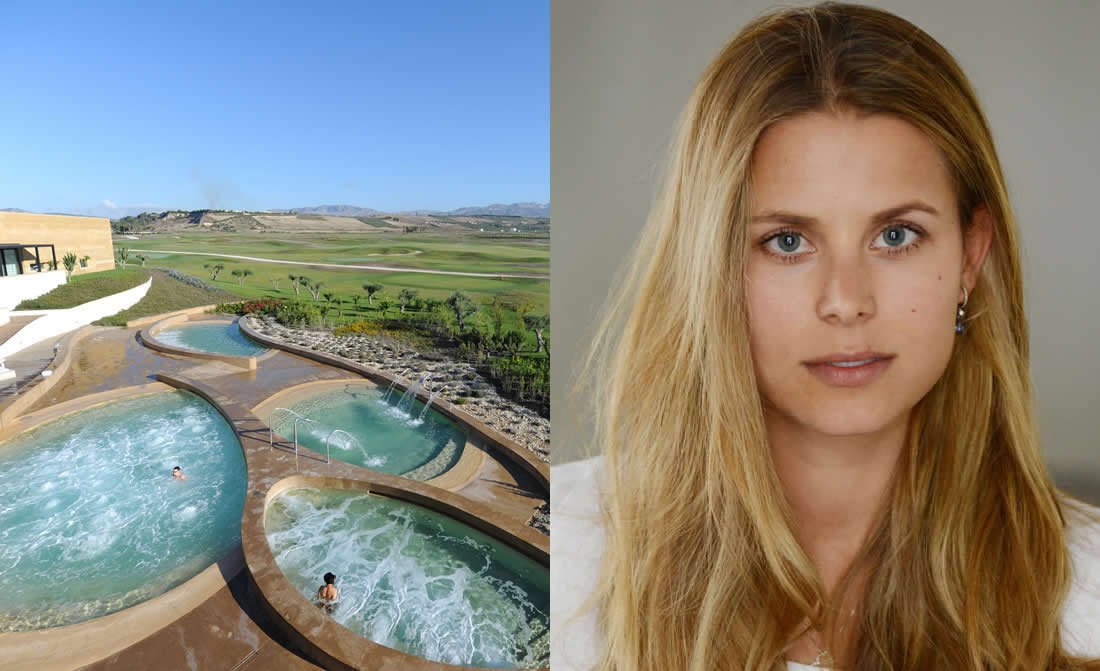 Rocco Forte Hotels launched a brand new spa concept in January 2016, bringing five innovative notions together under one umbrella: Rocco Forte Rituals, Forte Organics, Rocco Forte Nourish, Rocco Forte Fitness and Rocco Forte Health. Meet Irene Forte who tells us about the philosophy behind the new concept and shares some of her top wellness tips.

Irene, can you tell us a little bit about the new Rocco Forte Spas concept?
The concept brings four notions together under one umbrella: Rocco Forte Rituals, Rocco Forte Nourish, Rocco Forte Fitness and Rocco Forte Health (the latter is just available at Verdura Resort).

Rocco Forte Rituals are carried out in all of our spas with our Forte Organics product line. The rituals really do inspire the senses and guests are truly pampered from head-to-toe. They all begin with a footbath and end with a delicious Forte Organics smoothie – made with the same ingredients that are in our products.

Rocco Forte Nourish ensures that you can eat healthily throughout our spas and hotels. It includes a healthy corner at breakfast, a healthy minibar option, as well as special nourishing outlet menus. Whilst all our hotels offer this, we have partnered with local healthy chefs and nutritionists as far as possible to make it individual to each location, such as Just For You at Hotel Astoria in St Petersburg and Madeleine Shaw at Brown's Hotel in London.

Rocco Forte Fitness is our fitness offering across our hotels. A big part of our Rocco Forte Fitness philosophy is to unite nature and culture with fitness. In our city hotels we have running maps available to guests and many of them offer sightseeing running and cycling tours, combining the culture of the city with improving fitness. At Hotel de Rome, guests can take in views of Berlin whilst enjoying Rooftop Yoga sessions on the hotel's terrace.

At Verdura Resort, we offer Rocco Forte Health, which offers a balanced and integrated approach to health, using state-of-the-art techniques, with programmes individualised to every guest. The five health-focussed programmes we cover are Fit, Slim, Detox, Anti-age and Relax. It is not available in our hotels because Verdura Resort is our only resort and not a city hotel.

With Rocco Forte Spas, we want guests to find wellbeing at every touch point in our hotels. We want guests to be able to continue existing healthy routines and to take home great new habits. We want them to leave us looking, feeling and being better.

At Verdura Resort you offer Rocco Forte Health programmes. What do these involve?
As touched upon above, Rocco Forte Health involves five health-focussed programmes we cover are Fit, Slim, Detox, Anti-age and Relax. They are available for three or six days at Verdura Resort.

They integrate Sebastian Kneipp's pillars: water, plants, nutrition, exercise and balance. Nutrition and exercise are central to our Rocco Forte Health approach. Our treatments and therapies incorporate different water applciations. We use plants and herbs in our products, treatments and our Rocco Forte Nourish menus. These all help restore balance, along with the places of sanctuary through the spa, relaxation techniques used and our Spa for the Mind library curated by the School of Life. Prior to arrival, a guest will be asked to fill out a detailed questionanire.

Upon arrival, our team will perform tests to get substantial information about a guest's physiology and anatomy, enabling Verdura to tailor the guest's chosen programme to their specific needs. Throughout a guest's stay, they'll enjoy delicious menus based on the natural power-giving Mediterranean diet, using home-grown products from Verdura's organic vegetable garden. Meals will contain no salt, refined sugars, wheat, dairy, caffeine, alcohol or red meat. Guests eat every three hours with menus tailored to their individual needs. Nutritionally-balanced food and the re-education of the body to crave what is good for it are at the heart of Verdura's approach.

Guests will also enjoy group fitness classes and the Fitness Manager will create a bespoke fitness programme for their stay at Verdura and to take home with them. Lastly, to ensure deep relaxation and even better results, guests will experience a combination of non-invasive and natural health treatments and therapies.

The aim is for guests to leave, having achieved their goals, with intelligent advice that they can realistically incorporate and enjoy in their daily lives.

Do you incorporate any ancient Sicilian beauty rituals in your treatments?
More than ancient Sicilian beauty rituals, we definitely incorporate 'Sicily' into our treatments and rituals at Verdura Resort. For example with our Rocco Forte Rituals at Verdura Resort, for every ritual, the treatment room is filled with Sicilian aromas. There are also other Sicilian elements, including a Sicilian majolica tile print bed cover and ceramic plates and bowls from Sciacca that contain the Forte Organics beauty products. Lemons float where there is water and lavender decorates the treatment bed. The beginning and end of the ritual are signalled by the ringing of our bells from Burgio, made especially for Verdura at Burgio's renowned bell foundry which is located near to the resort.

We also decided to create our new product line- Forte Organics- because of all the amazing active organic ingredients that we grow at Verdura Resort, such as almonds, oranges, lemons, opuntia (prickly pear), apricot and aloe. The base of the creams is Verdura's organic olive oil and water from the Sicilian Madonie Regional Natural Park, called Geraci water. Every ingredient has been purposefully selected for its efficacy and skin benefits, and as they're truly Sicilian!

Can you tell us a secret of what ingredients you need to make a perfect Forte Organics smoothie?
The perfect Forte Organics smoothie is made with almond milk (homemade with just water and almonds), almonds, organic oranges and bananas.

What is your top wellness tip?
I have loads!

One of them is for natural products. Although we tend to be slightly more cautious about what we put on our skin, many of us still don't look at the ingredients. Many beauty products may achieve quick results, but they are often harsh on the skin or even toxic to the skin. By choosing to go natural, you are limiting not only your skin's exposure to many harmful agents, but also that of your entire body. We created Forte Organics for this reason and thus I'm a strong advocate for using natural products that are free of parabens, colourants, paraffins, allergens and abrasive fragrances.
My other tip is on fitness. Whilst regular exercise is very good for you, it's important to vary your fitness routine. Adding variety to your workouts will keep your exercises from becoming ineffective, and it also means that you don't continuously use the same muscle groups. And if you keep doing the same thing, you'll also eventually get bored! If you change up your exercise routine, your body will continuously be challenged and hence you will burn more calories, you will reach new muscle groups, resulting in continuously improved fitness, muscle tone and even weight-loss. With Rocco Forte Fitness, we have professional trainers that will always change up training sessions and continuously teach you new things. But most importantly, we have created a huge variety of fitness activities that are interesting, fun and different to inspire all guests, such as uniting culture and fitness mentioned above.