Wednesday 23rd of November 2016 07:37:26 AM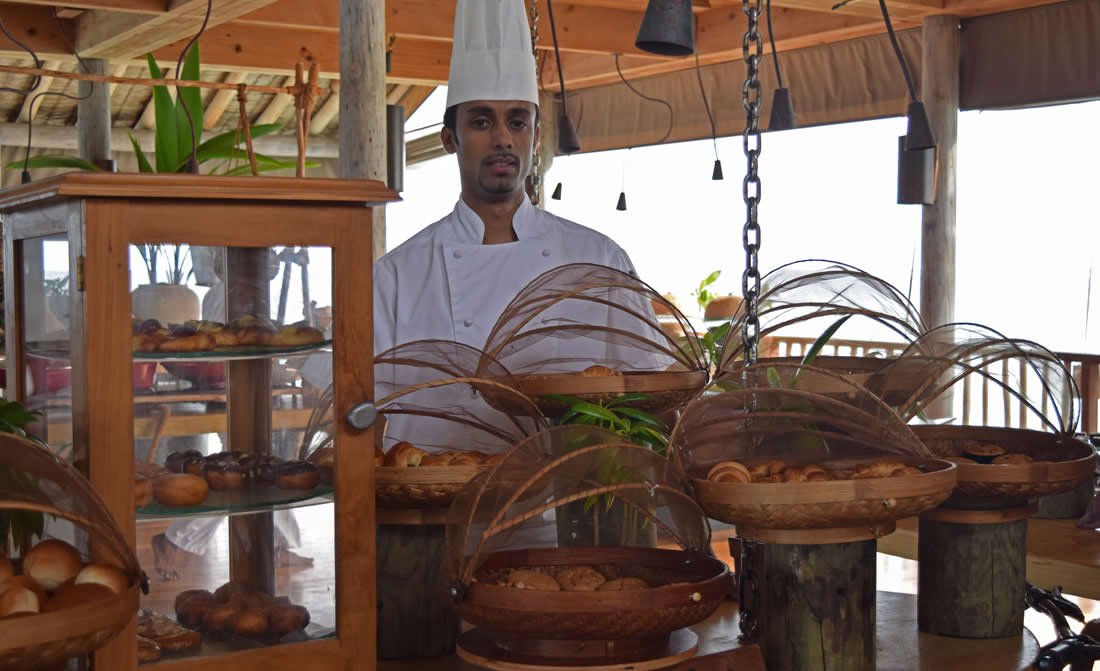 Madusanka Prabath works as a Head Pastry Chef at Six Senses Laamu, a luxury resort in Maldives.

Madusanka, why did you choose to become a Pastry Chef?
It all started from my art classes. Then slowly my creativity turned towards food and then, more particularly, to pastry. As an artist I love to draw and experiment with different colours. I also enjoy being in a kitchen. I always run after perfection and think I can achieve it through creating desserts and baking. Plus, I enjoy seeing all the happy reactions on people's faces once they taste a good dessert. It truly makes my day!

How does the Maldives inspire your process of creating new pastries and desserts?
The inspiration of almost all my desserts come from "living the Maldives experience". As we all know it is a paradise on earth and the tropical scenery and bright natural colours cannot be found anywhere else in the world. With my team we try to create unique desserts that bring out many local flavours and aromas. The best way for me to express my unique experience in the Maldives and bring forward their culture and tastes, is by creating desserts with local ingredients.

What is the most exotic and exceptional dessert at the Six Senses Laamu's kitchen?
We have a very vast variety of desserts at Six Senses Laamu, as we have to satisfy a big range of guests. Aside from personal preference we also have to take into consideration healthy options and special dietary requests. I would say that the Japanese Matcha Green Tea Roll, an almond green tea roll served with poached pear and lychee sorbet, served in Zen, is one of the most tropical desserts at Six Senses Laamu and also the "Raw" Cashew Nut and Mango Cheesecake from our wellness menu with young coconut, mango and vanilla.

As Six Senses, as a brand, focuses a lot on wellness, do you offer any "healthy" desserts at the resort?
At Six Senses Laamu we stay true to our core value "Pioneering Wellness". Our Executive Chef Martin Davies has focused on creating wellness menus where "healthy" and "tasty" are in complete harmony. Of course, a menu isn't complete without a dessert! So we have created desserts which are indeed healthy. Aside from the "Raw" Cashew Nut Mango Cheesecake mentioned earlier one of the most popular desserts are the Sweet Date, Banana Wellness Cookies. And let's not forget the ice cream! We suggest some sugar free and lactose free ice creams!

In your opinion, what is the main quality of a top Pastry Chef?
There are many qualities that differentiate a good pastry chef from a top pastry chef. I would say creativity and passion are the most important. Creativity in order to combine flavours and aromas to deliver a perfect presentation to guests. Every single detail must have been thought of! And who can attain perfection if not in love with what they are doing?