Wednesday 17th of April 2019 08:12:05 AM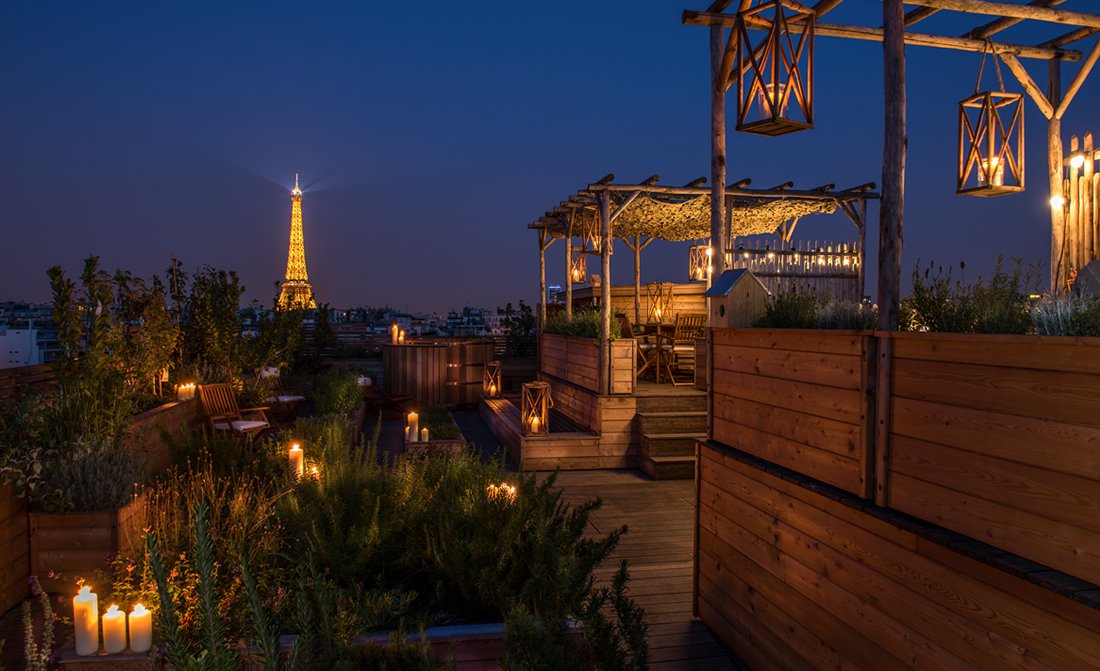 When the weather's warm, the Brach Kitchen Garden is open to visitors, and a fresh country feel takes hold of Paris's 16th arrondissement.

From the 7th floor, there's a 360° view over the rooftops of Paris, with the Eiffel Tower standing tall. Take a break from the hustle and bustle of Paris at any time of day as you watch the city below. It's a pleasant breath of fresh air surrounded by herbs, strawberries, and tomato plants. Meet Suzie, Bérénice, and Églantine, the fine hens who are happy year-round residents of this urban garden.

Minuty is a refreshing addition to this bucolic Parisian experience: you can choose your packed wicker picnic basket that includes a bottle of Minuty Rose et Or 2018, the prestigious vintage of Château Minuty, and savor it while relaxing on the cushions in the garden.

Enjoy this taste of the countryside... in Paris!

From 6:30 pm to midnight, no reservations.
Starting at 65 euros for a basket for 2* with a choice of:
- Traditional, veggie or gourmet fare;
- 1 bottle of Chateau Minuty rose et Or 2018.
*Beverage purchase required every hour
Limited access.

The management reserves the right to refuse the access to the Rooftop Garden.


ABOUT BRACH

Brach is the first Evok Group hotel with a relaxed lifestyle. Located in the heart of Paris's 16th arrondissement, Brach is the home of elegant and atypical luxury. The hotel offers an immersive, inspired experience for visitors discovering the French capital and a new vision of neighborhood life for locals and regulars. The visionary imagination of designer Philippe Starck was given free rein in this 7,000-square-meter area. The architecture of the 30s meets modernism and the Bauhaus, along with Dada and the surrealists. It's alive with warm colors and raw, natural materials such as wood, leather, concrete, glass, marble, and metal. With its 59 rooms and suites, its terraces, and its rooftop with unbeatable views of Paris and the Eiffel Tower, Brach is cosmopolitan and surprising. Swimming pools and a sports club, a bar, restaurant, grocery store, and bakery all make Brach a place for culture, the good life, and meeting other people from morning 'till night. Both intimate and open, Brach is a combination of contrasts and opposites that complement each other without ever clashing. It's a mélange that's full of life, surprising, and gracious.


ABOUT MINUTY

Château Minuty is a family-owned vineyard in the heart of Provence, overlooking the Gulf of Saint-Tropez. It has belonged to the Matton family for eighty years. Château Minuty is one of the principal producers of Côtes de Provence, creating high end rosé wines. Traditional skill combined with the use of advanced technologies guarantees impeccable quality.

The name of Minuty evokes the sweet smell of the south and the unique spirit of Provence, which is all about sharing simple pleasures. Today, Minuty fully embodies this philosophy, which flourishes all over the world through its wines. The Château is proud to be present in over 100 countries, offering the pleasure of its rosés to as many people as possible.



For more information about Brach, a luxury boutique hotel in Paris, visit here.