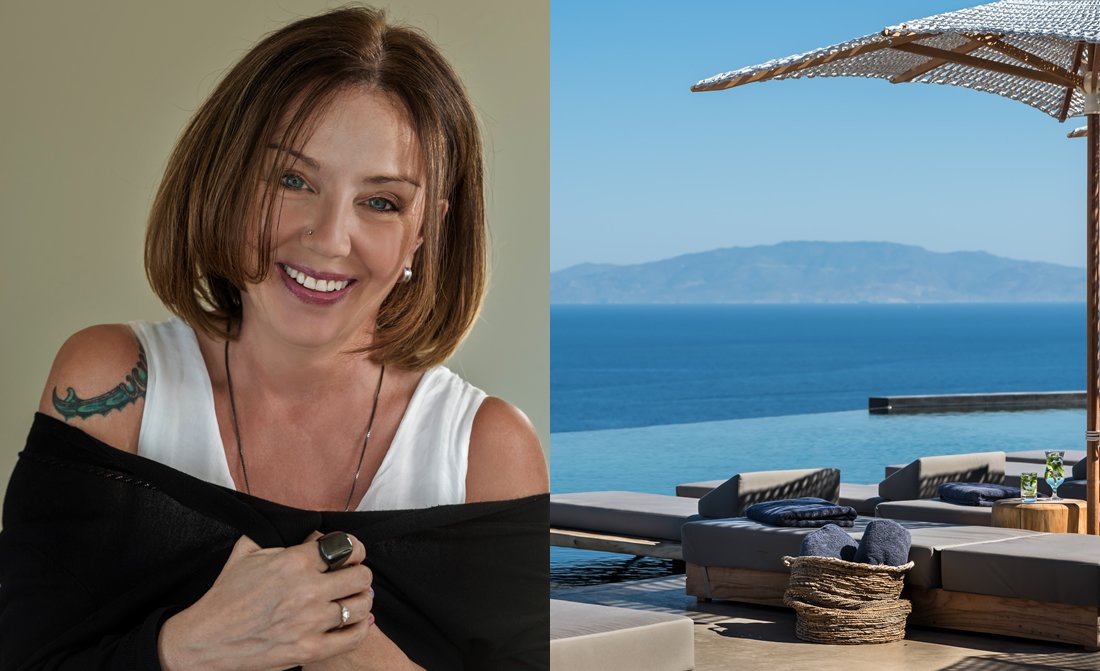 Having worked in over 18 countries coupled with 25 years of experience, Carla Sage, the Director of Spa & Wellness at Andronis luxury hotels in Santorini, has developed a rich appreciation and an unparalleled depth of knowledge of the industry. A natural leader, prior to joining Andronis, Carla Sage was Director of Spa Training for Six Senses Hotels, Resorts & Spas, Director of Education for Dermalogica, and Spa Director at Mandarin Oriental, Tokyo.

Her international experiences also include overseeing the launch of the spa in the first Park Hyatt in Beijing, as well as a posting to the British West Indies exclusive Malliouhana, an Auberge Resort. With university degrees and equivalents in Human Biology and Massage Therapy, along with a diploma in Medical Esthetics, Carla is a welcome addition to the Andronis leadership team. Alongside her appointment, and the first for the Andronis family, Carla has created an original and "exclusive to Andronis" series of wellness offerings.


Carla, what brought you to Santorini?

I have known the General Manager of Andronis, George Filippidis for a few years and we have always wanted to bring our ideas together, so last season fortunately gave us that opportunity and we hope to grow the spa and wellness division of Andronis in the years to come.


What makes the Spas at Andronis hotels unique?

I would say that each spa is unique to itself, especially in its design. Each location, although there will be similarities in treatment offerings, each will have specific treatments that compliment the environment of the spa. This season we have redesigned the menus for each of the spas and we are really looking forward to showcasing each spas focus on wellness.


What has been the most popular spa treatment among your guests?

​Last season I would have said our deep tissue massage, however as mentioned, this season we will have all spas with new menus and new treatment offerings at each. In Evexia spa, we will feature a two hour "Be Lifted" facial, as well as our exclusive "Water Path" experience which features contrast bathing pools. In Kallos spa, this year will feature a remedial therapy section of our menu focusing on a more clinical approach; with each treatment being guided by the theory of anatomy and physiology, drawing upon a variety of advanced soft tissue, myo-fascial and stretching techniques, this area of wellness targets mobility, flexibility, and pain. And in our boutique spa, Mare Sanus, we will feature 100% signature Andronis offerings, based on our 3 pillars of wellness; Be Destressed, Be Rested, Be Balanced.

In addition to all new spa menus, we will be boast our new Wellness menu, which has many group session offerings, drop in classes, as well as our featured wellness screening which opens the door to so many areas of wellness services.


What would be the perfect wellness holiday for you?

That is a tough question for me to answer as I have lived in 11 countries over my career and have experienced a great deal of treatments in completely different environments. I know it would have to include some sort of healing through water, I think that is why the "water path" experience is one of my Andronis favourites. A peaceful setting with time and space to evolve through a journey that includes meditation, gentle yoga, long runs, remedial treatments and, as I said, water.


Finally, how would you describe the current mood in global spa tourism?

​I think people are looking for a bit of a trifecta in wellness. I think in general people need mind, body and spiritual healing at the moment. So to be able to experience a bespoke journey that takes us through these areas will be essential. That is what our aim is this season at Andronis. To focus in on services and experiences that touch on what we believe are the pillars of wellness right now. Be Destressed, Be Rested, and Be Balanced. This is the first statement in our menus this year.

Our approach is simple: we embrace you and your entire well-being as highly unique, after all, no two people are the same. By giving our guests a full range of offerings that embrace what we believe are the key pillars of wellness, it is our hope that you will alleviate stress, find peaceful rest, perfect balance, and rediscover your best self!


-----
To book your stay at Andronis hotels in Santorini, please send us an enquiry or call us on +44 20 7148 1778.

For more information about Andronis, please visit here.