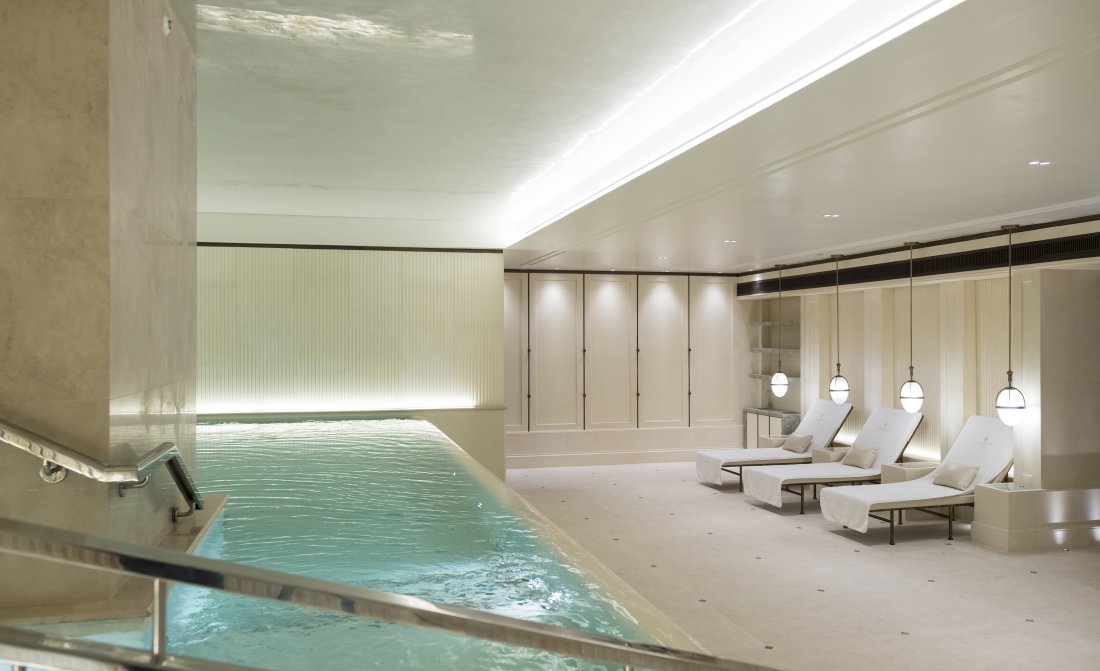 The Lanesborough Club & Spa is delighted to welcome Bodhimaya, the award-winning wellness retreat specialists, with a brand-new residency launching September 2019. Bodhimaya joins the Club & Spa's existing collection of handpicked brands that bring together the 'best in class' in each of their respective sectors. Combining its knowledge and expertise of personalised nutrition, authentic meditation and body movement, Bodhimaya will offer guests a range of new and exclusive programmes including overnight retreats and bespoke one-to-one wellbeing experiences.

MIND
Bodhimaya Founder, Cornelius O'Shaughnessy is an experienced meditation, stress management and Eastern philosophy expert. Having studied this approach for nearly 23 years, he offers a logical and highly effective approach to the mind which focuses on helping people explore and resolve personal issues, find clarity, manage stress and increase confidence. At The Lanesborough Club & Spa, Cornelius will lead a series of retreats – ranging from one to three days – which will focus on physical and emotional wellbeing. Available to members and non-members, this will include 'Restorative Retreats' and 'Meditation & Nutrition' programmes, which have been designed to bring the mind and body back into a state of balance through:
Daily mind and meditation consultations with Cornelius.
Signature spa treatments.
Private yoga sessions.
Reiki treatments with sound healing.
Private consultations with Bodhimaya nutritional expert, Olga Hamilton.
NUTRITION
Specialising in weight management, hormonal imbalances, gut disorders, mood imbalances, anti-ageing and skin conditions, Bodhimaya's Olga Hamilton passionately believes in the power of nutrition and the effect it has on every aspect of our health and wellbeing. She has a Nutritional Therapy degree from the world-renowned Institute for Optimum Nutrition, a post-graduate diploma in Nutritional Medicine and, is one of only a few Nutritional Therapists that are able to analyse complex biological data and use this information to help people optimise their health, and manage chronic illness and disease more effectively.

Bodhimaya's tailored nutrition concept is regarded as the gold standard of Nutritional Therapy. It uses a Functional Medicine-based approach to optimise health and identify the root cause of illness and disease. Using the most advanced biomarker and genetic testing available, the highly personalised programmes are tailored to the exact needs of each body.

Bodhimaya also has a genuine passion for helping people optimise their health, deal with wellness issues and find greater happiness and wellbeing. All of its nutrition experts are members of the British Association of Applied Nutrition and Nutritional Therapy and registered with the Complementary and Natural Healthcare Council; the only register for Nutritional Therapy that is recognised by the Department of Health.

BODY
With The Lanesborough Club & Spa gym home to the best fitness experts and equipment, Bodhimaya will be helping people to restore their body with a bespoke methodology towards physical fitness, kick-starting clients' health and fitness goals, developing existing ones further or, rehabilitating injuries.

Further specialised programmes to be offered will include:
Weight management
Stress management
Digestive disorders
Anti-ageing
Detoxification
Women's health
Skin conditions
Immune system issues
Sleep disorders
Hormonal imbalances
Allergies and intolerances
Fatigue
Depression
Anxiety
The Lanesborough Club & Spa launched in March 2017, marking the next stage of the iconic Lanesborough Hotel's evolution following an acclaimed relaunch in July 2015. The Club & Spa is one of London's most exclusive private members' fitness and health clubs, providing Belgravia with a luxury 'club for life' and offering a 360° approach to wellbeing for modern-day Londoners living and working in the local area.

Bodhimaya is a pioneer in personalised wellness, with the brand's science-backed programmes renowned for their ability to support and rejuvenate both mind and body. Bodhimaya's nutrition and mind consultations, classes, events, programmes and retreats will be available to both members and non-members at The Lanesborough Club and Spa. Fused with The Lanesborough's award-winning approach to fitness, deeply relaxing spa treatments and the Club & Spa's beautifully relaxing environment, Bodhimaya will be offering its unique nutrition and biomarker analysis, as well as unique and effective mind, meditation and stress management protocols.

On Bodhimaya's new residency at The Lanesborough Club & Spa, Founder, Cornelius O'Shaughnessy comments: "I am thrilled to bring the Bodhimaya concept to The Lanesborough Club & Spa and together with their outstanding team of experts create truly transformative wellbeing experiences for guests and members".
Marco Novello, Managing Director of The Lanesborough adds: "We are delighted to welcome a new Bodhimaya residency at The Lanesborough Club & Spa. The residency enables us to take the Club & Spa's already world-class offering to the next level with health services and retreats from the highly renowned and well-respected Cornelius O'Shaughnessy and his team. With the increased importance being placed on personal mental wellbeing today, we hope that this new offering will inspire our members and guests to incorporate healthy mindfulness practices into their day-to-day lives".

Bodhimaya's one-night 'Restorative Retreats' at The Lanesborough will start from £1,795 per person, including overnight hotel stay - 'Meditation & Nutrition Retreats' from £1,499 per person, including overnight hotel stay - Day Retreats will start from £750 per person.

-----
If you wish to book one of these wellness experiences or a stay at The Lanesborough Hotel, please call us on +44 20 7148 1778 or send us an enquiry.

For more information about The Lanesborough Hotel and its wellness services, please visit here.