Thursday 30th of June 2022 12:49:16 PM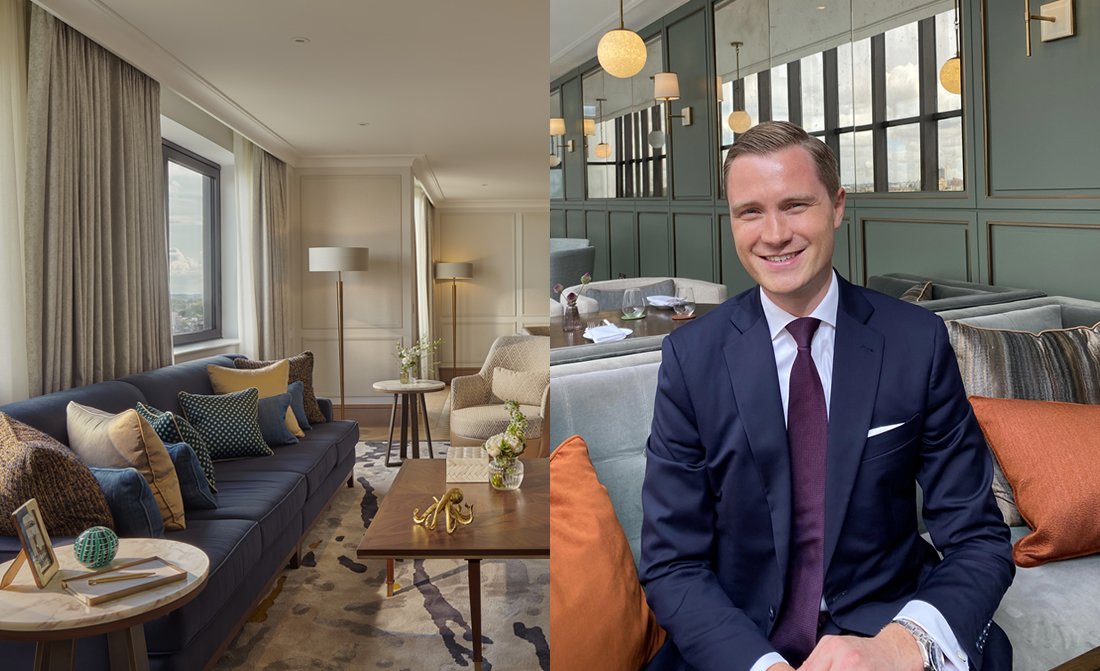 Interview with Marco Kuefner, who has been the Director of Rooms at the magnificent Carlton Tower Jumeirah in London since 2020.


Marco, tell us more about your background in hospitality and what brought you to the Carlton Tower Jumeirah?

My first job was as a waiter in a small Italian Café in my native Germany at the age of 15. Initially, I just wanted to earn some money to buy myself a Vespa but I quickly realised how much I enjoyed being around people, serving them and feeding off that energy. Within a few weeks, I completely fell in love with the idea of making this my calling & profession and a few months later my father took me to stay at The Ritz-Carlton in Wolfsburg, Germany where I was completely mesmerised by the idea of a luxury hotel. How it looked and how it made us feel and from that point onwards I knew that one day I'll be working in one (funnily enough as a matter of complete coincidence I did work at that very hotel later in my career).

Fast forward, I've been fortunate enough to work in amazing cities around the globe each with incredibly fascinating cultures – my journey took me to Frankfurt, London, Wolfsburg, Miami, Tel Aviv, Budapest, Honolulu, Sanya, Hong Kong, Beijing, Moscow and back to London again.

The Carlton Tower Jumeirah project immediately caught my attention when I first heard of it. Jumeirah establishing a European flagship aside of their world-famous Burj Al Arab along with a complete repositioning of the prior hotel into the ultra-luxury market was a project not to be missed.


Tell us more about your role.

My role is to provide leadership, guidance & coaching to a team of around 130 colleagues of diverse cultures & backgrounds. I like to lead from the front, spend time with our esteemed guests, connect with colleagues from across the property and be visible & approachable throughout but also to challenge everyone to do a little bit better every day to make us the best hotel.

I'm also huge about talent development so another big part of my role is to ensure learning, development & coaching across my departments to ensure that we provide an opportunity to anyone that aspires to grow within the organisation.


What skill set does your position require?

Any role in hospitality requires one to be passionate & enthusiastic for the industry with a will to show dedication & commitment – then with the right mentor to push you, a little bit of luck and the right company to support your career, the rest will follow.

In particular however, I would note that EQ is of tremendous importance – hospitality is all about people whether it's your guests or, more importantly, your team and it has always been a melting pot of cultures. A successful leader needs to know how to read people, tailor their message to them and act with empathy.


What are your 3 tips for guest satisfaction?

It's easy to build a shiny hotel and whilst one likes a contemporary property and another a classic setting, a guest will never forget how you made them feel. At Jumeirah, we focus on small (& big) touches to build a strong emotional bond between our guests and us. Whilst we select team members that show great EQ during their interviews, we coach & guide them to pick up on clues, anticipate and emotionally engage with our guests.

It's all about personalisation – what brings you to our property, what are you looking to get out of your stay and how can I curate your experience to the extent that you feel you're staying at a home rather than "just" a hotel.

Let's face it, it's a people's business with many moving elements so eventually things do go wrong but there is nothing more frustrating that when they do, you aren't helped "because I need to check with my manager first". It's a personal pet peeve of mine and everyone has faced the sheer endless loops trying to get through to someone who can help when things go wrong. Not here – we have empowered each & every single of our colleagues to take decisions on their own and act in the very best interest of our guests to resolve matters in a timely, efficient, and effective manner.


What attracts you to working for luxury hotels?

I'm hugely passionate about curating exciting experiences for our guests and luxury hotels provide that playground with the resources to do so. I'm also hugely competitive so I very much enjoy the healthy competition with others around me. We're hosting guests that have seen it all, been everywhere and done everything – to get their stamp of approval is a great thing.

Luxury hotels also tend to have larger structures and bigger teams so to be the "conductor" and make sure the orchestra plays in the right tune is a lot of fun.


Can you share one secret with us? How can people create the "five star hotel room" environment at home?

If it's for yourself, I'd say create an ambiance that makes you feel truly comfortable where you can rest, recharge the batteries and be yourself - whether that's through music, scented candles or flowers.

If you're hosting, look into what your guests enjoy even if you don't usually have it at your home – a special beverage or ingredient perhaps or get them something personalised that will remind them of the evening for a long time to come.

-----
If you wish to book your stay at the Carlton Tower Jumeirah in Knightsbridge, London, please call us on +44 20 7148 1778 or send us an enquiry.
For more information about this luxury hotel in London, please visit here.