Thursday 17th of September 2020 08:36:20 AM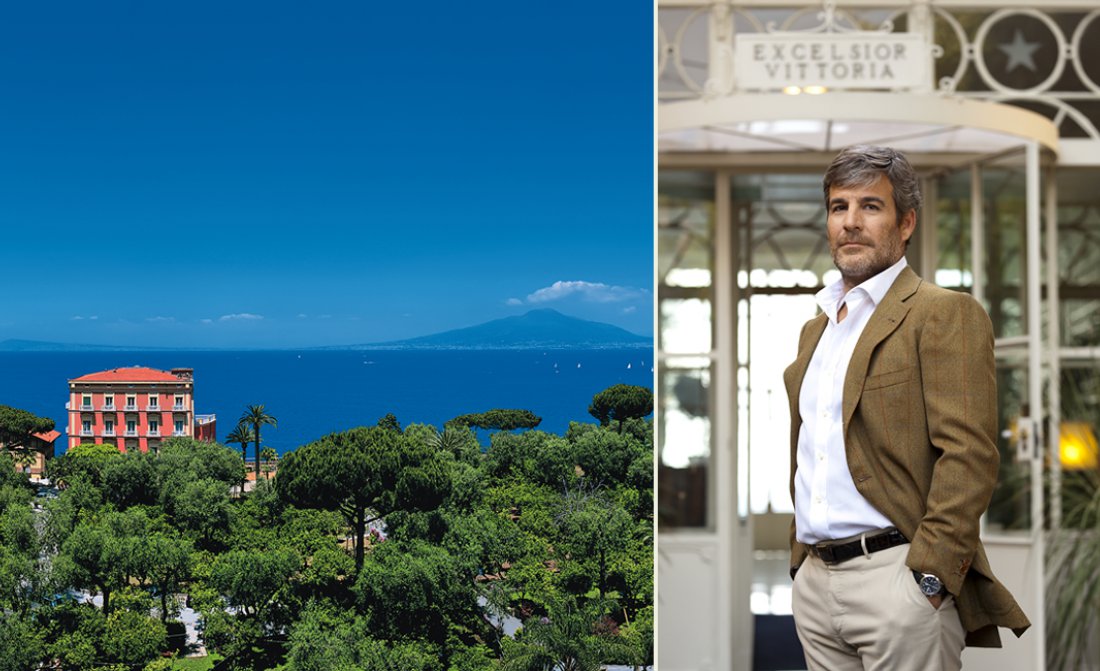 Guido Fiorentino is the Owner, President & CEO of Grand Hotel Excelsior Vittoria, a luxury and highly elegant family hotel in Sorrento, Italy. This year the hotel is celebrating its 186 anniversary, therefore, we decided to talk to Mr. Fiorentino who tells us more about the history of the hotel, its uniqueness and the beauty of Sorrento and its surrounding area.

Guido, you come from the family, who has been in the luxury hotel business for almost 200 years. Can you please tell us more about your family and the history of the business?

This year is our 186 anniversary, and I would say that this is a family history with a strong passion dedicated to this activity. Today it is also time to pause and reflect, to say thank you; thank you to my forefathers, thank you to our staff and our regular clients, everyone has been instrumental in building the spirit of the Excelsior Vittoria. I often look back on my predecessor and see what they did, they have been very innovative and visionary to promote the nascent tourism industry with hotels in Sorrento, Napoli, Milan and many other well-known cities in Italy. I would say that the next generation will be the best judge. I'm doing my best to grow and become a place where our guest feels at home, a place that they trust.

What makes Grand Hotel Excelsior Vittoria different from other luxury hotels in Campania?

One of our unique is that we are at the 6th generation; there are not many hotels that after 186 years are still managed by the same family that built it. Also the fact that we are combining the original antique style, keeping the original furniture: for example, the chair that decorates our winter Garden lounge is a unique example of the Sicilian architect Ernesto Basile, 1857-1932, chair, Modello Carretto Siciliano, of which two are exposed at the Musée d'Orsay of Paris, with the contemporary style and a very friendly and professional staff. Final but not last, being an independently family owned hotel we can give a personal approach to all our guests.

Was the video clip of Lucio Dalla's "Caruso" filmed at the hotel?

Yes, this video clip was filmed in the hotel because the Italian artist, songwriter and singer, did write the song Caruso when he stayed with us in 1986. Dalla stayed in our One of the Kind Suite dedicated to the Italian tenor Enrico Caruso, that spent about two months with us in the same suite in 1921.

How does your perfect day in Sorrento look?

Our area is very rich of place of interest and Sorrento is the best location to visit the surrounding area. If I am in a cultural mood then I will visit Pompeii and Herculaneum - these historical sites are very interesting and very easy to reach from Sorrento. If, I'm in a relax and social life mood then I will go for a day cruise along the Amalfi Coast and Capri stopping for lunch in one of the famous fishing restaurants of Nerano at Marina del Cantone.

Where do you like to travel for holiday, besides Italy?

Its very easy, if it is a winter holiday than I'll go to ski, if not in Italy, then on the French, Swiss or Austrian Apls. And then in summer time, I'd go for sailing in Greece.

If you could relive one day of your life, which day would you choose?

Certainly, my wedding day, which represented the beginning of a new and fascinating journey.


-----
If you wish to book Grand Hotel Excelsior Vittoria in Sorrento with Hurlingham Travel, please call us on +44 20 7148 1778 or send us an enquiry.

For more information about the hotel, please visit here.