Tuesday 20th of August 2019 11:23:03 AM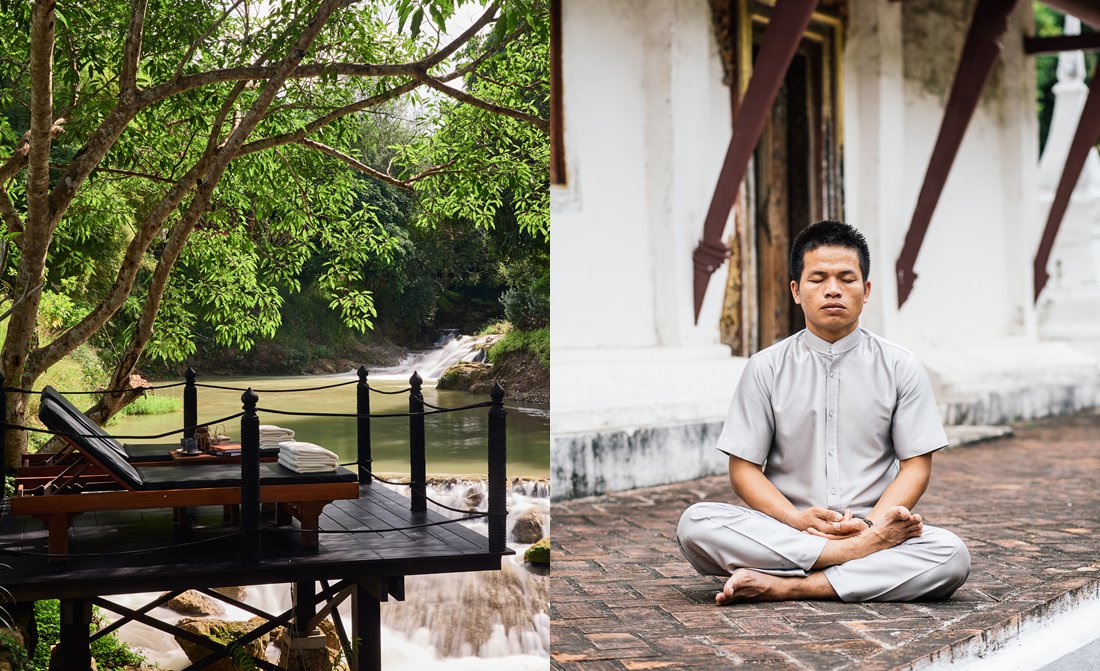 Today we are talking to Sommaiy Saiyavong, who is a Guest Experience Manager at Rosewood Luang Prabang. As a former monk, Sommaiy tells us about his spiritual path and explains why it is not easy to dedicate your life entirely to monkhood. He also reveals the top benefit of meditation and gives us tips on the best adventures to enjoy while in Luang Prabang.

Sommaiy, where were you born?

I was born in the suburb of Luang Prabang called Hat Hein village.

Where did you grow up?

I grow up in Muong Nan province which is 3 hour drive from Luang Prabang to the south, there are few villages along the Mekong river, that's where my father hometown.

Can you talk about the path you took as a monk? What did it teach you?

It's the time when I got to become 12 years old I started to have the thoughts that there must be some way to change the way of life like my elder generation had followed each other for instance: early marry, hopeless for education opportunity, so these are the main factors inspired me to leave my family.
As a little novice I honestly have to say that I was one of the lucky Novice to be in hand of the great master I had been disciplined all Buddhist precepts rules, some of them I was shaking at my first reading the list of precepts rules such as: not allow to bite any kind of food because of the hunger after 12 pm I must adapt myself to only have two meals a day; no jumping. It's not easy for a young boy to not eat and waking up before 4 am they're sound so scary to me. There were lots of wondering questions flying why do we have to live this hard for the peace how can we be peace with hungry tiger in our stomach. My master taught me to be like the bamboo bending with any kind of situation no matter how easy or hard they are, like the wind, storm hit the bamboo but the never break.

Not until I decided to leave the monastery to society dealing with life circumstances I found the value of monkhood behavior, the peace, the patient, the stillness which is needed for our live I trained myself to cultivate them.

How did you decide to join Rosewood Luang prabang?

It's because I am able to sharing my experience, I think the only Rosewood hotel provide unique experience.

What experiences do you organize for your hotel's guests?

- Regular morning offering
- Evening chanting & meditation
- Temple hike other side of Mekong
- Hill tribe village trek to Kuang si spring waterfall
- Hill tribe village mountain bike
- Forest trekking
- Artistic village walk

What is the top benefit of meditation?

The top benefit is the awakening, the feeling of my whole head is like the balloon that only contain the stream of ice, the awakening of letting the thoughts past so I would be with every moments.

For everyone travelling to Luang Prabang, what do's and don'ts would you advice?

- You shouldn't miss waking up same time as village's roosters, heading off to the monk alms offering with some seasonal fruit and warm sticky rice basket in your hands.

- Get yourself wandering around the heritage town at about 17:30 or 18:00 pick one of the temple to join the monk meditation close your eyes connect to the moment peace.

- Get out to the forest spending few hours trekking.
If you are interested in booking your stay at Rosewood Luang Prabang, please call us on +44 20 7148 1778 or send us an enquiry.


For more information about Rosewood Luang Prabang, please visit here.