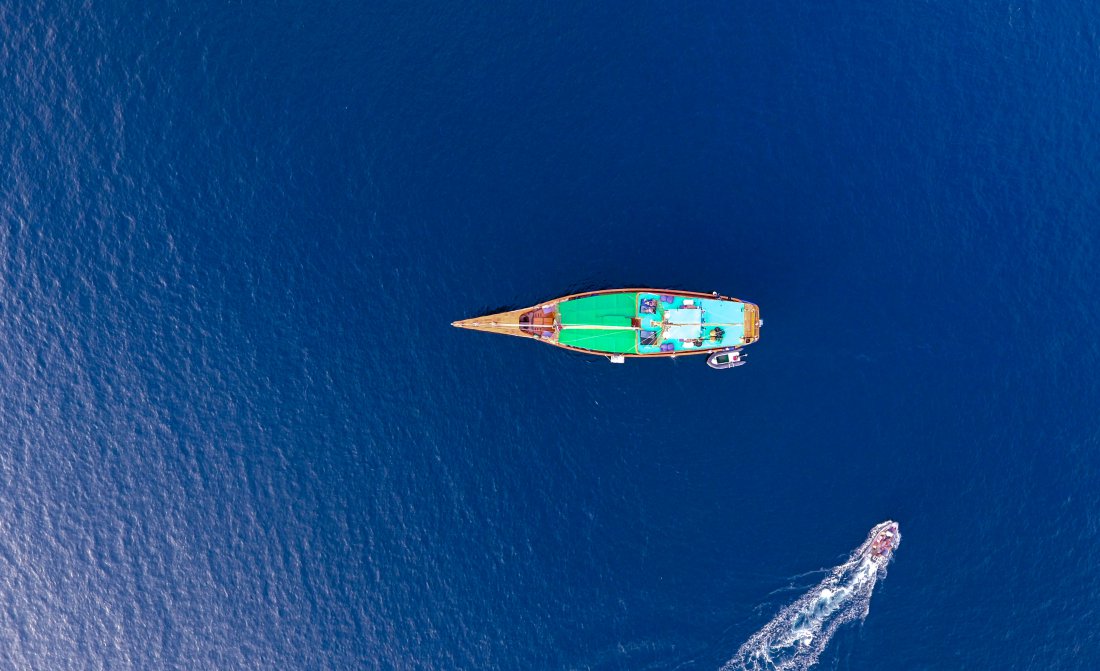 Combining traditional design with modern comforts, Tiger Blue is the ultimate way to discover the crystal clear waters, island landscapes and spectacular natural beauty of Eastern Indonesia.


Tiger Blue is a beautifully crafted 34m traditional phinisi sailing boat with generous deck space and five en-suite cabins sleeping up to 12 people. Designed with families and groups of friends in mind, a journey on Tiger Blue is guaranteed to be packed with unforgettable moments whether it be searching for dragons on Komodo, spotting birds of paradise in West Papua or snorkeling with giant manta rays over the coral gardens of Raja Ampat. Available for exclusive private charter or by the cabin on selected dates, Tiger Blue is perfect for family adventures, bucket list trips with friends, or simply escaping the stresses of modern day life.


PURE ESCAPISM

From the moment you step on board, the friendly crew are on hand to ensure your time on Tiger Blue is truly memorable. Whether soaking up the sun, exploring a nearby island or leaping into the warm waters to dive or snorkel, the Tiger Blue team are there to look after you. At the end of each day, enjoy sunset cocktails either on board Tiger Blue or sitting around a beach bonfire, before dining under a canopy of stars accompanied by tales of the day's adventures.


FINE DINING, ON BOARD AND OFF

Meals are freshly prepared by the boat's on board chef and served up at the large dining table on the main deck, except for when you head to a nearby island for a beach BBQ. A mix of Asian and Western cuisines are served and most dietary requirements and preferences can be catered for. All soft drinks and beers are included while spirits, cocktails and house wines can be purchased by the glass. Alternatively, choose the optional unlimited drinks package.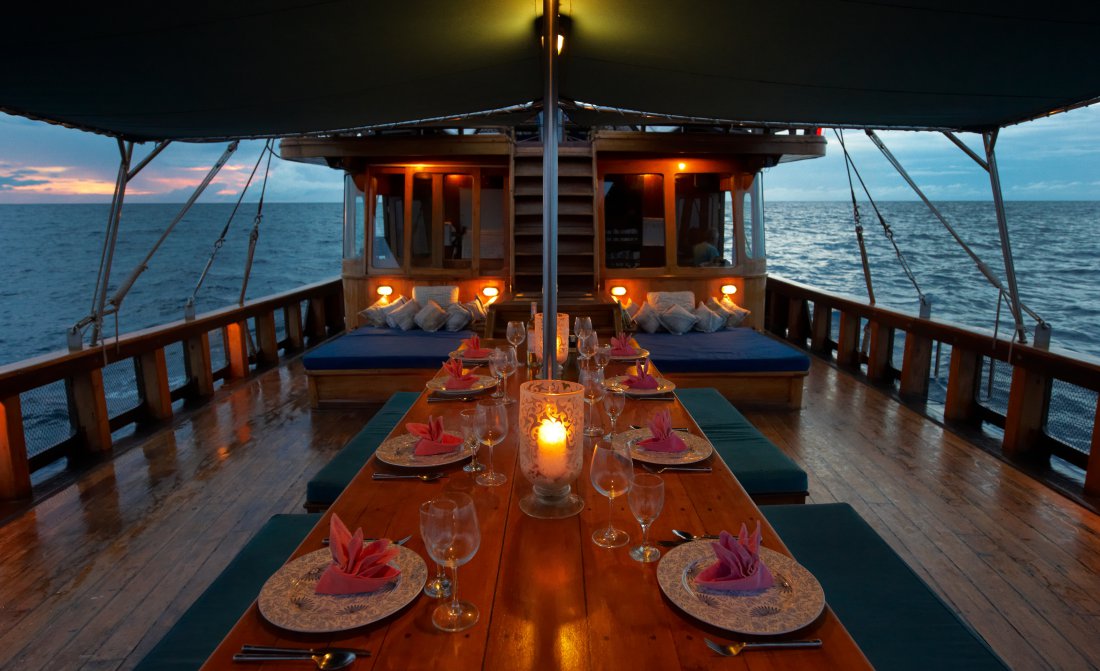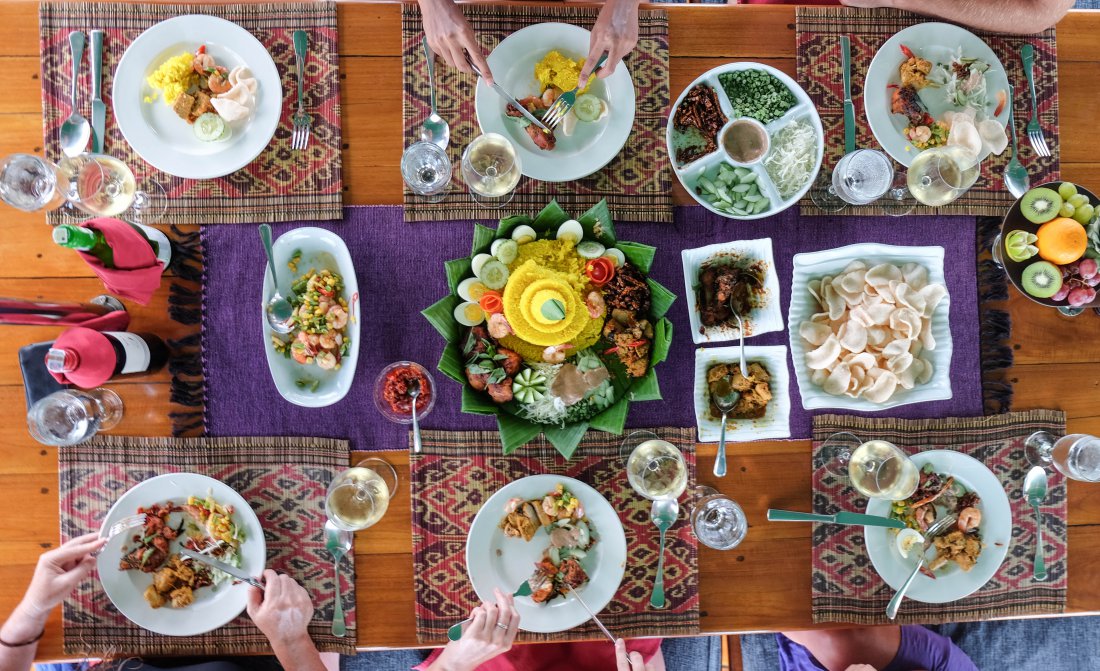 UNFORGETTABLE MOMENTS

No two days are the same on Tiger Blue as you are free to choose from snorkeling or diving in the crystal clear waters, exploring small islands in search of local wildlife or simply relaxing in the sun with a drink and a good book in hand. Tiger Blue's two tenders allow different guests the flexibility to enjoy a range of activities at the same time.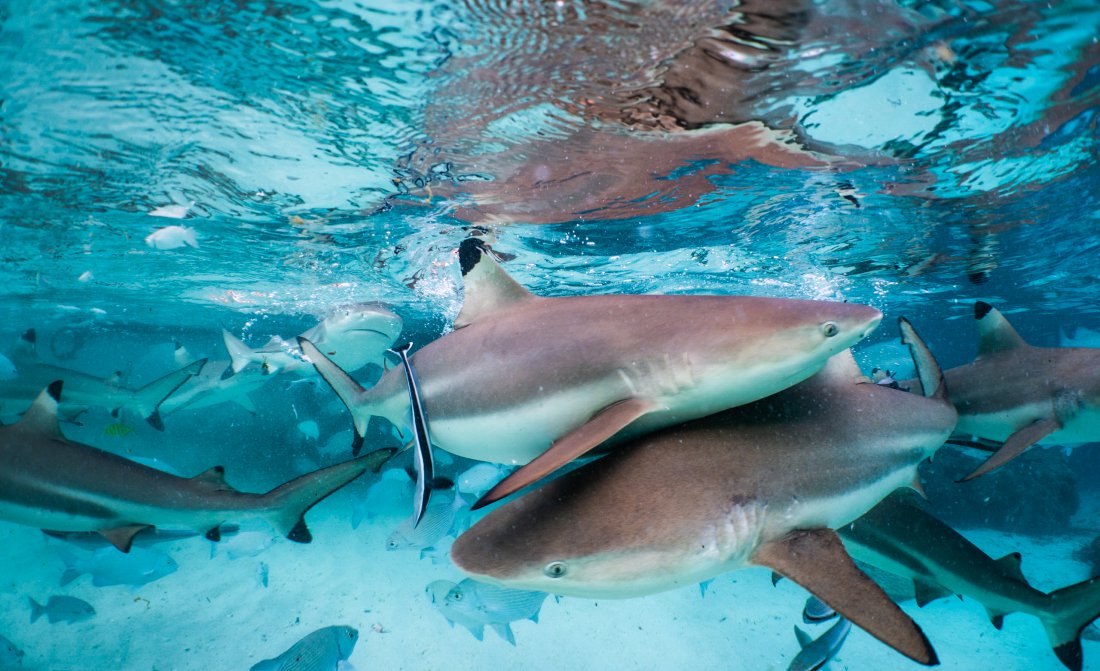 Diving

Eastern Indonesia has the richest biodiversity of marine life in the world. Sailing in the waters of the 'Coral Triangle', you can expect to see a wide range of corals wherever you go as well as species such as manta rays, turtles, mandarin fish and whale sharks, to name but a few. Discovery dives and guided diving are included within your charter and all the equipment you will need is on board. The dive master is also great with beginners and offers full instruction.

Shore Excursions

Venturing on to dry land, the crew will guide you to deserted beaches and through local villages where traditional ways of life remain virtually unchanged. The grassy slopes of Komodo lend themselves well to relaxing treks while the steep pinnacles of Raja Ampat offer panoramic views of the surrounding landscapes.

Watersports

For those who prefer to explore above rather than under the water, there are also two sea kayaks, stand up paddle boards and plenty of snorkelling equipment, with a dedicated snorkelling guide. You can have a go at wakeboarding, waterskiing or knee boarding or try to catch some fish for fresh sashimi!*


*Please note fishing is not permitted in any National Park and motorised watersports are not permitted within Komodo National Park. Alternative locations can be arranged on request.



YOUR FLOATING HOME

One of the best things about Tiger Blue is the sense of space. In addition to the large dining table, the main deck features two double daybeds as well as a chill out area at the rear of the boat. Tiger Blue's five en suite cabins are fully air-conditioned and can comfortably accommodate up to 12 guests.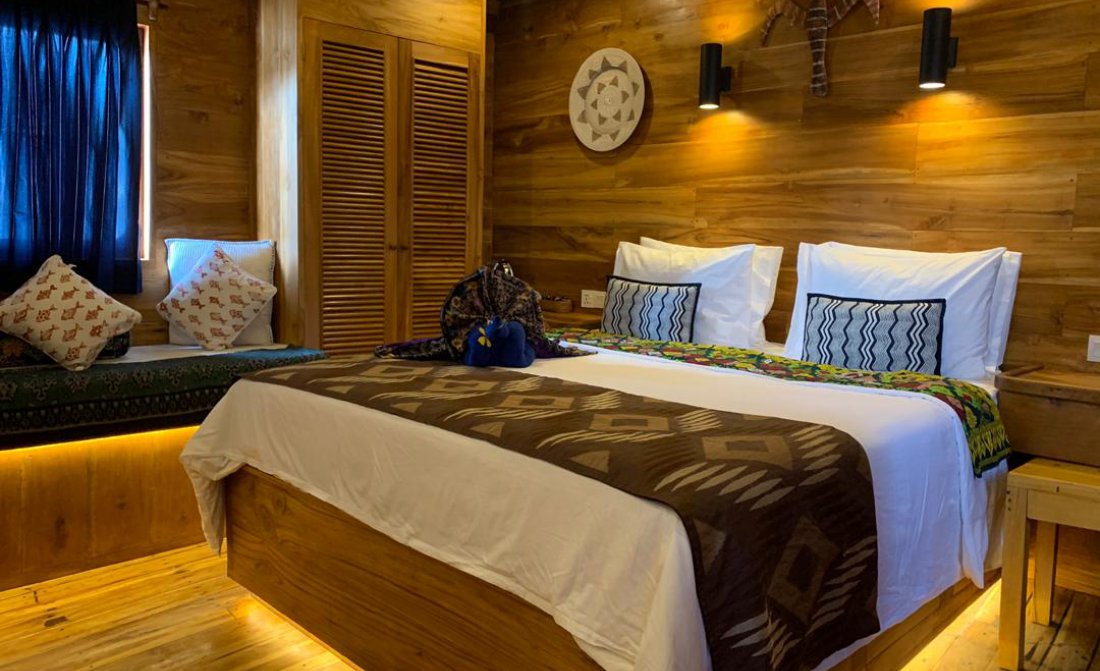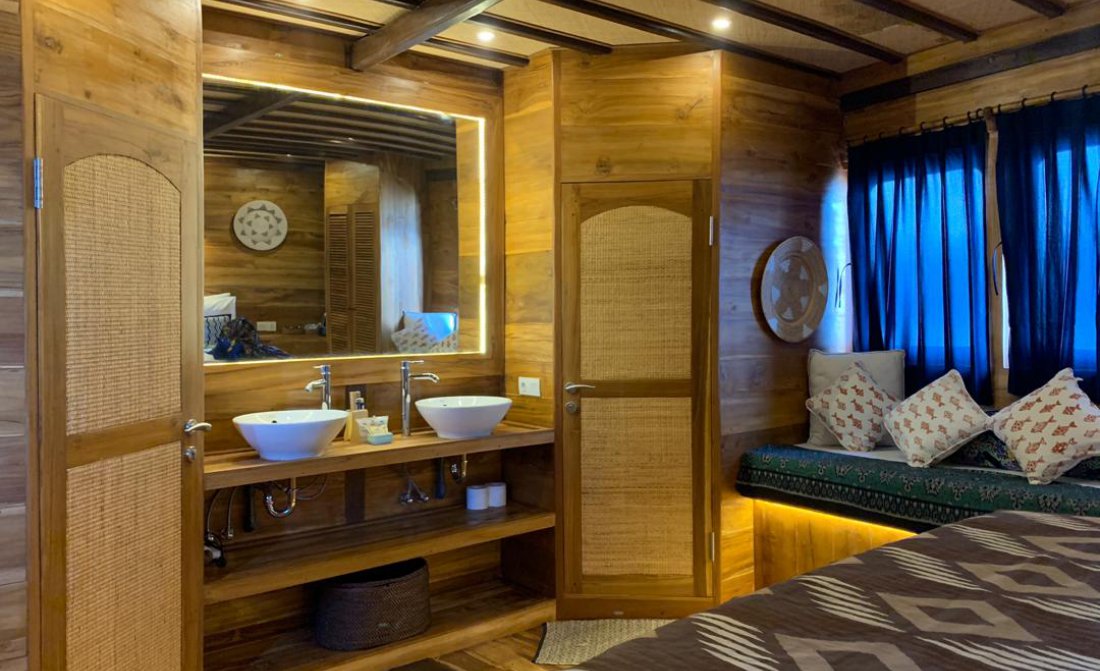 EXPERIENCE INDONESIA

Diverse wildlife, crystal clear waters, beautiful islands to explore and peaks to climb, and some of the best diving opportunities in the entire world. From May to September, Tiger Blue spends her days sailing the turquoise waters of Komodo National Park just off the western tip of Flores. In October or November, as the weather changes, the yacht relocates to Raja Ampat, a stunning archipelago comprised of hundreds of jungle clad islands.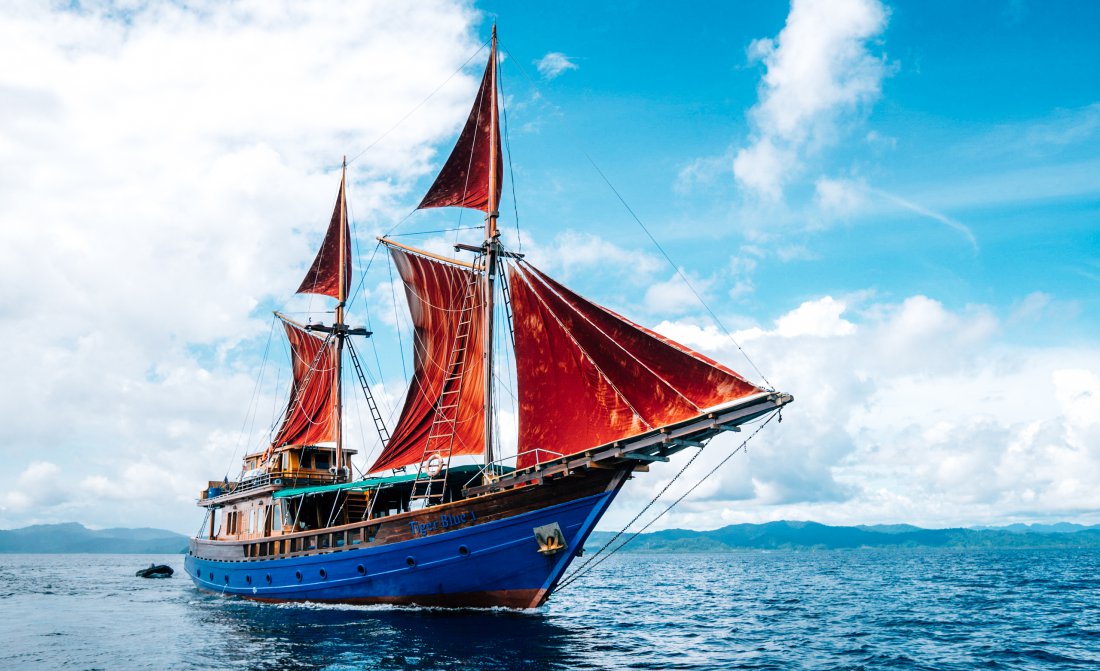 Komodo National Park

Meet Komodo dragons, manta rays and turtles, dive through canyons and chimneys, and enjoy spectacular sunsets as majestic sea eagles soar overhead. Just a short flight from Bali, Komodo National Park is located off the west coast of Flores and consists of the three large islands of Komodo, Padar and Rinca as well as 26 smaller ones which are only accessible by boat. Home to the world's largest lizard, the Komodo dragon, the islands have been recognised as a UNESCO World Heritage Site and offer world-class diving and snorkelling as well as beautiful pink sand beaches.

Raja Ampat

Climb the dramatic limestone peaks of Wayag, kayak through tropical mangroves, and relax on one of the many untouched white sand beaches. Incredibly remote and almost completely undisturbed by humans, the islands and cays of Raja Ampat are considered by many as the most beautiful in the world. Renowned for its amazing diversity of marine life, the archipelago boasts some of the richest coral reef eco- systems on earth. The islands' jungles are home to rare birds of paradise, with treks to watch their early morning dances a highlight of any trip to this tropical paradise.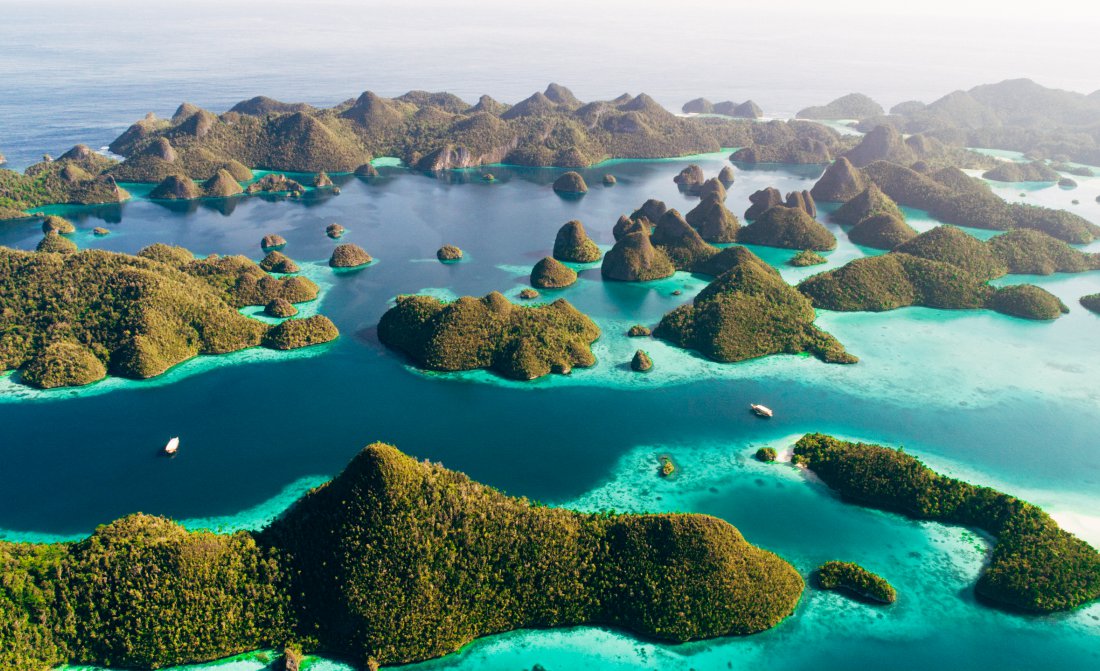 Journeys of Discovery

For more intrepid travellers, a Journey of Discovery aboard Tiger Blue to some of the region's more off the beaten track destinations is the ultimate sea safari. Tiger Blue's twice yearly voyages from Komodo to Raja Ampat and vice versa offer guests a unique opportunity to explore some of the remoter corners of Eastern Indonesia. From dramatically coloured volcanic lakes on Flores and the rich tribal cultures of Alor, to the rarely visited Banda Islands, these journeys are ideal for those looking to venture to the edge of the Pacific's Ring of Fire.


-----

If you need more information about the Tiger Blue, please call us on +44 20 7148 1778 or send us an enquiry.

For sample itineraries for sailing in Indonesia with The Tiger Blue, please visit here.

Tiger Blue official website - here.