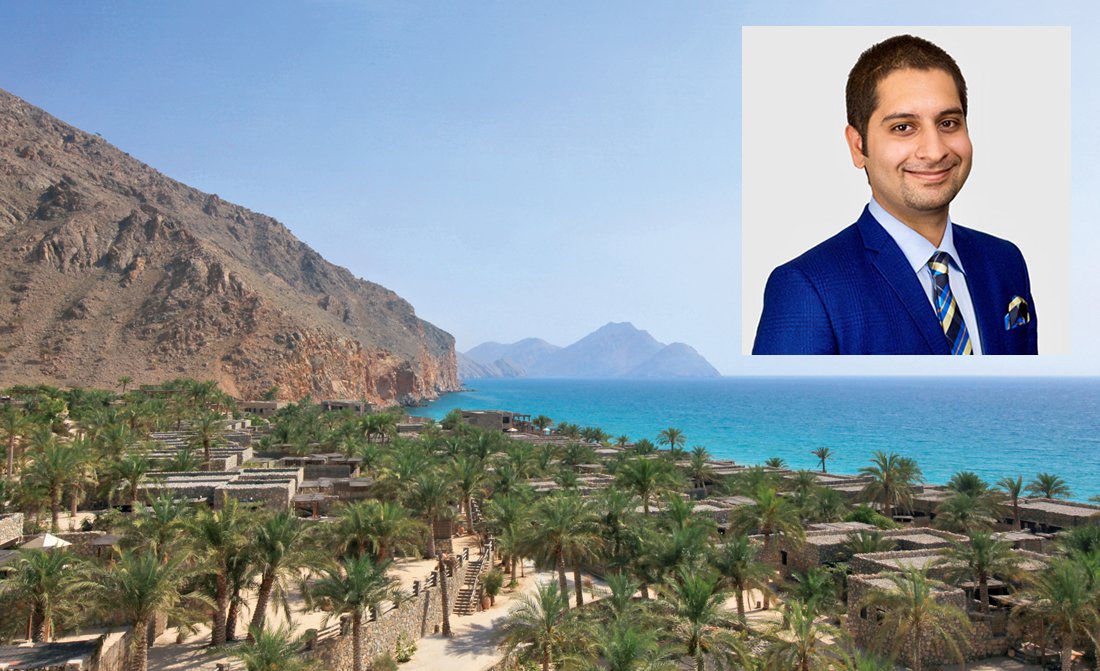 Today, we are talking to Nachiketa Tuteja, who is the Sustainability Manager at Six Senses Zighy Bay in Oman. In our interview with Nachiketa, we had a chance to chat about how sustainability is involved in the resort's daily operations and discuss if nowadays travellers really care about responsible tourism.

Nachiketa, do you remember when you discovered your passion for sustainability?
Every day! Still rediscovering what a fun and educative line of work this is. Every single day! There is nothing ordinary about my line of work!

Could you tell us, how sustainability is incorporated in the resort's daily operations?
- Full-time Sustainability Manager on site: this shows how serious the management is about the issue.
- "Earth Lab". The resort run outlet to showcase the sustainability initiatives of the resort and pass on "the message" in a fun and educational way. We make cold process soaps, melt and pour soaps, bath scrubs, bath bombs, bath teas, body polishes, shampoo bars, recycled paper, recycled glass artifacts, seed reclamation, potting soil making etc. from recycled products within the resort. I see Earth Lab not as a physical place, but as a philosophy, as a feeling, which all hosts live by every day and we pass on to our guests.
- Organic farming. We have an on-site herb garden and off-site farm with Oman's first cheese factory, vegetable and fruit giving plants and trees, herbs and livestock including bees, cows, goats, camels and chickens. All of this transcends to our "farm to table" effort.
- Sourcing locally. In our effort to be sustainable, we try and source all our products as locally as possible. Most of them are from within GCC.
- Fish from local Zighy fishermen. Depending on requirement and seasonality, we try to source fresh sea food from the local Zighy village, the inhabitants of which are mostly fisherman by profession.
- Beach clean-ups. We organize regular (twice a month) beach clean ups and regular (twice a month) underwater clean-ups for our private and village beach.
- Six Senses water. In order to reduce carbon footprint, and to leave behind an ecological foot print, we produce our own Six Senses water from an RO filtration process from the Sea Water. Drinking water is produced and bottled on site. Approximately, 500,000 liters and 250,000 bottles of water are eliminated each year and around 150,000,000 liters of water made in the resort itself annually.
- Eco-friendly chemicals. All our chemicals used for housekeeping, pest control, etc, are bought from a company called Eco-Lab which makes environmentally responsible products.
- LED Lights. We are in the process of replacing all lights within the resort to LED lights - currently, 90% is done.
- Solar powered garden, common ways and table top lights are used.
- Motion detectors at strategic locations to save energy.
- Outdoor lights are on sunlight timer/sensors.
- Building Enveloping. We have an excellent building enveloping system that prevents heat entering the building in the summer and escaping in the winter months, hence saving on Air-Con energy costs.
- Styrofoam and Cardboard Boxes Returned. We have a takeback program with our suppliers to take back packaging like cardboard boxes and Styrofoam which is used in packaging.
- Refillable glass bottles in place of plastic. Earlier this year, we have proudly banned plastic bottles in Zighy Bay and have refillable glass bottles which come in different sizes.
- Hybrid cars. We boast a fleet of Nissan Pathfinders which are hybrid technology SUVs.
- Zero waste focus. We have a big focus on zero waste and practice: refuse, reduce, reuse, recycle and remove in all areas of operations.
- Waste water treatment plant. We have an excellent water treatment plant which gives us grey water used for irrigation using a state-of-the-art bioremediation for final stage waste water treatment using a reed bed for stabilization and sedimentation.
- Sustainability fund. 0.5% of the revenue, 50% sales from water in F&B outlets, soft toy sales and voluntary donations by our guests go to a dedicated sustainability fund. This money is earmarked for community related projects and not resort benefit.
- Working with the local community. At the commencement of the resort's operation, we built a new house for each and every villager in the adjacent village. The village was introduced to roadways, internet and electricity for the first time ever. We also continue to support the villagers financially, when they are in need of medical, marital or personal monitory requirements. We hire local staff from this village and buy a lot of fresh sea food from these villagers who are primarily fishermen by profession. We have hired a full-time English teacher, which is uncommon for resorts to do, but we saw a need to teach local children, women, and elders English language skills to increase their employability. We are also in the process of hiring a Marine Biologist who will be responsible for researching and educating the local community about sustainable fishing practices etc. We work closely with the girls' school in the local township of Dibba and support them with infrastructural help as we are highly supportive of women empowerment, a momentum gathering topic in this part of the world. Several projects to support the local schools, hospitals and institutions are in the pipeline and will be soon underway. We also feature locally made handcrafts in the resort's retail shop. We regularly host beach cleaning efforts, community service projects, and are extremely responsive to identified needs in the local community.
- SUSTAINABILITY ACCOUNTING AND REPORTING- SOMETHING WE TAKE VERY SERIOUSLY . We have multiple internal and external audits and reports to make sure we document and record all sustainability-related data and stats. We further benchmark against our sister properties and with 3,000 other hotels of the world through a blind study with Cornell University. Six Senses tracks water, energy and other KPIs & consumption from all hotels in our group on a monthly basis. Based on this data, progress is tracked on a monthly basis for each hotel's year-on-year energy and water performance per occupied room. Energy data is used to calculate carbon emissions using GHG Protocol carbon accounting. Our consumption data also contributes to our annual sustainability report, which is required of the group by our owners, Pegasus Capital Group.

Do you think travellers care about sustainability?
This was a question we asked as well. Our head office conducted a survey and found that north of 40% guests return to Six Senses due to our environmentally responsible tourism practices and focus on sustainability. There is a growing number of millennials joining the "traveller class", who are educated, responsible, care about their travel's foot print in addition to their willingness to pay a premium for alternate-sustainable products and services. While engaging with guests, I find that more and more informed people are travelling these days to broaden their horizon, but are equally aware of their actions and want to make informed and responsible decisions. This makes my job a tad bit easier and rewarding.

What would be your advice for hotels and resorts on how to promote sustainability initiatives?
My number one recommendation for businesses, and this holds true for all industries, is to view sustainability (speaking only in an economic sense here) as a way of smart business. Any sustainability venture if can't be financially self-sustained, is not sustainable after all by definition. There usually are high initial investments, however, the long term financial benefits (in addition to environmental), far outweigh the costs. A recent study with economists and national leaders at its helm, concluded that if we as humanity, make a move towards climate change with our business decisions, we can end up saving 26 trillion dollars in the process. In addition to being good corporate citizens, we should also approach this as smart business. Moreover, we should not forget that sustainability has a very important third pillar as "social" in addition to environmental and economic which usually is the 'neglected child' of sustainability.

What do you see as the biggest urgency for the planet?
To echo my previous point, taking the example of Six Senses, because we select pristine, far-flung and off-shore destinations for our resorts, it is only logical that we care for the environment to continue existing and operating in it. Irrespective of the country or government, our core pillars do not change and we even lobby for change by being ahead of the curve in our industry. Every business and government, similarly should be smart in investing in the local community and ways to preserve the environment, looking for sustainable alternatives to finite resources like oil. The Oil and Gas industry is a good example as they are going by the portfolio theory and diversifying into renewable energy alternatives. Don't put all your eggs in one basket. This will ensure their longevity - going concern concept.

Pro-tip: this single biggest impact that you can have on the environment is by shifting to a vegetarian/vegan diet.

What do you love most about Oman?
The friendly nature of the locals, rich cultural ethnicity and the momentum of a nation moving forward in terms of liberalizing various facets of a previously radical society. Focus on women empowerment and education is a great example here, in Oman.


For more information about Six Senses Zighy Bay, a luxury eco-resort in Oman, and its sustainability actions, please visit here.