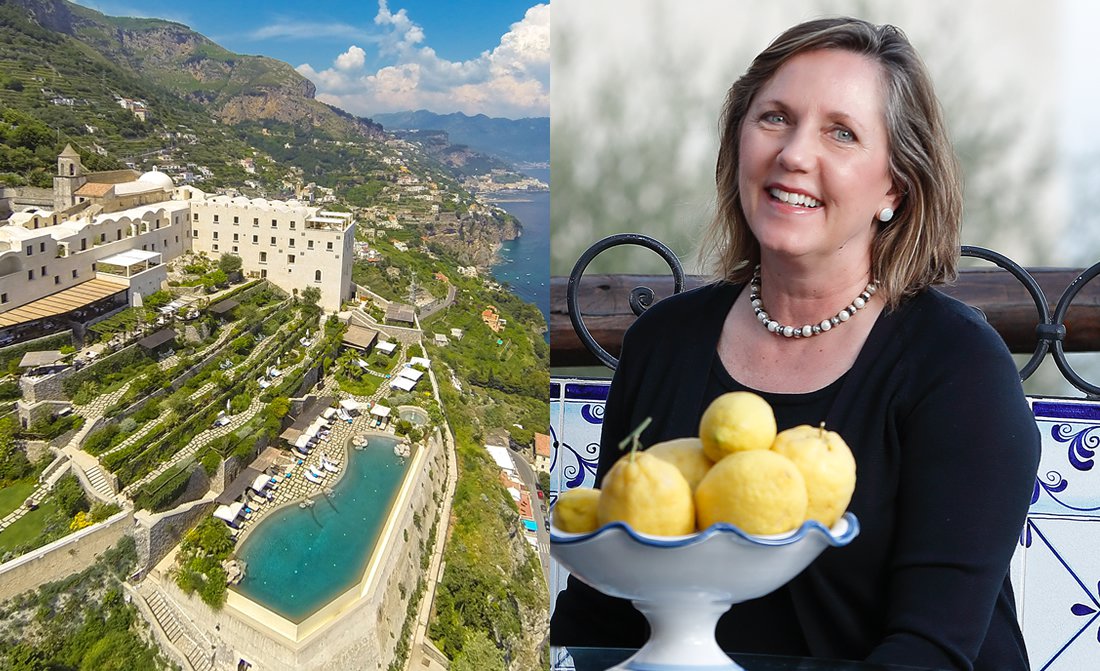 Today we are speaking to Bianca Sharma, the Owner of Monastero Santa Rosa Hotel & Spa on the Amalfi Coast, about how she created a luxury hotel from a structure which is over 300 years old. Bianca also tells us the best places to visit in the area as well as reveals whom she admires most in the luxury hotel industry.


Bianca, please could you tell us more about the moment you first saw the building of Monastero Santa Rosa?

My first sighting of Monastero Santa Rosa was with my family and friends on a boat (some like to glamorize that into a yacht…..) owned by the owner of the property we were renting for the week. I was intrigued by the fact that the structure seemed to just grow out of the cliff. At that time, the building was in sad need of repair and the finish had long worn off, exposing just the naked stucco/cement. Immediately I asked what was that structure and I was told that it was a convent and that it was for sale. For some reason, I could not stop thinking about it, and I found someone who could tell me more about it. I learned that it had at one time operated as a hotel and that the last member of the family had died, leaving it up for sale by a remote relative. One of my sons told me to stop this nonsense because it was evidently a "teardown" - typical to our modern American mentality. In spite of everything negative, I took the idea to my family office manager in America, who, of course, thought I had lost my mind. However, we went to Italy to investigate. After much negotiation, and advice to the contrary, I decided to go forward with the purchase and pursue creating a luxury hotel.

How long did it take to open the hotel and what were the biggest challenges?

From the time of purchase in early 2001, the research, design concepts, and renovation took 11 years. Some of this was due to mistakes made by us in the selection of design and construction teams. Without going into any details, we finally learned that it made much more sense to bring the project into local hands. However, even with that decision, we still had many issues with local authorities, historical agencies, and general Italian bureaucracy. The project was even stopped for 2 years, forcing us to obtain a different type of permit.
Other challenges, as you may imagine, were related to incorporating today's infrastructure into a solid structure that is over 300 years old. I still marvel at that engineering miracle.

What kind of clientele does your hotel attract?

Our guests come from all parts of the world, with the majority being American. The average age is 34, giving us a nice mix of young and more mature guests. They are predominantly well travelled with sophisticated luxury expectations who appreciate our simple sense of luxury and family-like environment.

Could you please say your personal definition of a luxury hotel? What should it be like?

It goes without saying that the bed must be very comfortable. And I love thoughtful modern bathrooms. For my personal enjoyment, a hotel should make me feel cozy and embraced, not only by the surroundings but by the staff, anticipating my needs, understanding and remembering me as a person.

Who is the most inspiring person for you in the luxury hospitality industry?

When I started the project I was very intrigued and followed the successes of Caroline Hunt of the Rosewood collection. Reading about her gave me the strength to take on this challenge as a young woman. I also had/have much admiration for Adrian Zeccha and his creation of Aman Resorts. I appreciate the simplicity he brought to luxury hotel style. I am very proud when guests comment that Monastero Santa Rosa has an Aman feel to it.

What are the top 3 things you would recommend for anyone visiting the Amalfi Coast for the first time?

Enjoying the sea cannot be missed, but not on the beaches (not great ones here). Taking a boat out for the day exploring the small coves with their caves, some of which are accessible by swimming into them, eating at a shoreline local restaurant in your bathing suit and sandals, and soaking in the sun on deck while heading back to port is such a glorious way to spend a day. On land, hiking the paths along the mountainside should definitely not be missed. The most famous is Path of the Gods, but this can be challenging for some. There are other easier walking paths that are amazing. The views from these paths range from infinite sea/coastal vistas to waterfalls and dense Jurassic Park like vegetation. Experiencing the culture of the area by visiting the towns (all very different in character) of Positano, Amalfi, Sorrento, etc. would complete an Amalfi coast visit. Of course, I must mention, that I am quite pleased when I hear a guest say that he/she has decided to toss the busy itinerary and stay on property because of how satisfying it is to do just that.

Where in Italy, besides Campania region, do you like to travel?

Italy is so diverse and has many experiences to offer. I recently took my own houseguests to Puglia, and I realized that I have done that more than once, so something is drawing me there. I love experiencing the difference in the two coasts, and I enjoy the drive in between. My favorite visits on that trip are Alberobello, Matera (technically in Basilicatta) and Ostuni. This area feels like a different Italy completely.

-----
For any bookings, please call us on +44 20 7148 1778 or send us an enquiry.

For more information about Monastero Santa Rosa Hotel & Spa, please visit here.