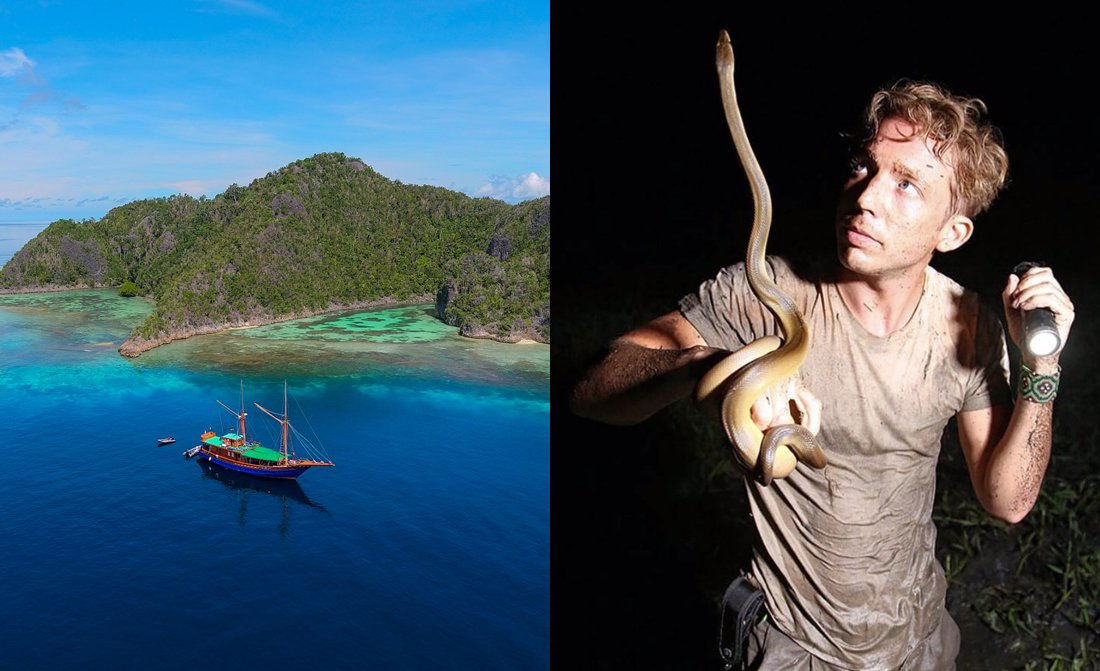 The Wildlife Adventure of a lifetime with Jack Randall


Join an exclusive sailing on board Tiger Blue with Zoologist Jack Randall, star of National Geographic's TV Show "Out There with Jack Randall". Jack's mission is to find every species on the planet. On this week-long adventure in Komodo National Park, you'll get to know some of the incredible species that call this region home, including the Oceanic Manta Ray and the world's largest lizard, the Komodo Dragon. This is a family friendly sailing – Jack is passionate about inspiring the next generation to uncover the secrets of our natural world and the creatures that inhabit it.


About Jack Randall

At 14 years old, Jack Randall left his home in England to become an apprentice to Steve Irwin, learning to handle snakes and other reptiles. He then studied at the University of Oxford and today, spends his time in the wild, searching for elusive, endangered and iconic species, in some of the most unforgiving environments on the planet – inspiring others to get out there and explore the world around them. In summer 2019, Jack's TV series, Out There with Jack Randall launched on Nat Geo WILD and Disney+ globally. The first series sees Jack trek deep into the Australian Outback to research deadly crocodiles, pythons, turtles, feral camels and venomous snakes. Prior to this in 2017, he ventured into the Amazon jungle on his pioneering Expedition Anaconda to seek out a legendary 30 foot snake. During the search, Jack also discovered a new species of snake. Jack also runs his own Field Projects, helping establish biodiversity data collection hubs. The most recent research trip to Zimbabwe discovered a new population of Cheetah in an area where they were thought to be locally extinct.


EXCLUSIVE SAILING WITH JACK RANDALL
Komodo National Park
7 Night Itinerary - 5th to 12th August 2020


DAY ONE
Labuan Bajo
Tiger Blue will be moored 20 minutes from the airport, making your transfer by car and tender an easy journey. Sail to Sabayor Kecil, keeping an eye out for dolphins, which love to swim alongside the bow. Dive or snorkel around the coral reef, full of colourful fish, sponges, Napolean wrasse, groupers and the odd stingray. Or enjoy the water from above, kayaking, waterskiing, kneeboarding or fishing. Later, relax on board with a good book or film before a leisurely supper.

DAY TWO
Rinca & Manta Point

After a light breakfast, take the tender to the shore to see the famous Komodo Dragons. Accompanied by a park ranger, explore the giant lizard's habitat on foot and learn about its hunting habits. The island is home to about 2,500 dragons as well as monkeys, Sunda deer, wild pigs and jungle fowl. Rejoin the boat and enjoy lunch while sailing for a couple of hours to Karang Makassar. Stop for two dives along the way at Manta Point and Batu Balong. In the late afternoon, relax on a quiet sandy beach or hike up the grassy hill behind for panoramic views across the islands. Then enjoy a giant bonfire before heading back to the boat for a hearty supper.

DAY THREE
Mauan & Kode

Mauan & Kode's superb reef is teeming with turtles and can be appreciated by divers and snorkellers alike. Mauan harbours a sporadic manta ray cleaning station, where the animals congregate to have cleaner fish remove parasites and other organisms from their skin. In the evening, ask the crew to make up the day beds with blankets and fall asleep under the stars.

DAY FOUR
BBQ & Sunset Cocktails on a Secret Beach

Spend a lazy or an active day, as your mood dictates. A climb up Padar's verdant slopes will yield spectacular views across the park landscape and the island's four bays, fringed with grey or white sand. Resident wildlife includes sea eagles, deer and goats. Under the water, Pillarsteen has four large pinnacles covered in soft corals, as well as canyons, caves, swim- throughs and chimneys. As the sun begins to disappear over the horizon, catch the tender to a secret beach for refreshing cocktails and a BBQ.

DAY FIVE
Pink Beach (Pantai Merah)

Sail for a couple of hours in the morning to Pink Beach. The sand has a soft pink hue, tinged by the high quantity of organ pipe coral growing on the surrounding reefs, which breaks off and washes up on shore. Enjoy freshly-caught fish for lunch. Snorkel or dive looking out for macro sealife such as blue-ribbon eels and crocodile fish. A night dive here is world- class, full of colourful basket stars, bobtail squid and spanish dancers.

DAY SIX
Tropical Birds

A day of downtime. Take a leisurely walk along the beach and discover the local tropical birds. Keep your eyes peeled for orange footed scrubfowl, helmeted friarbirds and the critically endangered lesser sulpher crested cockatoo. Enjoy a BBQ on the beach for lunch, cooking up freshly caught fish.

DAY SEVEN
Pink Beach (Pantai Merah)

Crystal Rock and Castle Rock are only 300m apart yet both are superb dive sites in their own right. The two submerged pinnacles are also accessible for snorkellers, offering the chance to see eagle rays, white tip, black tip and grey reef sharks, huge schools of snappers and fusiliers, batfish and Napoleon wrasse. Enjoy a cool beer or a freshly- made lemon and soda before your final supper on board.

DAY EIGHT
Labuan Bajo

After breakfast, pack and prepare to disembark, returning to the airport by boat and car.



RATES: by the cabin
All rates are for the cabin (not per person) for the full 7 nights.


Standard Cabin - US$ 9,460*
Superior Cabin - US$ 10,230*
Master Cabin - US$ 11,000*

*Cabin prices are based on two people sharing. Superior Cabins can accommodate a third guest for an additional charge of US$250 per child (up to 18 years of age) per night or US$400 per adult per night. Master Cabins can accommodate a third child (extra charge US$250 per night).

-----
For more information about this trip, please call us on +44 20 7148 1778 or send us an enquiry.

If you are looking for more sailing trips in Indonesia with Tiger Blue, please visit here.

For more information about the Tiger Blue boat, please visit here.