Seychelles is one of the most attractive holiday destinations for those travellers who are in search of blissful powdery-white beaches, verdant tropical gardens and delicious exotic fruits, uninterrupted views of the ocean and an ulltimate privacy. This Indian Ocean country is proud to offer a variety of exclusive hotels and resorts, many of which are located on divine private islands. So what are the best luxury resorts in Seychelles? See our Top 4.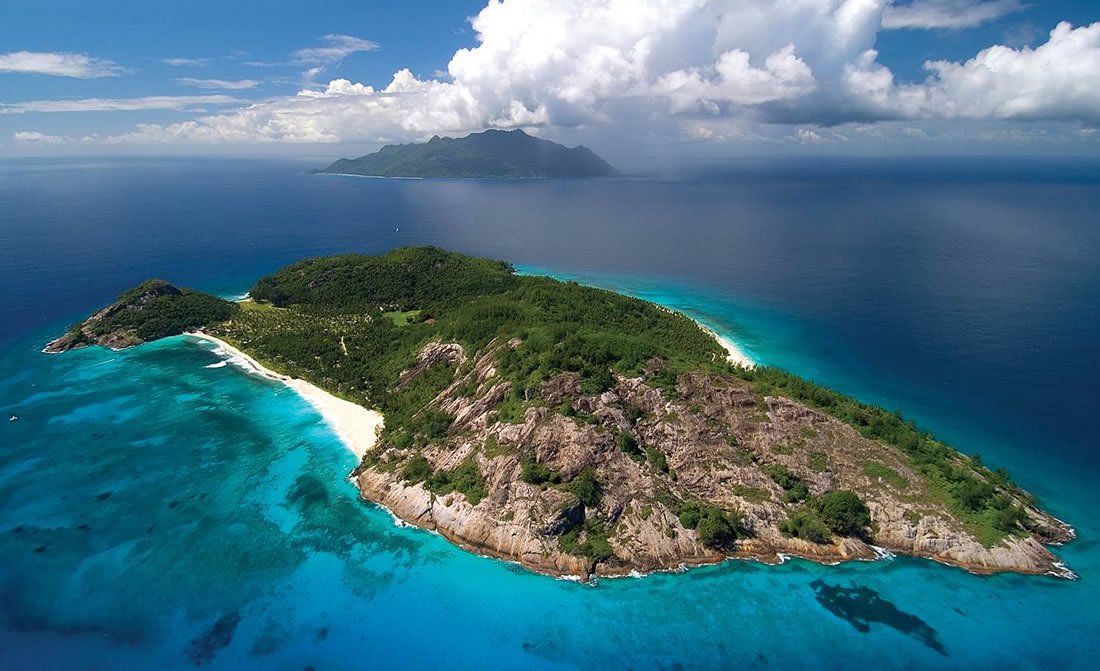 North Island
North Island is an exclusive resort, which is perched pearl-like in an untouched corner of Seychelles. This remote private island retreat is especially loved by celebrities, and it's no surprise why George Clooney and Amal Alamuddi, and Prince William and Kate chose it for their honeymoon. North Island offers only eleven authentic and rustic villas, built from local materials harvested during the island rehabilitation process. All the accommodations feature the latest technologies and other conveniences, and have a direct private access to the beach. The Spa on North Island is an oasis, where the island guests can enjoy heavenly treatments with natural herbs from the island or Thalgo marine cosmetics. This away-from-it-all resort will delight not only those guests who want to relax and do nothing, but also the ones who want something more active. The list of the activities is really long: scuba diving, snorkeling, cycling, guided walks, fishing, kayaking and more.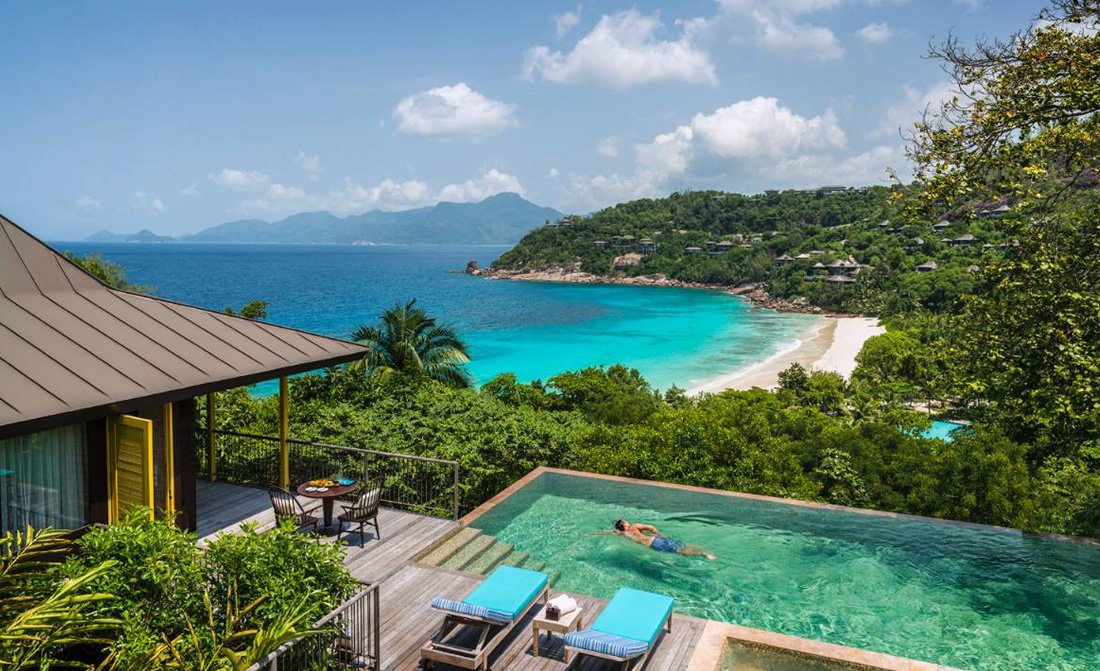 Four Seasons Resort Seychelles
Perched on a hillside on the island of Mahé, the prestigious Four Seasons Resort Seychelles seduces with serenity-boosting Indian Ocean, dramatic rock formations and ever-green forest views. The resort offers 67 treehouse villas and suites, featuring private infinity plunge pools, large outdoor living spaces and fabulous up-to-date technologies. For larger families or groups of friends, there are private residences with the size starting at 971 m2. This romantic resort has two restaurants and two lounges, which serve South East Asian, Mediterranean and Creole-inspired cuisine. The Spa at Four Seasons Resort Seychelles is one of the best in the country, offering five separate pavilions and seven signature treatments like Coco de Mer, Child of the Earth or Kundalini Devi. Yoga lovers will be offered a variety of yoga lessons including private classes, group experiences or even paddleboard yoga. The resort guests are encouraged to soak up island life by enjoying a lot of the activities it offers: diving at Takamaka Bay, a visit to Victoria market, Creole cooking class, exploration of Seychelles beaches and more.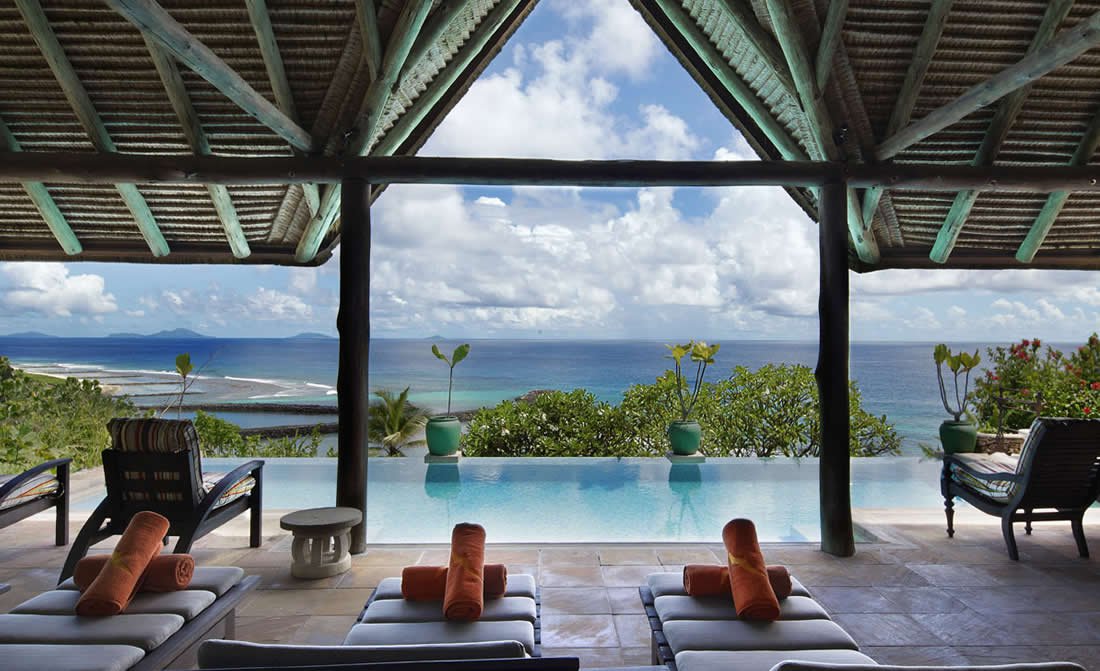 Frégate Island Private
Being a part of the exclusive Oetker Collection, Frégate Island Private is another unique island retreat in Seychelles, offering talcum powder white sand beaches, sweeping views and lush forests with gloriously flowering plants. The resort's 16 residences, located amidst the rich flora and fauna by the ocean, are crafted in Balau wood, and each of them boasts a private luxe pool and a Private Assistant, who makes sure that every guest's desires are fulfilled. The island has its own plantation, therefore, the resort's restaurants serve only the fresh produce and ingredients, which are incorporated in international or Creole-inspired dishes. The Rock Spa invites guests to relax their overworked muscles in an exceptional location, which is surrounded by thrilling rock formations. The massages are performed by using local plants and herbs, which ensure a total revitalisation and wellbeing, both of body and soul. Ecology and conservation are at the heart of Frégate Island Private, and its aim is to restore the native habitat and increase the biodiversity. This ultra-luxury island hideaway is also fabulous for families with kids. Read the interview with the resort's Kids Club Team, which was given specially for Hurlingham Travel, and learn about all the kids' facilities and activities that can be enjoyed by the little ones holidaying on this pristine island.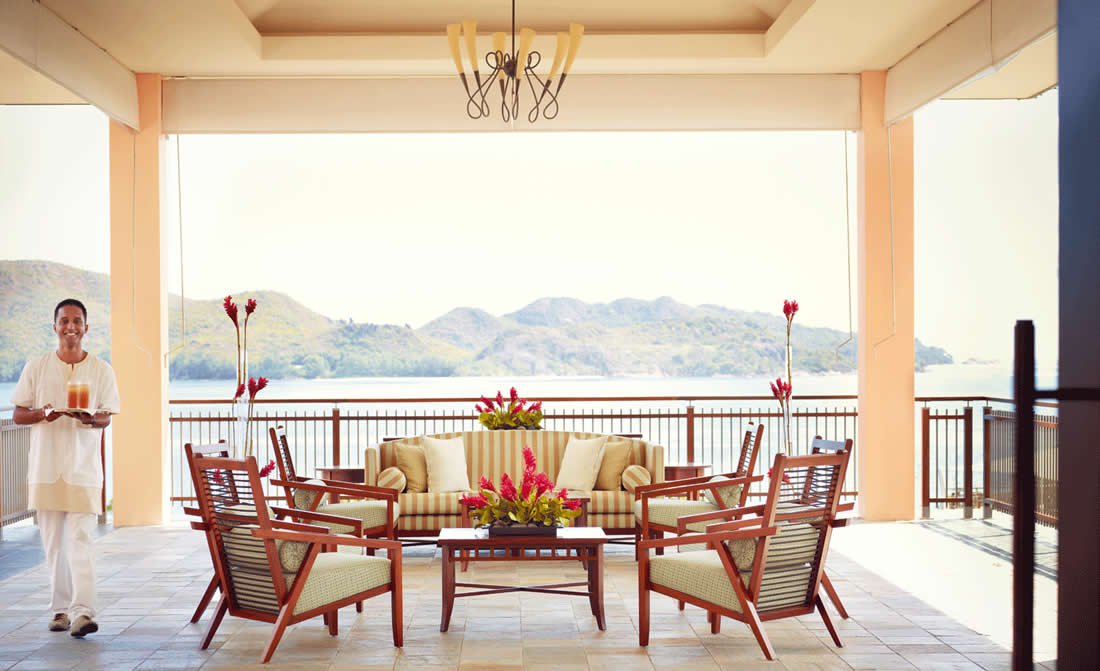 Raffles Praslin Seychelles
Located on Praslin, the second largest island of Seychelles, Raffles Praslin is an extraordinary luxury resort, only minutes from Anse Lazio, which is rated as one of the world's most beautiful beaches. This heavenly retreat features 86 luxurious villas, offering super-tasteful bedrooms, private plunge pools, outdoor pavilions with a dining table and sun-loungers, and inspiring island and ocean views. Led by the Executive Chef Chris Meredith, the cuisine at Raffles Praslin is inspired by the Indian Ocean, India, China, South East Asia and Japan. The resort has one of the best spas in Seychelles, offering twelve treeatment pavilions, steam showers, Japanese soaking tubs and a fitness studio. For more information about the Spa at Raffles Praslin, read the interview with the Assistant Spa Manager Robyn d'Avilar, given specially for us.