Florence is one of the most beautiful and most visited cities in Italy. It has a wealth of architecture, arts and culture. Being the heart of Tuscany, Florence offers a huge concentration of world-famous museums, art galleries, churches, piazzas and other famous monuments. Moreover, there are many high end shops and boutiques, exclusive restaurants and a variety of deluxe and boutique hotels. So what are our best luxury hotels in Florence?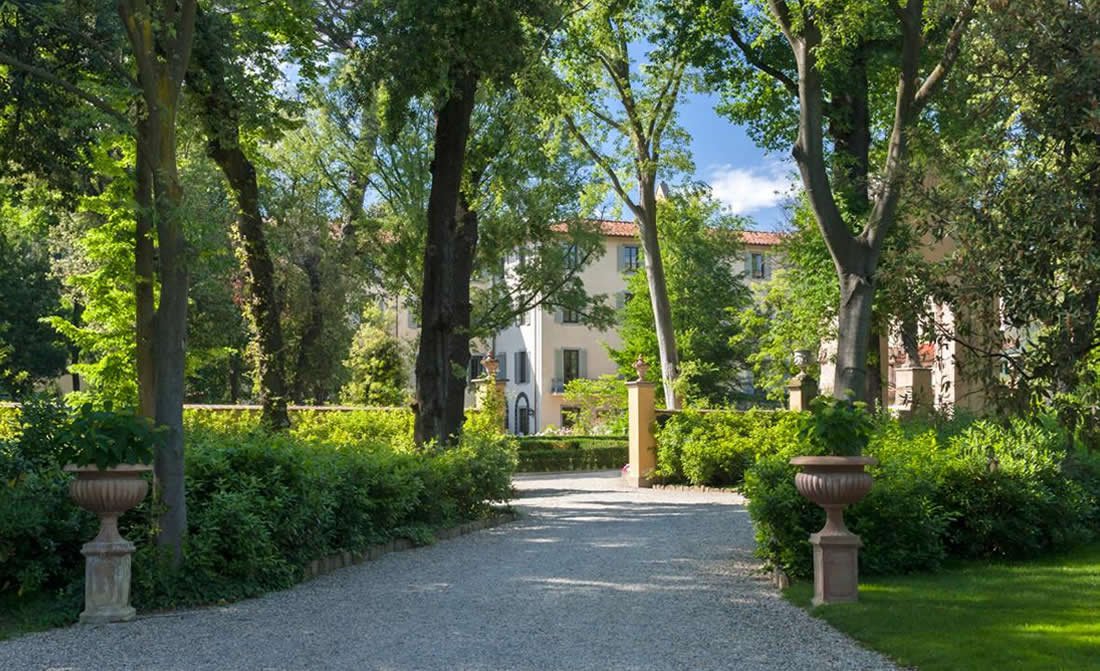 Four Seasons Hotel Firenze
Hidden just next to the beautiful botanical gardens of Giardino della Gherardesca, Four Seasons Hotel Firenze, a luxury urban resort in Florence, is only 10 minutes walk from the city centre. This gracious hotel houses 69 rooms and 44 suites, all decorated in opulent and inviting Florentine style. The hotel's main restaurant, Il Palagio, awarded with one Michelin star, offers delightful Italian cuisine and a list of good quality Italian wines. Al Fresco and Pool Tree Bar, offering Italian and international cuisines and amazing drinks, is a fabulous place for those guests who want to dine outside. The hotel also has a spacious Spa with ten treatment rooms, offering an extensive list of services including facials, body massages and even special treatments for kids and teens. For those who want to experience something more, the Concierge can organize a romantic dinner on the Ponte Vecchio, a sports or classic car for exploring the city and its surroundings, or the hot air balloon ride over the park.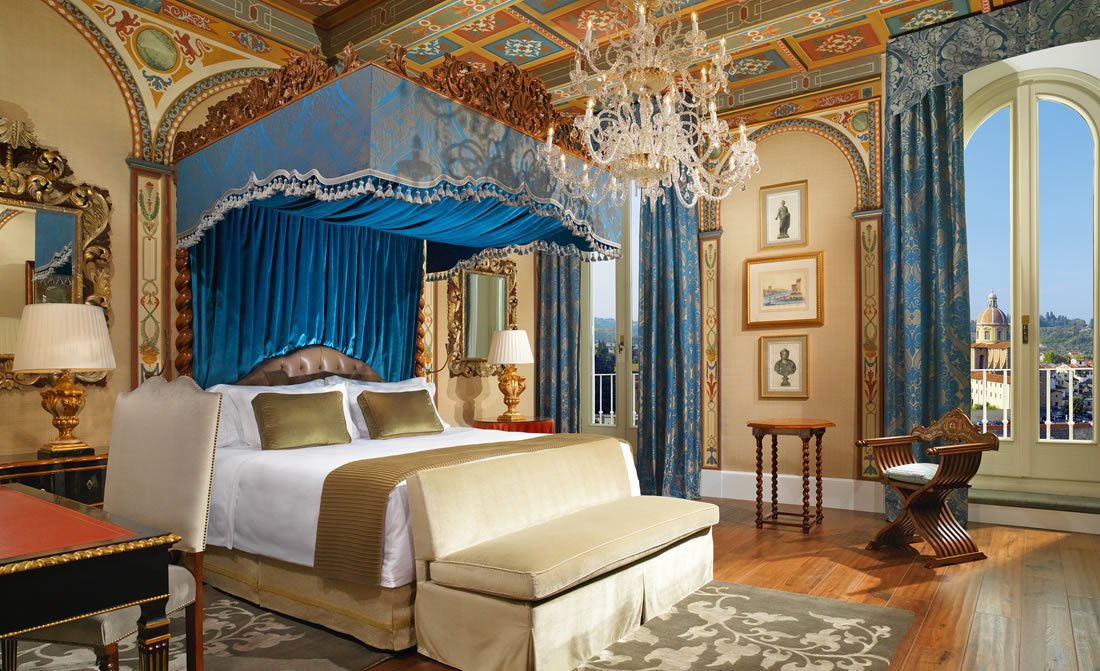 The St. Regis Florence
Designed by Brunelleschi, The St. Regis Florence is set in a historic palace along the Arno River. Boasting such a privileged location, this luxury hotel in Florence offers incredible views of the Ponte Vecchio and the magnificent interior, decorated with beautiful paintings, fabrics and antique details. The St. Regis Florence features the Restaurant Winter Garden by Caino, which is awarded with one Michelin star. This elegant restaurant serves unforgettable Italian cuisine. Besides, there is also the Cantinetta Wine Cellar, where the hotel guests can indulge in exquisite regional wines and be introduced to the world of Tuscan wines by the knowledgeable sommelier. Florence has so many places to visit, so after a busy day of exploring the city, guests are invited to enjoy relaxing beauty treatments and other wellness procedures at the Spa My Blend by Clarins.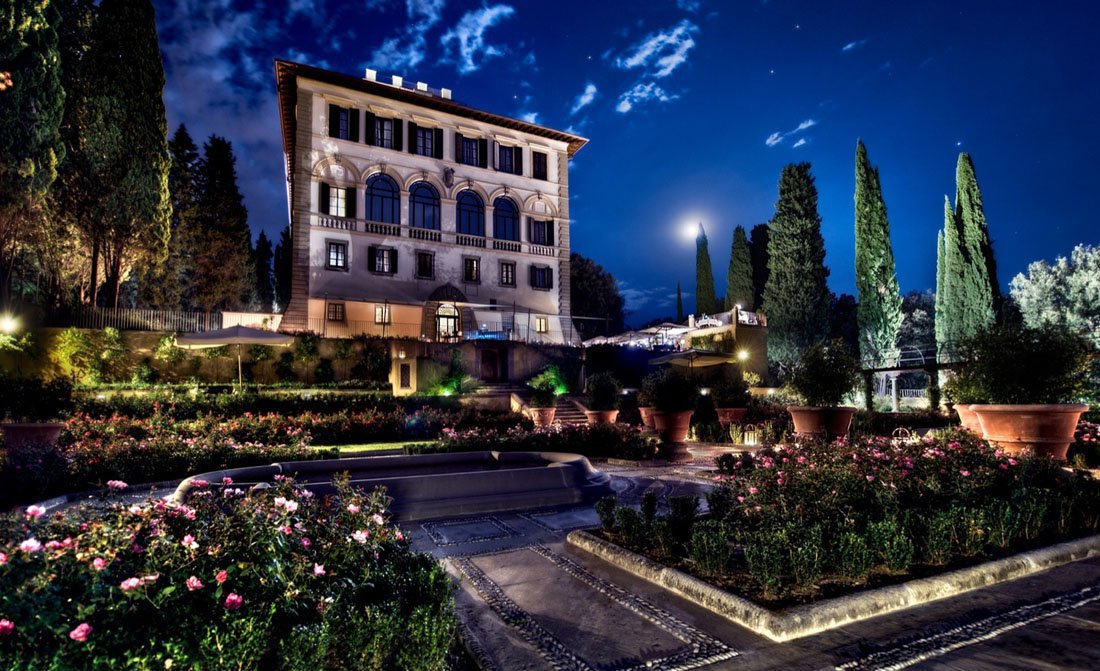 Il Salviatino
Beautifully tucked away in a hillside location, Il Salviatino, a boutique luxury hotel in Florence, is only a 10-minute drive from the Tuscan capital. The hotel is located in an ideally restored 15th century palazzo and has amazing 19th-century frescoes, antique bath tubs and other interesting artworks. The hotel's 23 rooms and 22 suites, all individually decorated in classical style, offer all the modern technologies and facilities. Il Salviatino houses La Cucina restaurant, which serves contemporary versions of authentic Tuscan recipes and uses fresh local ingredients. Those, who need a total relaxation, will be invited to the Spa Il Salviatino, which by using Dr Vranjes products performs luxurious massages and treatments.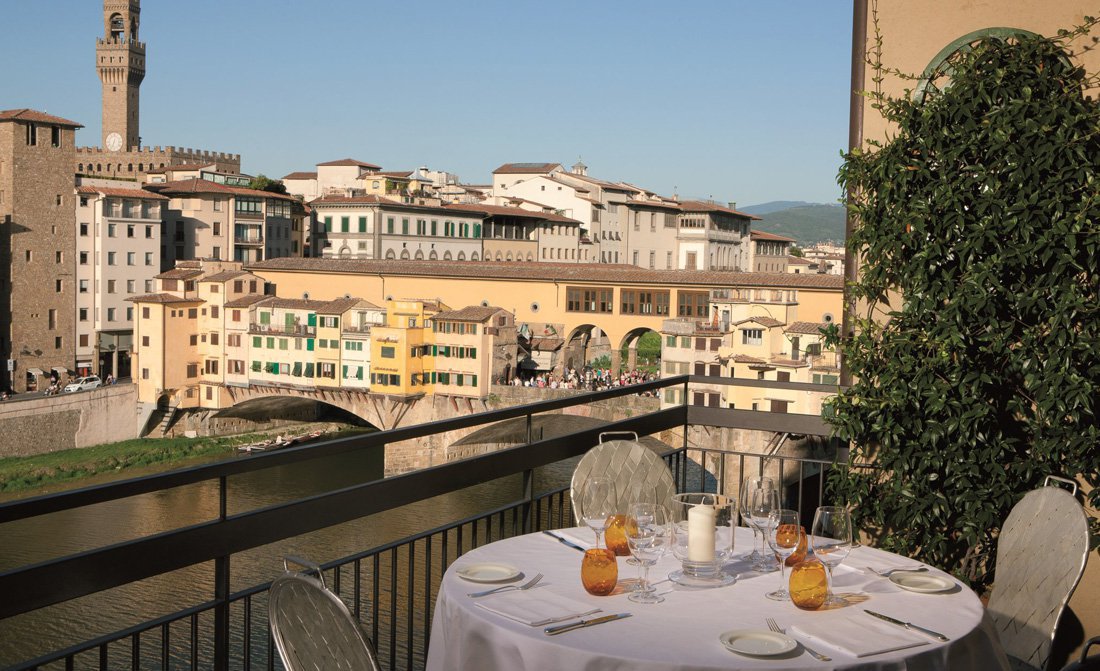 Hotel Lungarno
Hotel Lungarno is another luxury boutique hotel in the heart of Florence, just steps from the famous and colourful Ponte Vecchio. Designed by Michele Bönan, the architect from Florence, this super-stylish hotel boasts a valuable art collection with works by Picasso and Cocteau. The hotel's 59 rooms and 14 suites are romantic, luminous and cozy and all of them offer the modern conveniences of nowadays. The true star of the hotel is the gourmet Borgo San Jacopo Restaurant, managed by the Chef Peter Brunel. The restaurant serves delicious Italian and Tuscan dishes, and the view it offers is simply unforgettable as you get to see the Arno River and Ponte Vecchio from a truly spectacular angle.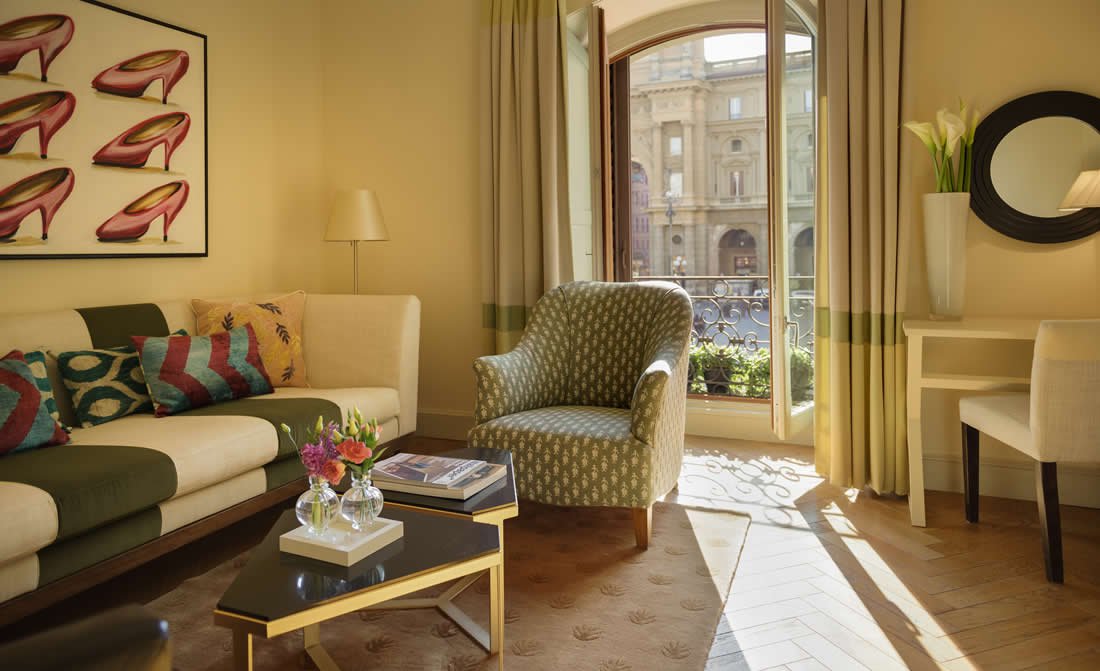 Hotel Savoy
Hotel Savoy, belonging to the prestigious five star Rocco Forte Hotels collection, is perfectly placed in the heart of Florence, on a way from the Duomo to the Uffizi Gallery. The hotel offers elegant yet moderns accommodation, decorated in Italian style. Many of the rooms offer inspiring views of the city, including amazing vistas of the Piazza della Reppublica, of Brunelleschi's dome or Giotto's Campanile. In 2016, Hotel Savoy opened a new dining venue Irene - a Tuscan bistro with mouth-watering dishes created by the Director of Food Fulvio Pierangelini. Though the city is soaked in history and old things old, you can still enjoy the facilities of the 21st century while working out in the hotel's fully equipped gym and enjoy lovely views of Firenze. The hotel is very child-friendly and all the smallest guests receive the Pinocchio themed items on arrival. Read the article with Giancarlo Rizzi, the General Manager at Hotel Savoy, who gave an interview specially for us.