Tuesday 19th of September 2017 01:52:43 PM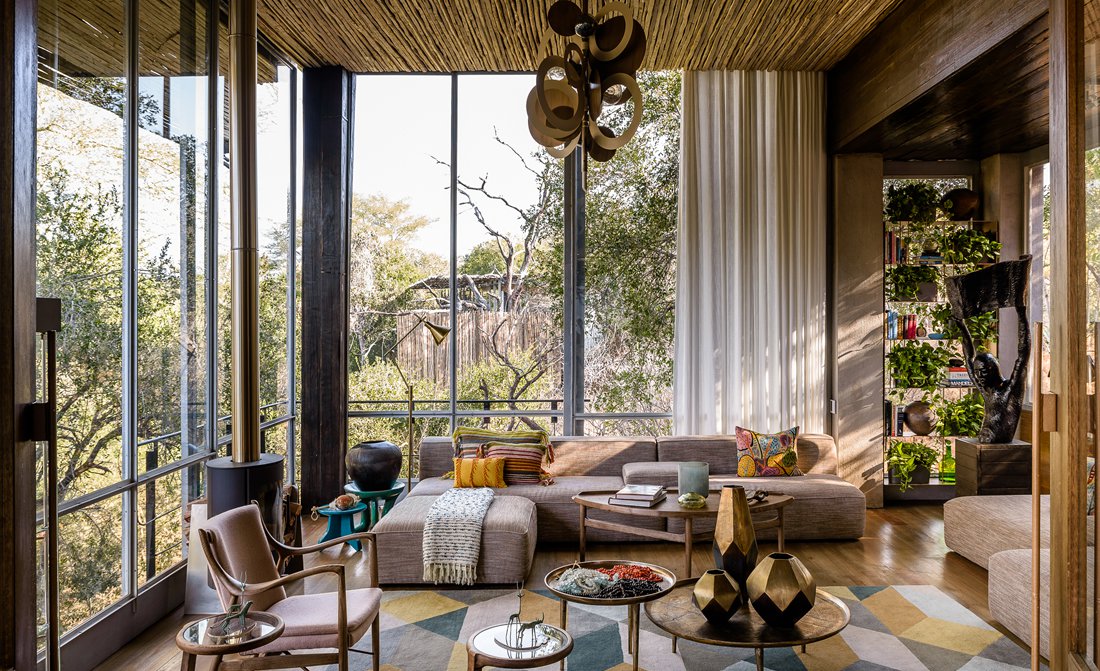 Lying low on a lush riverbank in the Kruger National Park, the reinvented Singita Sweni Lodge is a colourful celebration of contemporary African design.

Inspired by nature's most striking colour palette – the iridescent sheen of bird feathers, butterfly wings and beetle shells - the lodge's interior design is rich and evocative; a truly original safari aesthetic.

The new layout and design allows guests to be closer to nature. The viewing deck perched over the water's edge, a bigger main lodge area and floor-to-ceiling windows create more intimacy with the landscape.

Geordi de Sousa Costa, lead designer for South African design firm, Cécile & Boyd who worked on the project, describes Singita Sweni Lodge as a "small and intimate lodge nestled into the river bank which sometimes felt shady so by adding vibrant colour and shiny finishes we could give it a new freshness and spark. We wanted an energetic and spirited feel in the interiors making the lodge fresh, young, fun, bold and joyous."

"Random geometric was our go to concept for all shape, pattern and form which again had insect wings, bird feathers and reptile scales in mind", she adds.

The work of artist Sarah Pratt, sculptor Adam Birch, lighting designer Conrad van der Westhuizen and weaver Coral Stephens, all based in Southern Africa, bring dynamic energy to the lodge decor with their daring use of colour and texture. Bright wall hangings by African Sketchbook and beautiful handmade tiles from Southern Art Ceramics bring a tactile element to the interior environment, lending an added layer of warmth and luxury to the lodge.

Many elements of the interior design were produced by local artists, craftspeople and community projects, helping to support small enterprises. The economic and social prosperity of local communities is integral to Singita's 100-year purpose.