Urban glamour, architectural wonders, powdery white beaches, a wide selection of thrilling activities and the inspiring Oriental ambience make visitors flock to Dubai. Though this Arabic city is quite energetic and vibrant, travellers are still amazed with its many luxury hotels, which remind peaceful oasis, rich in verdant and ever-green gardens and flowering trees. When it comes to deciding what the best luxury hotels in Dubai are, it can be quite difficult to choose from a huge list. Therefore, we share with you our Top 5 best luxury hotels in Dubai that you will want to re-book as soon as you leave.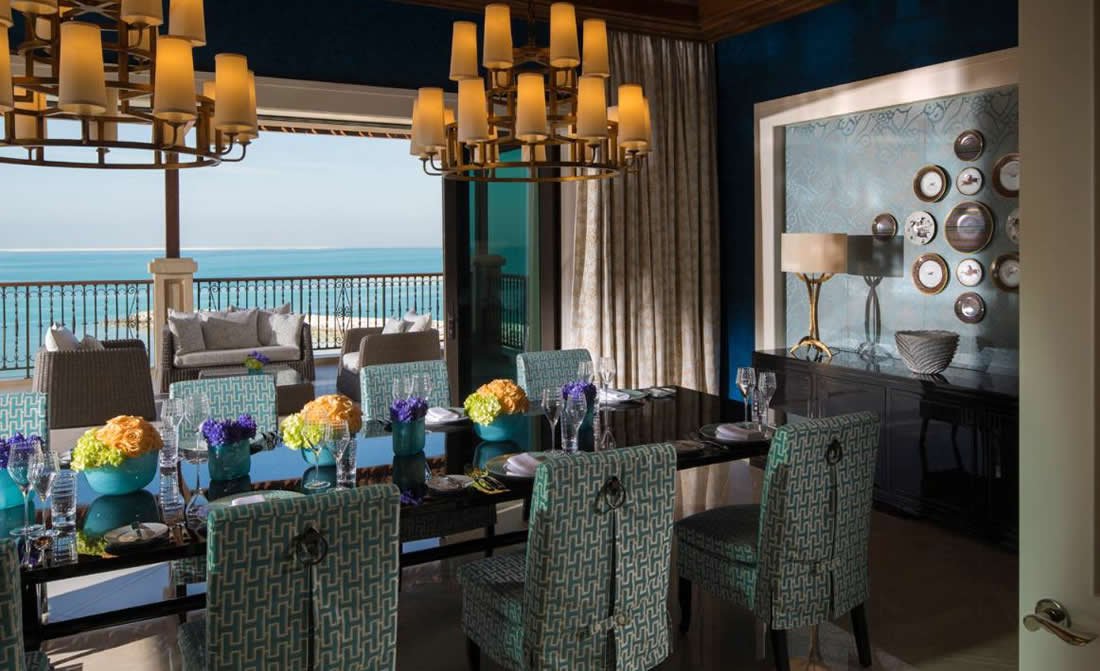 Four Seasons Resort Dubai at Jumeirah Beach
We have a lot of reasons to think that the Four Seasons Resort Dubai at Jumeirah Beach is one of the best luxury hotels in Dubai. To begin with, the hotel is new and it opened its door only in the late 2014. It is also prestigiously located on the Jumeirah Beach, offering chic lounge beds and umbrellas as well as complimentary water sports like kayaking, paddleboarding and more. This spectacular hotel has 237 rooms, including 49 suites, which are designed to capture the mix of subtle Arabic character with contemporary design motifs. The highest level accommodations include The Imperial Suite, The Royal Suite, The Presidential Suite and the Penthouse Suite - all perfectly suitable for presidents or royals alike. Four Seasons Resort Dubai at Jumeirah Beach plays a host to 2 restaurants and 4 lounges and bars. Moreover, it offers exciting dining experiences including Skyline Dining, Friday & Saturday Brunches and Afternoon Tea. The Pearl Spa is the name of the resort's spa, which features 10 treatment rooms, a steam room, hammam, fitness centre and a beauty salon. The heart of Dubai can be reached in 15 minutes by car, while the Dubai International Airport is about 25-minute drive gfrom the hotel.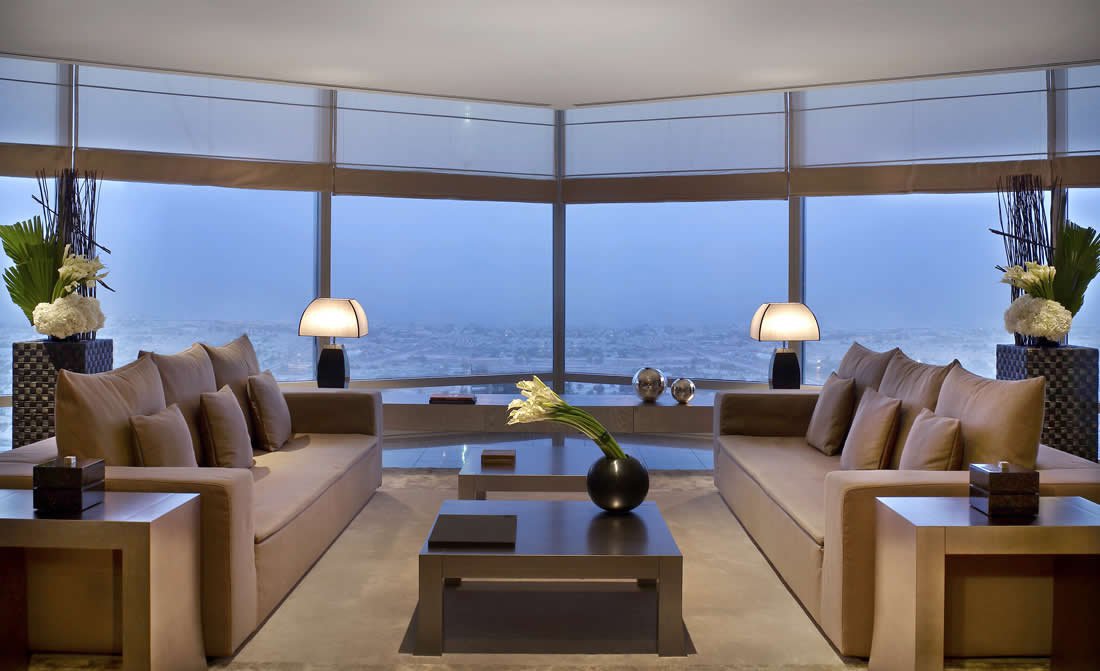 Armani Hotel Dubai
Stunning, contemporary and, of course, fashionable - that is how we can describe Armani Hotel Dubai. Located in Burj Khalifa, the world's current tallest building, Armani Hotel Dubai was the first out of the two hotels the famous fashion designer Giorgio Armani opened. His other hotel is called Armani Hotel Milano, situated in Italy's fashion capital. All of the 160 accommodations at Armani Hotel Dubai were designed by Giorgio Armani himself, making them to reflect true Italian luxury and authentic Arabic hospitality. The hotel offers 6 dining venues, specializing from Mediterranean cuisine to Japanese delicacies. It also has a sleek Spa, where the hotel guests can enjoy relaxing and pretifying treatments performed with Crema Nera For Her and Skin Minerals For Him luxurious products. If shopping is your passion, then here you will find seriously enjoyable retail experience as the hotel has three unique shops: Armani/Dolci, which sells divine melting chocolates with praline fillings, Italian biscotti and delicious jams; Armani/Fiori, which offers fresh flower bouquets in beautiful Mr. Armani-designed vases; and Armani/Galleria, where guests can find haute couture watches, handbags, jewellery and perfumes from the exclusive Giorgio Armani Privé Collection.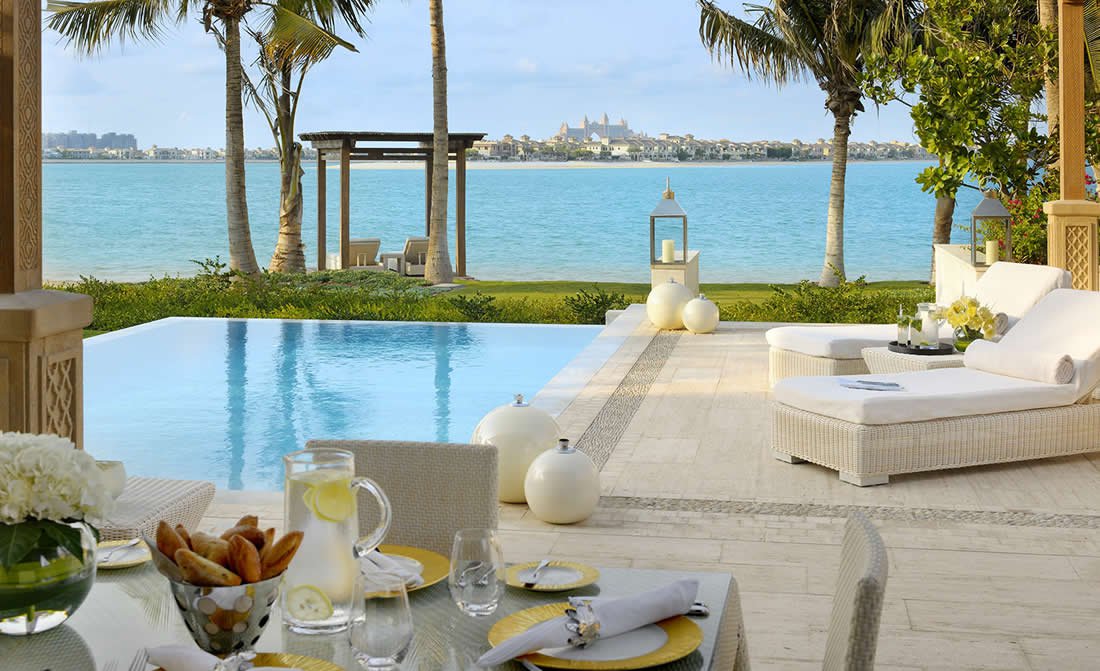 One&Only The Palm Dubai
One&Only The Palm Dubai is one of the best luxury hotels in Dubai if you come to the city for beach holidays. Nestled on the private peninsula of Palm Island, this elegant hotel is only 45 minutes by car from Dubai International Airport. One&Only The Palm Dubai has only 94 rooms, including 25 suites and 4 beach-front villas. All the accommodations are super-spacious and delight with subtle Moorish-inspired interiors. Food-savvy travellers will enjoy the cuisine by 3 Michelin-starred Chef Yannick Alléno, who orchestrates at STAY by Yannick Alléno, offering the Chef's signature dishes. There is also Zest, the hotel's all-day dining restaurant, that mixes culinary influences of the Middle East, Asia and the Western world. Worries and stresses check-out when you check into the hotel's Guerlain Spa, where, gloriously surrounded by flowering manicured gardens, guests can enjoy various wellness procedures and relax their over-worked muscles. There is also a modern gym and a hair salon. With its activities, friendly staff and dreamy location, this hotel is fabulous when travelling with kids, who will definitely enjoy camel riding, henna painting or even belly dancing.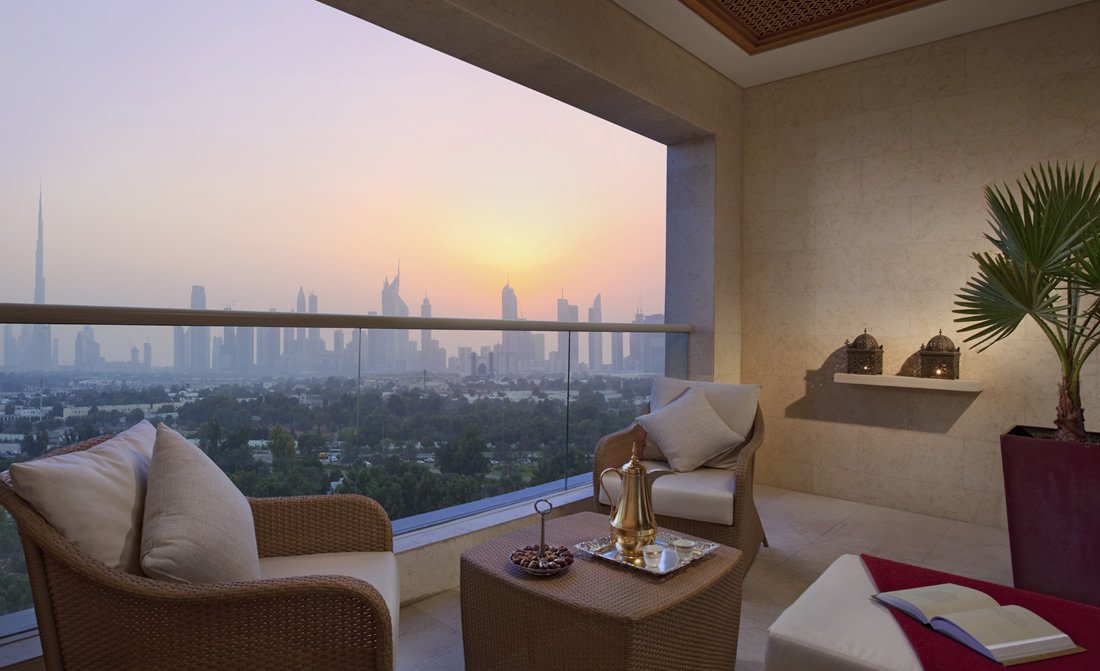 Raffles Dubai
Raffles Dubai enjoys a prestigious location by being only a 10-minute drive from Dubai International Airport as well as just a short drive from Dubai Mall and Downtown Burj Khalifa. This 5 star luxury hotel has 252 rooms and suites, offering an impressive size starting at 70 sq. metres. Under the guidance of an Executive Chef Doxis Bekris, who is Greek, the hotel's Solo Italian Restaurant & Bar serves Italian dishes inspired by various Italy's regions while TOMO specializes in Japanese cuisine. Raffles Dubai also houses 5 more dining venues and even a night club People by Crystal, where guests can relax and soak in inspiring 360 degrees panoramic view of the Dubai skyline. The hotel's Spa features six treatments rooms where guests can enjoy therapies inspired by Middle Eastern, Asian and European traditions, sauna and steam rooms, fitness centre. There is also an outdoor pool, surrounded by magnificent vistas of the city. To find out more about the hotel and Dubai, read an interview with Raffles Dubai Chief Concierge Jijo Paul.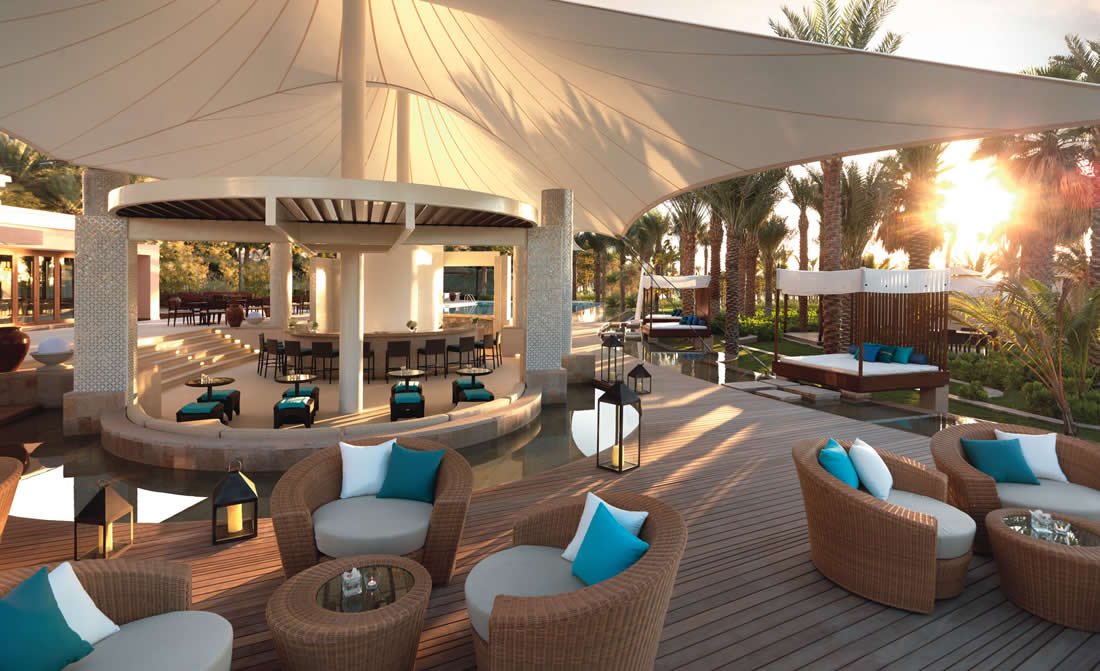 The Ritz-Carlton, Dubai
The Ritz-Carlton, Dubai is an exclusive beach hotel, which is ideally placed for discovering all the wonders Dubai has to offer. It is also fabulous if you simply want to relax and enjoy the quietness, as the hotel is surrounded by beautiful gardens and exotic palm trees which will let you feel as you are somewhere far from the lively city hub. Futhermore, the hotel features stunning accommodations with the size starting at 50 sq. metres, a variety of restaurants and lounges, the Spa with rejuvenating European and Eastern treatments. It is also a great hotel option if you are travelling to Dubai with your kids, since the little ones will find many surprises and activities here. To learn more about this one of the best luxury hotels in Dubai, read an interview with Rania Chamoun, the Director of Rooms at The Ritz-Carlton, Dubai.